Tabish Khan loves art and visits hundreds of exhibitions a year. But every now and then he comes across something in the art world that doesn't meet his approval.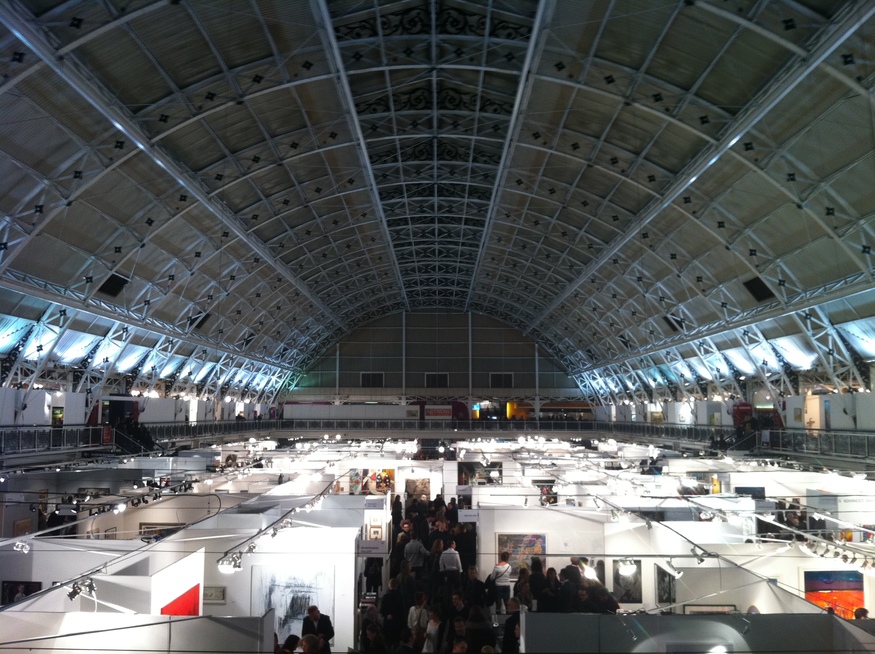 Fresh off his Pulitzer prize, Jerry Saltz proclaimed that art fairs are broken. The counter-argument from Kenny Schachter was there's nothing wrong with them and they are serving the market. Now I'm wading into this heated debate, and like all good arguments it's important to recognise that neither extreme is likely to be right and the answer lies somewhere in the middle.
An art fair is a place to connect buyers to sellers, and if nobody was buying at them then they would quickly disappear. It's supply and demand, and art fairs are clearly in demand — it's why we have so many of them. Collectors and buyers of art clearly value the convenience of having hundreds of galleries and artists under one roof.
Galleries have to make a short term and long term commercial decision as to whether to participate — sometimes they succeed, other times they fail and some galleries choose not to take part. An art fair is capitalism in action.
The flipside is that art fairs are terrible places to appreciate art. It's all bunched together and there are people everywhere, plus you often have incongruous works next to one another. That's ok, after all a gallery is trying to show off all its artists for potential buyers. But if, like me, you want to appreciate art and be moved by it — this isn't the place for it. I walk out of several exhibitions a year thinking 'that was amazing', that has never happened with an art fair … and I'd wager never will.
Occasionally I may spot a new artist, but if you're in a vibrant art hub like London or New York then it's likely you've seen 70% of these artists before. Art fair ticket prices are now more expensive than major blockbuster exhibitions and if you want to see great art, the latter is where your hard earned cash should be spent.
As for the increasing costs for galleries to take part, there will always be satellite art fairs to the big ones and alternative models, such as Condo, will continue to grow if the costs become too high. If a system becomes too expensive then people always find a way around it, and art fairs should be wise enough to recognise that.
Art fairs are now positioning themselves as experience destinations. Side shows will include interesting projects, performances, celebrity talks and it will be a 'place to be seen'. It reminds me of Las Vegas where there are shows, roller coasters and cinemas to make sure we're entertained before the real action happens when they take all our money at the casinos.
It's great if you have a free ticket and you can make good contacts, but if you miss one … guess what? It will be back again next year and will be much the same.
Art critics and journalists (including me) need to hold our hands up too as we hype up these fairs as a must visit destination and make lists of all the must-see booths — remember there is never anything in an art fair that's a must see.
In truth most of my readers shouldn't care about art fairs as they are not the targets, unless they are millionaires — I've never done a survey but assume most of you aren't. The only magazines and publications that should care are those aimed squarely at art collectors. As for the rest of us let's not hype it beyond the marketplace that it is.
If you're a writer, artist, curator or art appreciator who manages to get a free ticket then do go along and enjoy the circus. If not then visit some exhibitions with the money instead, or pop into a bunch of commercial galleries. The quality of the art you'll see there is likely to far outweigh anything found at an art fair.
For more in this series, see my thoughts on No Photography, You can't find galleries, Private views, Art itself, Appointment only exhibitions, Artificial Intelligence replacing artists, Everyone's a Critic, Photo London, The Turner Prize, Art for art's sake, Conceptual art is complicated, Condo, How performance art is presented in museums, Frieze week floozies, too much respect for an artist's legacy, opinions not being welcome, an exhibition across three countries, tackling race and gender in art, artist-curators, art fair hype, top 5s and top 10s, our political art is terrible, gap left by Brian Sewell, how art never learned from the Simpsons, why artspeak won't die, so-called reviews, bad reviews are bad for business, the $179m dollar headline, art fairs appealing to the masses, false opening hours, size matters and what's wrong with video art.
Categories
Tags