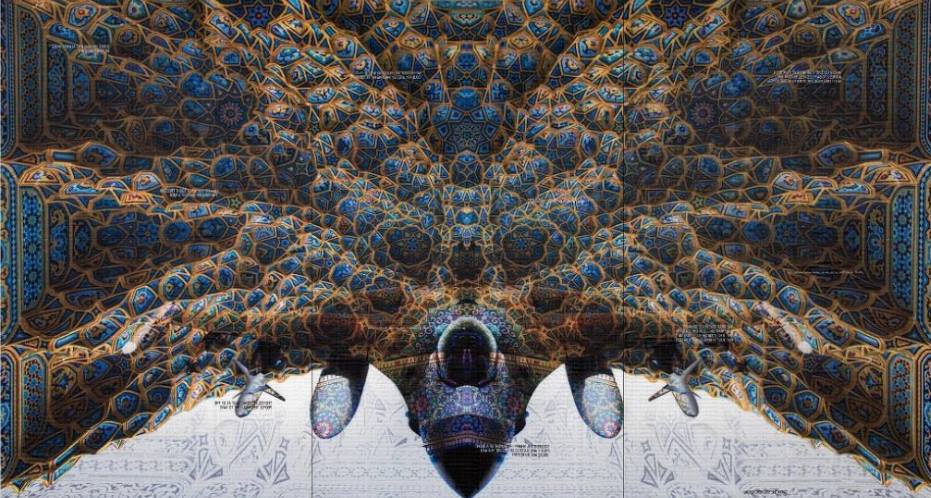 Over the last few weeks I've seen some powerful political art. Ai Weiwei has his major exhibition at the Royal Academy and one work looks at how shoddy construction led to the deaths of thousands, largely children, during an earthquake. It's sobering to know this would have been covered up if it weren't for Ai's tireless efforts to expose it.  My pick of Frieze week was an exhibition called Ricochet, where Saudi artists examined the impact of religion and how as well as a force for good it can also be used to justify warfare and narrow thinking. In both these exhibitions there is great risk of upsetting national authorities with potential, and in Ai Weiwei's case realised, consequences for the artists; but the work was still made as it is too important not to be.
We don't see this level of intellectual rigour from artists in the UK. Now it's easy to dismiss this by simply saying that the aforementioned artists operate in oppressive regimes, but this is a cop out as there are plenty of important issues to address in the UK – housing, immigration, taxation and the growing gap between rich and poor. Political art in this country can often be summed up by two ideas: banks and capitalism = bad, socialism and the environment = good. This is so simplistic as to be laughable.
As anyone working in politics and economics will tell us, there are many shades of grey and there's no black and white in the world we're operating in today. Most British artists fail to recognise this fact and so the sweeping statements in their work are often ignored as being out of touch with where politics has evolved to.
Some artists are creating commendable political art, Banksy creates some powerful works that can be in bad taste but are often closer to the truth than people would like to admit. I also admire Bob and Roberta Smith for his campaign against Michael Gove in the recent election, and his current exhibition on it at William Morris Gallery. Even though he got very few votes at least he's taking some action to preserve the arts. These two artists are a couple of the exceptions.
Art can have a massive influence on politics but the British art scene is stuck in the politics of the 1970s and will only become effective once it starts presenting itself as relevant to today's political discussions, instead of sticking to utopian ideals that are never going to be realised.
For more in this series, see my thoughts on the gap left by Brian Sewell, how art never learned from the Simpsons, why artspeak won't die, so-called reviews, bad reviews are bad for business, the $179m dollar headline, art fairs appealing to the masses, false opening hours, size matters and what's wrong with video art.
Categories
Tags