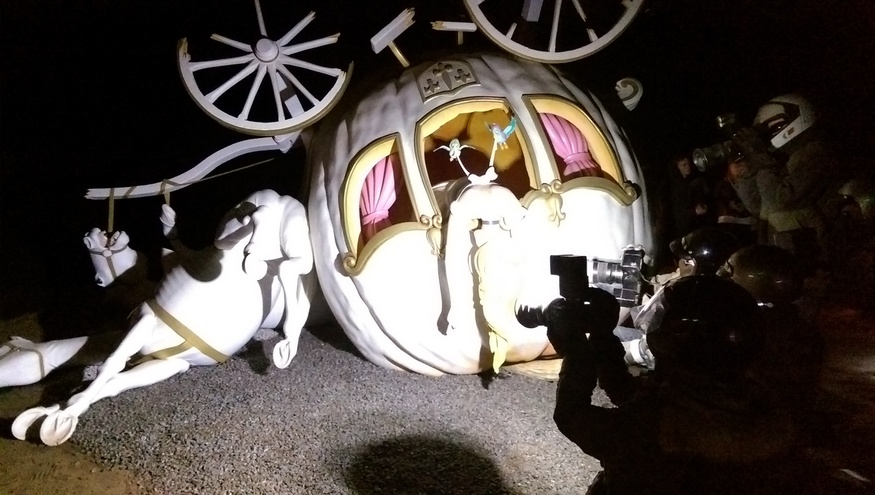 I finally got my hands on a ticket to Dismaland, but is it as depressingly enjoyable as it sets out to be?
The first thing to note is the queue is lengthy, even for those with tickets but plenty of people are re-selling in the queue and people turning up without tickets are usually able to procure one – often for face value. Plus once the gates open the queues move at a decent pace.
Mock police wave visitors through a fake body scanner and give plenty of attitude to people often making those who are smiling stand aside until they stop. The first thing to greet visitors is a closed customer service desk with a grumpy member of staff looking bored – so far, so enjoyable.
There are some suitably depressing rides with a spinning caravan where people enter and stand still as the caravan spins around them, and a senseless attempt to knock down an anvil with table tennis balls.
The exhibition is massive and at its strongest when it's very close to the bone. Examples include paying a pound to remote control a boatload of migrants as others float face first in the water, payday loans for children where a paralysed action man is one sale – claiming his 'legs really don't work', and a merry go round horse being ground into lasagne.
There is also a lot of 'straight' art on show too with surreal sculptures and paintings, and a selection of short video works including some excellent vignettes. One of the best achievements of Dismaland is getting people who would never look at art to visit this anti-theme park. When looking at, in my opinion, fairly mediocre paintings I could overhear others saying how wonderful the work is. In getting non-art lovers to engage with art, Dismaland is a roaring success.
Overall, it's a fantastic experience that is thoroughly enjoyable. Is it worth paying £60 on a re-sale website, or flying over for? Probably not. But if you have a ticket and can make the trip to Weston-Super-Mare, then you're in for a treat.
Dismaland is on at the Old Tropicana, Weston-Super-Mare until 27th September. All pre-booked tickets are now sold out.
25th September 2015 Pussy Riot, Kate Tempest, Leftfield, De La Soul and DJ Premier
Plus anarcho-samba, cabaret and crap fireworks. 7pm – 1am. Tickets £30 sold out.
Categories
Tags