Banksy's Mural -Valentine's Day Mascara for sale through fractional ownership – Showpiece the marketplace for some of the world's rarest collectibles has revealed its latest portfolio of artworks and artefacts to enter into fractional ownership including a 2023 mural by world-famous, anonymous and notoriously elusive street artist Banksy.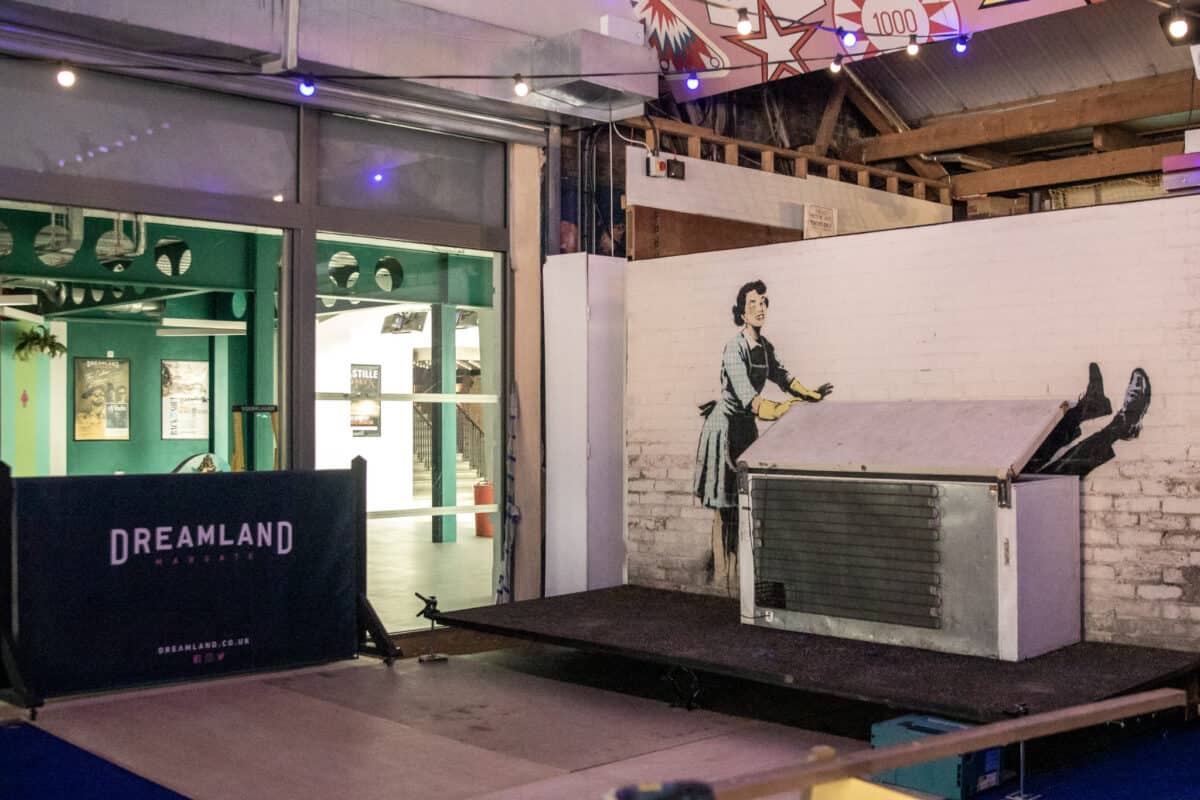 Through this, Banksy's Valentine's Day Mascara mural, valued at £6 million, will be made accessible for ordinary members of the public to own a share of – for just £120.
Banksy's Valentine's Day Mascara first appeared on a house in Margate, Kent, on Valentine's Day this year, and was swiftly confirmed to be genuine via the artist's Instagram account. The work was removed from the building for preservation earlier this year, however, for many months since, the owner has fought off significant offers from private collectors around the world, resolute that the work should remain in the town it was created, and available to the public to see. Now, through fractionalisation of the work – open to all – the mural will be able to make its temporary housing, at Dreamland Margate, its official home.
Collectors will be able to purchase their share of this fantastic work through Showpiece.com. From 22nd August 2023, a total of 27,000 pieces will be available across multiple drops, and each will also unlock exclusive access to a range of digital and physical benefits, including exclusive Showpiece limited edition prints created by renowned printmakers King & McGaw, a longstanding partner of Showpiece.
I'm so pleased that the Banksy work can be hosted at Dreamland, so that it remains in the town for everyone to come and see. The fact that it will be accessible for people to actually own a share in is wonderful – and it also means the mural can now make Margate its official home.

Julian Usher, CEO of Red8 Gallery, which is representing the interests of the original owner of the
mural
Banksy is one of the most important street artists in the world, and his true identity has remained the subject of speculation ever since he emerged on the public scene in the late 1990s. Over the past two decades, he has built a reputation for himself as one of the most creative and controversial artists of our time, with his distinctive style that combines elements of humour, irony and political commentary. More often than not, Banksy's murals appear spontaneously – and each time they do, they continue to astonish and delight the public, outside of the confines of the conventional gallery space.
Valentine's Day Mascara is an example of the way Banksy uses his work to raise awareness around important issues. Depicting a caricature of a 1950s housewife, it shows a woman wearing a blue pinny and yellow washing-up gloves with a swollen eye and a missing tooth, who is seen pushing her male partner into a chest freezer – appearing to be on the theme of domestic abuse and fighting violence against women. Showpiece is raising funds in aid of Refuge, the nation's largest domestic abuse organisation.
Banksy's Valentine's Day Mascara is available on Showpiece.com from 22 August 2023.
27,000 pieces are available, at a price of £120 each
Categories
Tags