Banksy first solo exhibition in 14 years. It will run at Glasgow's Gallery of Modern Art (GoMA) from Sunday.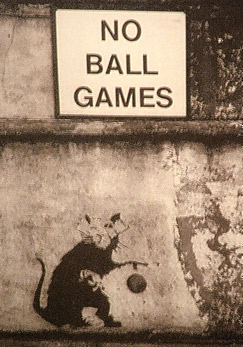 I've kept these stencils hidden away for years, mindful they could be used as evidence in a charge of criminal damage. But that moment seems to have passed, so now I'm exhibiting them in a gallery as works of art. I'm not sure which is the greater crime

– Banksy
The show, which will feature work from right across his career, is called CUT & RUN: 25 years card labour.
Banksy has used original stencils to create new versions of many of his famous works, including Kissing Coppers which first appeared on a wall of the Prince Albert pub in Brighton in 2004. Also featured will be Mobile Lovers, from Bristol in 2014, which features a hugging couple who are both looking at their screen over the other's shoulder.
The latest show aims to reveal the whole behind-the-scenes process of how his works are made, with original sketches on display as well as the stencils, which have been painted on to give them a new lease of life.
The large exhibition also includes a detailed model explaining exactly how Banksy managed to shred his Girl With Balloon painting during an auction at Sotheby's in London in 2018.
Return to Glasgow
Banksy has held an exhibition in Glasgow before. He was a relative unknown when in 2001 he jointly put on Peace Is Tough at The Arches venue, with Jamie Reid.
The event is described as having been poorly attended but did feature early works including Monkey Queen. He also created a number of stencil-based works around the city, none of which still exist.
There is a reason why the exhibition is being held at Glasgow's Gallery of Modern Art. In a sign welcoming people to the venue, Banksy explains that he brought the show here because his "favourite work of art in the UK" is right outside.
He writes:
For anyone who isn't aware – the statue out the front has had a cone on its head continuously for the past 40 odd years. Despite the best efforts of the council and the police, every time one is removed another takes its place.
Banksy is referring to the 1844 statue of the first Duke of Wellington sitting on a horse. Members of the public have been placing road cones on the statue's head for more than four decades, making it a Glasgow institution, one which featured in the Commonwealth Games opening ceremony when Glasgow hosted the event in 2014.
Banksy: CUT & RUN: 25 years card labour 18th June-28th August 2023, An exhibition of stencils from 1998-2023 GoMA
TICKETS: cutandrun.co.uk/, Adult £15, Concession £10, Child £5, Carers free
Bansky on FAD 2006 – Present fadmagazine.com/tag/banksy/
Categories
Tags