Tabish Khan loves art and visits hundreds of exhibitions a year. But every now and then he comes across something in the art world that doesn't meet his approval.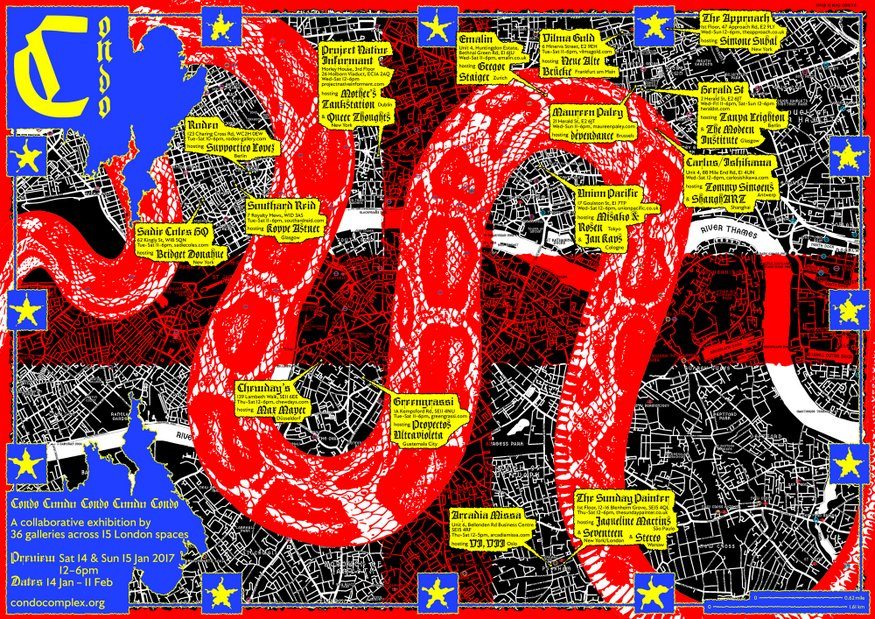 This weekend was the opening of Condo. FAD featured a preview of this fantastic concept. International galleries take over some London based ones to show artists we may not be familiar with. Plus some of the London spaces are quite hidden away so it's a great chance to explore some new gallery spaces as part of trail dotted all over London.
This is the second year and there are even more galleries involved. On paper everything sounds amazing. It's a rare chance to get people across London excited about art, and bring new people to galleries they wouldn't otherwise visit. So what's gone wrong?
Firstly the main gateway for most of us – the online map – is seizure inducingly atrocious. Flashing graphics are one to avoid at the best of times, particular one that flashes so rapidly. Add to this a font that's near impossible to read and we have an off-putting route into Condo. We're not sure if there is an award for worst online graphic of the year, but this has to be in the running.
There are some big galleries involved in this project, I can't believe not one of them looked at this map and asked for it to be changed.
On to the galleries themselves and many were more welcoming than usual, with doors open that are normally closed. But once again we were let down by no press releases and often a checklist of works with no background. If Condo is trying to be different from an art fair, then this minimalist effort isn't helping.
The whole weekend definitely generated some hype as many more people visited these galleries than normally would. But looking around it did seem like nearly all of them were people who work in the art world, rather than attracting new visitors.
Now there's nothing wrong with the art crowd, after all I'm one of them, but it often felt like a weekend long private view for the people who would come to the gallery anyway. This was an opportunity to engage a new audience but it seems like if anything, many visitors new to art would have found it baffling and inaccessible.
This is not to say Condo was bad, many of the works on show were very good — particularly at Rodeo, Southard Reid and Carlos Ishikawa. But next year I'd expect a marked improvement … at the very least a website that doesn't make you feel ill.
For more in this series, see my thoughts on How performance art is presented in museums, Frieze week floozies, too much respect for an artist's legacy, opinions not being welcome, an exhibition across three countries, tackling race and gender in art, artist-curators, art fair hype, top 5s and top 10s, our political art is terrible, gap left by Brian Sewell, how art never learned from the Simpsons, why artspeak won't die, so-called reviews, bad reviews are bad for business, the $179m dollar headline, art fairs appealing to the masses, false opening hours, size matters and what's wrong with video art.
Categories
Tags