Tabish Khan loves art and visits hundreds of exhibitions a year. But every now and then he comes across something in the art world that doesn't meet his approval.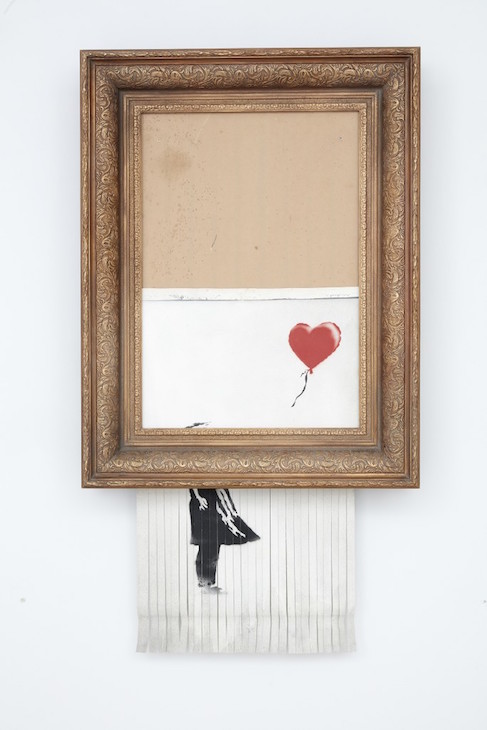 Unless you've been hiding under a rock for the last few weeks you will have seen that the main art story has been a Banksy that shredded itself just as it was sold at auction in Sotheby's. It eclipsed anything else that happened during Frieze week.
There have been countless stories doing the rounds of how his act discredits the art world, how Sotheby's was in on it and how the work is now probably worth more than it sold for.
What's been interesting to note is the mixed reactions from the 'art world' and the wider world.
The art world has been largely disparaging stating it was all a fix, that it was shameless self-publicity and that Banksy is just part of the system, as shredding his work has made it more valuable.
On the contrary, the reaction from the public has largely been full of praise. The work was on display at Sotheby's over the weekend and I didn't go see it because I didn't fancy queuing in the rain. But clearly many people did as the pictures showed what looks to be over a hundred people in a queue that snaked up New Bond Street.
The idea of people queueing for a popular exhibition is not new, but for a single work is almost unheard of unless. Yes there have been queues for an immersive work such as a Kusama infinity room or a work by TeamLab, but for a single framed work I've only seen something similar for the record breaking Da Vinci Salvator Mundi.
Banksy's works poke fun at the wider world of art and that's why people love him. Ask the average person on the street and they think art and the prices it is sold for are ridiculous. Most people view this latest Banksy stunt as something that mocks the art world and most are happy to ignore the fact that he's probably made a lot of money from the sale.
The usual reaction from people who deal in art is to sneer at this reaction and ridicule the 'uneducated' masses.
This isn't a phenomenon limited to art. Think of how much the literary establishment hates on Dan Brown and yet his books are read by millions, or the Fast and the Furious franchise that always makes hundreds of millions with every iteration.
If you want an example closer to home then think Damien Hirst and how popular both his recent Venice show and his retrospective at Tate modern were, yet his strongest critics are within the art establishment.
'Experts' dismissing those who 'don't know any better' is one of the causes behind Brexit after all, and we're still feeling the effects of that decision – and arguably will be for the next decade if not more.
Whether you like Banksy's latest stunt or not, there's no denying he engages with the public beyond the borders of the art world. Ultimately that's what I want to do as a writer and Banksy is doing a much better job of it than I ever will.
The irony is there's many people who work in art who will tell you that 'art is for everyone' and yet they'll happily dismiss anything that has popular appeal. Then they'll scratch their heads as to why more people don't engage with art.
Banksy knows what the people want and is getting more people to engage with art, and for that he should be praised rather than dismissed.
For more in this series, see my thoughts on #FriezeWeek, Blockchain hype, Finding art, Private views, Art itself, Appointment only exhibitions, Artificial Intelligence replacing artists, Everyone's a Critic, Photo London, The Turner Prize, Art for art's sake, Conceptual art is complicated, Condo, How performance art is presented in museums, Frieze week floozies, too much respect for an artist's legacy, opinions not being welcome, an exhibition across three countries, tackling race and gender in art, artist-curators, art fair hype, top 5s and top 10s, our political art is terrible, gap left by Brian Sewell, how art never learned from the Simpsons, why artspeak won't die, so-called reviews, bad reviews are bad for business, the $179m dollar headline, art fairs appealing to the masses, false opening hours, size matters and what's wrong with video art.
Image courtesy Sotheby's.
Categories
Tags