There are 185 posts and counting on FAD magazine that mention Ai Weiwei. The first post was in 2010 in our guide to Frieze Week 2010 which featured his installation Sunflower Seeds at Tate Modern that year. The first video is a review of Art Basel 2011 from blip.tv who unfortunately don't exist anymore. Next up is the Serpentine Gallery Memory Marathon from 2012 the seventh annual festival of ideas inspired by the annual Pavilion commission that was created by Herzog & de Meuron and Ai Weiwei that year. Also in 2012 Ai Weiwei made No3 on the 2012 Art Review Power 100 list. Curator Carolyn Christov-Bakargiev was No1 Larry Gagosian No2.
In 2013 Ai Weiwei is in our roundup of the 55th edition of the Venice Biennale which features his installation Bang – German Pavilion – Giardini, also in 2013 Ai Weiwei features in 100 Works of Art That Will Define Our Time which features Sunflower Seeds.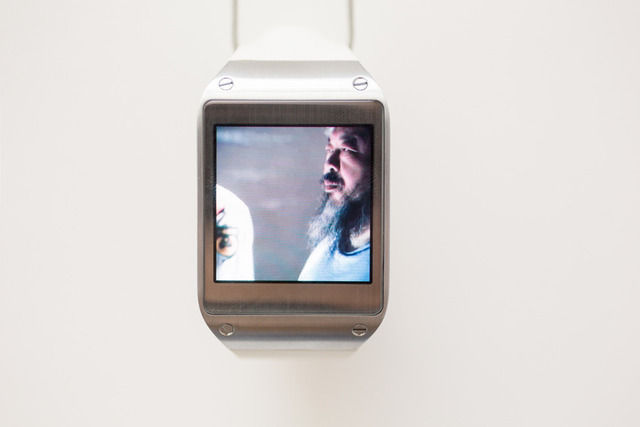 In 2014 Ai Weiwei took part in group exhibition Full Screen at XPO Gallery in Paris which was an exhibition of commissioned screen work exhibited on the screens of smartwatches curated by Aram Bartholl. Also in 2014 Ai Weiwei features in one of the Tabish's Top 5 Art Exhibition to see – Ai Weiwei at Lisson gallery 23rd May – 19th July with the following review: " New works but not really exploring any new themes. Despite this, Weiwei continues to produce political art whose weight remains undiminished due to his house arrest.". In 2014 he also featured in the launch of The Art Game: Artist' Trump Card which is "a top trumps full of legendary artists". Also in 2014 Ai Weiwei had an exhibition at Blenheim Palace which was the inaugural exhibition from the Blenheim Art Foundation showcasing more than 50 artworks by Ai Weiwei produced over the last 30 years.
Starting in 2015 the UK refused Ai Weiwei a full visa because of a disputed criminal record right after Germany had already given him a visa for travel after four years of house arrest Ai Weiwei needed the visa from the UK to visit open his exhibition at The Royal Academy which opened in September and ran till mid-December.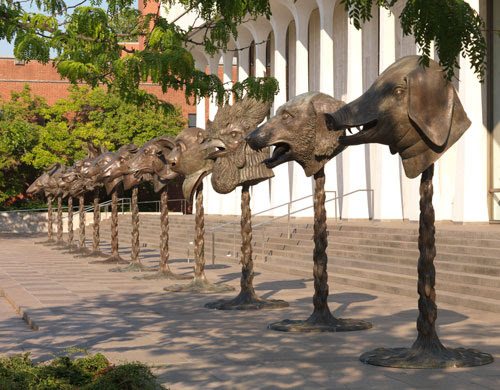 There are no posts about Ai Weiwei on FAD in 2016 but it's back to normal in 2017. In February Ai Weiwei's Zodiac Heads were exhibited at Yorkshire Sculpture Park as part of their 40th-anniversary activities. In March in Prague Ai Weiwei exhibits an enormous rubber boat as part of his exhibition "Law of The land" as a comment on the desperate plight of refugees fleeing in pursuit of a better life. In April he's announced as one of the main artists for the 21st Biennale of Sydney which is to open in March 2018. Also in April he creates a new 7.5-kilometer artwork for the Amsterdam light festival. In 2017 along with Shepard Fairey he produces a limited edition skateboard in response to the first 100 days of Donald Trump's presidency. In October 2017 Ai Weiwei collaborates with the Public Art Fund on a powerful exhibition 'Good fences make good neighbours', comprised of over 300 outdoor sites.
IN January Ai Weiwei has a monumental exhibition focussed on his public work and urban interventions at Fundación PROA in Buenos Aires Argentina then in February 2018 Ai Weiwei has his first solo exhibition in Belgium Mirror. Then in March, he opens at the Garage Gallery in the Fire Station in Doha his first exhibition in the Gulf region. Then in the Autumn Ai Weiwei opens three shows in Los Angeles. Also in 2018 Ai Weiwei finds time to mark the 70th anniversary of the Universal Declaration of Human Rights by creating a flag to celebrate universal human rights.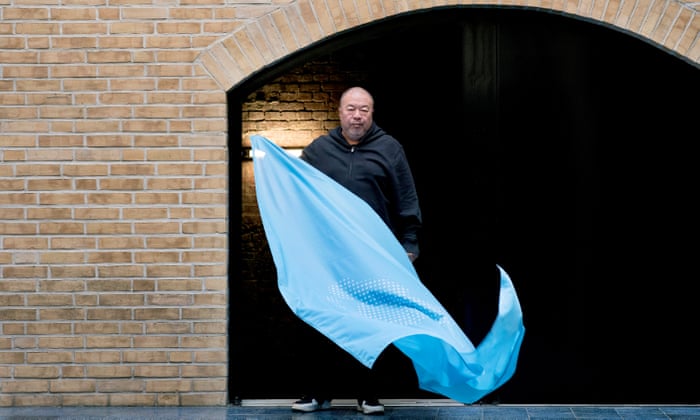 At the beginning of 2019 Ai Weiwei offers to take 30 tonnes of buttons from a factory in Croydon after seeing a message on Twitter. He designs a residence in upstate New York and creates an artwork 'that anyone can build themselves'.
At the beginning of 2020 UK bureaucracy raises its ugly head yet again as an attempt by the Duke of Marlborough and his brother to install an artwork called Gilded Cage by Ai Weiwei a 25ft golden cage in the gardens of their family seat at Blenheim Palace is being opposed by Historic England. 2020 is the beginning of COVID and in May AiWeiwei creates a series of masks all proceeds from the sales went to Human Rights Watch, Refugees International, and Médecins Sans Frontières/Doctors Without Borders.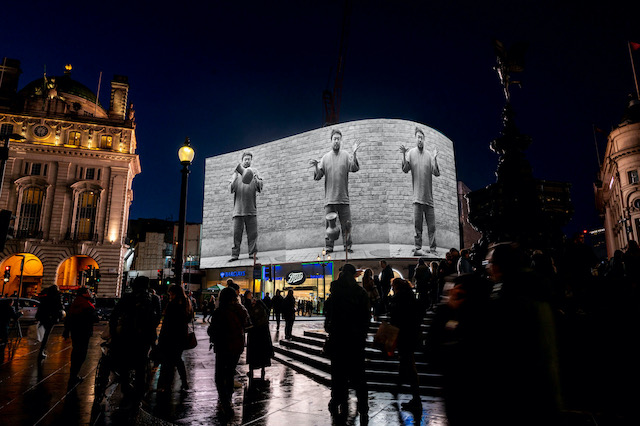 In October 2021 AiWeiwei helps to launch CIRCA, a new and independently curated platform presenting digital art on the iconic Piccadilly Circus screen. In November he launches a series of limited edition scarves and bags with Taschen. Then it's announced that Ai Weiwei's new memoir 1000 Years of Joys and Sorrows is coming out on 2nd November 2021 with a cover designed by the artist himself.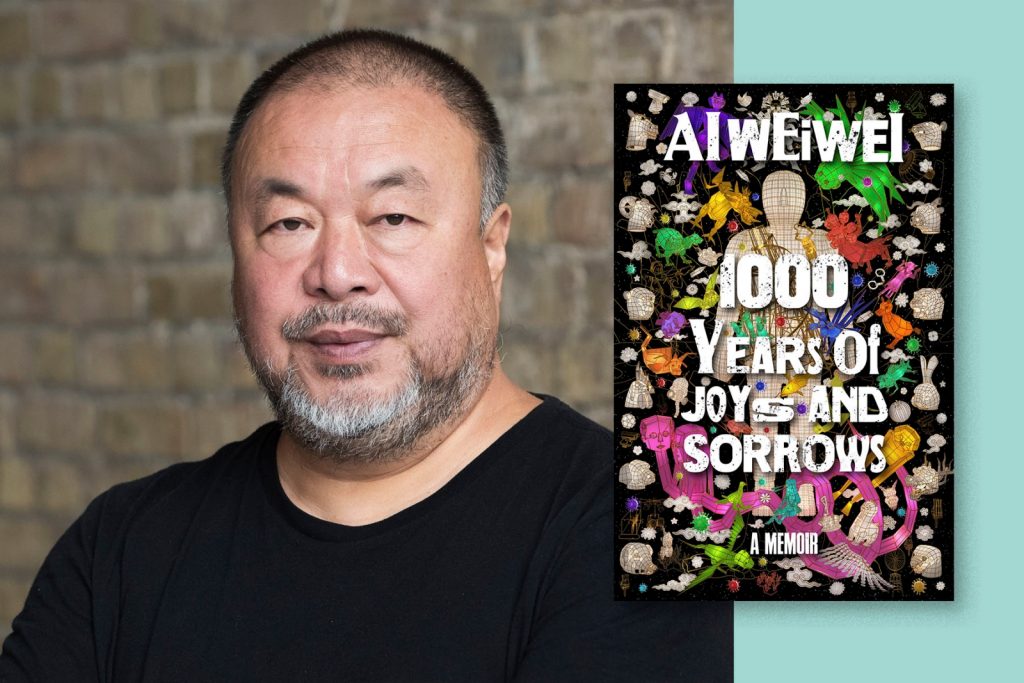 This is just a sample of all the posts about AiWeiwei on FAD magazine to see them all visit here and to keep uto date on Ai Weiwei news follow fadmagazine.com/tag/ai-weiwei
Categories
Tags