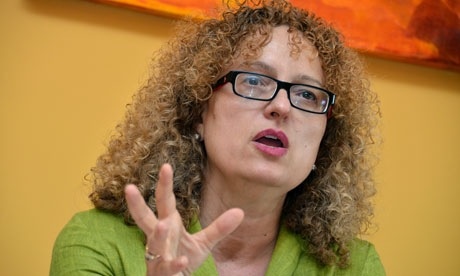 Carolyn Christov-Bakargiev came out top in ArtReview's list of the most powerful people in the art world. Photograph: Uwe Zucchi/dpa/Corbis
This article titled "ArtReview's Power 100 list reveals art-world battle for supremacy" was written by Charlotte Higgins, chief arts writer, for The Guardian on Wednesday 17th October 2012 23.10 UTC
Two opposing camps are battling it out for domination of the international contemporary art world. On the one hand, the huge globalised art dealerships catering to the international super-rich – those individuals so dazzlingly wealthy as to be immune to the economic crisis. And on the other, a vision of art that is politically engaged, historically aware and socially inclusive.
That, at least, is the story according to ArtReview magazine, whose annual list of the 100 most important figures in contemporary art, the ArtReview Power 100, is published on Thursday.
At the top of the list is the first woman to be accorded the No 1 slot: the Italy- and US-based curator Carolyn Christov-Bakargiev. She was the curator of this summer's Documenta, the grand-scale art exhibition, regarded as perhaps the contemporary art world's most important event, that takes place in the German town of Kassel every five years.
Described by one critic as "the most important exhibition to date of the 21st century", Christov-Bakargiev's Documenta was seen as setting a fresh agenda for artists, audiences and curators. The €25m (£20m) event, which took over the entire city, combined new work by artists including Tacita Dean and Ryan Gander with relics of the destroyed Bamiyan Buddhas, anti-Nazi tapestries from the 1930s, and even experiments devised by the physics department of the University of Vienna.
The Chinese dissident artist Ai Weiwei – this year at No 3, having been accorded the highest place last year – also fits into this category of politically and socially aware art according to ArtReview editor Mark Rappolt, thanks to his activism and battle for freedom of expression. So does new entry Pussy Riot, at No 57 on the list. Two members of the feminist-punk collective lost their appeal this week not to be sent to Russian penal colonies. Rappolt also pointed to new entry Theaster Gates (No 56), the African-American artist whose practice is concerned with urban planning, alleviating inner-city poverty and social activism, as well as making objects. These are figures, said Rappolt, who are "trying to interact with the world rather than waiting for the world to interact with them".
Second, fourth and fifth place on the list, however, are occupied by the macho blast of the world's most dominant art dealers: Larry Gasgosian, Iwan Wirth and David Zwirner. US dealer Gagosian this week added a new Paris space to his already huge portfolio of galleries, spanning Los Angeles, Hong Kong, London, Rome, Athens, Geneva and New York. The new gallery, in the north-east outskirts of Paris, is in the grounds of Le Bourget airport, the most important hub for private aviation in the city – the billionaire equivalent of providing a carpark. In September, the Art Newspaper reported that the combined floor area of Gagosian's 13 premises is set to overtake that of Tate Modern.
Despite the global economic crisis, the continued expansion of such high-end galleries reflects, according to Rappolt, the strength of the top end of the contemporary art market, bolstered by the desire among tycoons to "enter the weird social elite that collecting art creates". This elite is small but highly international, and this year is registered on the ArtReview list by the meteoric rise of Sheikha Al-Mayassa bint Hamad bin Khalifa Al-Thani, who has shot up nearly 80 places since last year to No 11 on the list. A daughter of the emir of Qatar, she is the chair of the Qatar museums authority, and is rumoured to have spent, with her family, over £600m on western art over the past decade, including works by Damien Hirst and Mark Rothko.
The highest ranked artist on the list is Gerhard Richter, who celebrated his 80th birthday this year. Regarded as a national treasure in his native Germany, he is also a figure who continues to reinvent himself and to exert influence over younger artists. He is officially the most expensive living artist at auction: last week one of his works, Abstraktes Bild (809-4), from Eric Clapton's collection, sold for £21.3m at Sotheby's.
The list reflects further trends in the contemporary art world: notably the rising influence of Brazil, and the growing importance of its artists, collectors, dealers and art fairs. A new entry is Adriano Pedrosa at No 98, a rising Brazilian curator, who curated a section of this year's Frieze Masters fair in London; and at No 71 is another new entry, Brazilian dealer Luisa Strina. Larry Gagosian opened a temporary space in Rio in September; and Jay Jopling (No 20) who owns the White Cube gallery, is to open a new permanent outpost in Sao Paulo this autumn.
The highest-ranked Briton on the list is Nicholas Serota, director of the Tate, who at No 8, has overtaken his opposite number at New York's Museum of Modern Art, Glenn D Lowry, at No 9. Damien Hirst, whose monumental sculpture of a pregnant woman was this week erected in the Devon town of Ilfracombe and who was the subject of a major Tate retrospective this summer, has risen from No 64 last year to No 41.
2012 Name [2011]
1. Carolyn Christov-Bakargiev [14]
2. Larry Gagosian [4]
3. Ai Weiwei [1]
4. Iwan Wirth [8]
5. David Zwirner [9]
6. Gerhard Richter [11]
7. Beatrix Ruf [10]
8. Nicholas Serota [6]
9. Glenn D. Lowry [3]
10. Hans Ulrich Obrist & Julia Peyton-Jones [2]
11. Sheikha Al-Mayassa bint Hamad bin Khalifa Al-Thani [90]
12. Anton Vidokle, Julieta Aranda & Brian Kuan Wood [5]
13. Cindy Sherman [7]
14. Alain Seban & Alfred Pacquement [12]
15. Adam D. Weinberg [13]
16. Annette Schönholzer, Marc Spiegler & Magnus Renfrew [20]
17. Marc Glimcher [15]
18. Marian Goodman [27]
19. Massimiliano Gioni [80]
20. Jay Jopling [31]
21. François Pinault [19]
22. Klaus Biesenbach [16]
23. Matthew Slotover & Amanda Sharp [24]
24. Barbara Gladstone [22]
25. RoseLee Goldberg [18]
26. Eli & Edythe Broad [17]
27. Patricia Phelps de Cisneros [25]
28. Bernard Arnault [29]
29. Nicholas Logsdail [30]
30. Liam Gillick [32]
31. Ann Philbin [33]
32. Victor Pinchuk [35]
33. Maja Hoffmann [37]
34. Tim Blum & Jeff Poe [39]
35. Marina Abramovi? [23]
36. Dakis Joannou [40]
37. Udo Kittelmann [43]
38. Monika Sprüth & Philomene Magers [44]
39. Matthew Marks [45]
40. Gavin Brown [46]
41. Damien Hirst [64]
42. Rosemarie Trockel [41]
43. Wolfgang Tillmans [Re-entry]
44. Agnes Gund [38]
45. Chus Martínez [New]
46. Isa Genzken [Re-entry]
47. Iwona Blazwick [42]
48. Anne Pasternak [57]
49. Sadie Coles [60]
50. Daniel Buchholz [61]
51. Toby Webster [62]
52. Adam Szymczyk [49]
53. James Lingwood & Michael Morris [55]
54. William Wells & Yasser Gerab [56]
55. Michael Ringier [58]
56. Theaster Gates [New]
57. Pussy Riot [New]
58. Jeff Koons [66]
59. Steve McQueen [59]
60. Takashi Murakami [47]
61. Boris Groys [53]
62. Emmanuel Perrotin [51]
63. Richard Chang [73]
64. Tim Neuger & Burkhard Riemschneider [77]
65. Slavoj Zizek [65]
66. Thaddaeus Ropac [67]
67. Chang Tsong-zung [70]
68. Elena Filipovic [89]
69. Tino Sehgal [Reentry]
70. Christian Boros & Karen Lohmann [92]
71. Luisa Strina [New]
72. Claire Hsu [70]
73. José Kuri & Mónica Manzutto [New]
74. Brett Gorvy & Amy Cappellazzo [68]
75. Tobias Meyer & Cheyenne Westphal [69]
76. Budi Tek [New]
77. Walid Raad [75]
78. Cuauhtémoc Medina [New]
79. Massimo De Carlo [78]
80. Bernardo Paz [76]
81. Christine Tohme [72]
82. Mario Cristiani, Lorenzo Fiaschi & Maurizio Rigillo [79]
83. John Baldessari [Reentry]
84. Sheikha Hoor Al-Qasimi [New]
85. Dasha Zhukova [81]
86. Vasif Kortun [82]
87. Anita & Poju Zabludowicz [94]
88. Candida Gertler [71]
89. Gisela Capitain [New]
90. Carol Greene [New]
91. Franco Noero & Pierpaolo Falone [98]
92. Jacques Rancière [New]
93. Miuccia Prada [85]
94. Maureen Paley [91]
95. Don, Mera, Jason & Jennifer Rubell [87]
96. Paul Chan [New]
97. Victoria Miro [93]
98. Adriano Pedrosa [New]
99. Johann König [96]
100. Gregor Podnar [100]
• This article was amended on 18 October 2012 because the original said Sheikha Al-Mayassa bint Hamad bin Khalifa Al-Thani, a daughter of the emir of Qatar, "is rumoured to have spent, with her family, over £600,000 on western art over the past decade". That figure should have been £600m.
guardian.co.uk © Guardian News & Media Limited 2010
Published via the Guardian News Feed plugin for WordPress.
Categories
Tags