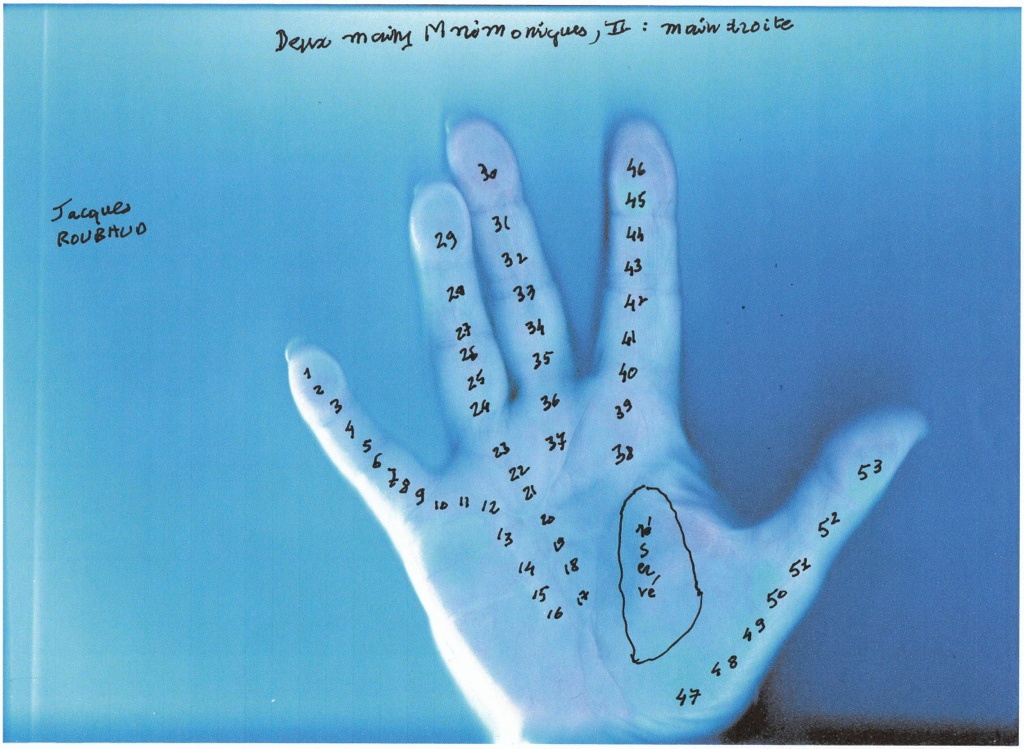 Jacques Roubaud Main Mnemonique (Mnemonic Hand) (detail) © Jacques Roubaud
INTERNATIONALLY RENOWNED ARTISTS, WRITERS, HISTORIANS, MUSICIANS, FILMMAKERS, NEURO-SCIENTISTS, ROBOTICS ENGINEERS, A SCENT EXPERT AND THE WORLD MEMORY CHAMPION GATHER IN A GLOWING, GEODESIC DOME FOR SERPENTINE GALLERY'S 7TH ANNUAL MARATHON
Another great competition for FAD readers after last weeks Frieze tickets we now have two 3 Day passes for the amazing Memory Marathon from The Serpentine gallery ( Details below).
Again all you have to do to win the tickets (We have two one per person) is send an email to mark@FADemail.com putting What's your name ? In the header.
The winners will be chosen at 11pm on Monday 8th October 2012.
Your names will be put on the Guestlist .
Ed Cooke and Joshua Foer – How Memory Works from Serpentine Gallery on Vimeo.
About:
Over three days (12/13/14 October) during Frieze Art Fair Week, the Serpentine Gallery stages the Memory Marathon, the seventh annual festival of ideas inspired by the annual Pavilion commission, launched by Serpentine Gallery Director Julia Peyton-Jones in 2000.
The next installment of the pioneering, multi-disciplinary Marathon series, conceived by Serpentine Gallery Co-director Hans Ulrich Obrist, will feature participations from leading artists, writers, filmmakers, scientists, architects, musicians and theorists in a continuous, performative programme of explorations and experiments about and within memory. Taking place in a geodesic dome on the lawn beside the Serpentine Gallery Pavilion 2012 designed by Herzog & de Meuron and Ai Weiwei, the event will mark the closing weekend of the Pavilion. The Memory Marathon follows Marathons dedicated to gardens, maps, poetry,manifestos and experiments as well as the now legendary, non-stop 24- hour Interview Marathon in 2007.
Among more than 60 participants confirmed so far are Brian Eno; former REM vocalist Michael Stipe; filmmakers Amos Gitai and David Lynch, who will present a new film; historians Jay Winter and Donald Sassoon, who together will explore the theme of 'War Memory'; celebrated neuroscientist Israel Rosenfield, who will introduce 'The Problem of Memory' with writer John Hull, robotics expert Luc Steels and World Memory Champion Ed Cooke; artists Olivier Castel and Ed Atkins on 'Deception and Self-Deception'; scent expert Sissel Tolaas on 'Sensory Memory'. Other contributors include Harvard astronomy professor Dimitar Sasselov; writer and critic John Berger; writer Douglas Coupland; poet John Giorno; writer and cultural historian Marina Warner; author and technologist China Miéville; artists Gilbert & George; architects Jacques Herzog, Pierre de Meuron and Fumihiko Maki; composer Gavin Bryars with poet and painter Etel Adnan.
The three-day event begins on Friday 12 October with a thrilling five-hour performance by acclaimed Lebanese sound artist Tarek Atoui, who together with fourteen internationally renowned musicians will take audiences on a mesmerising journey through Tarab and classical Arab music recorded from the early 20th century onwards.
Audiences can attend specific events – ranging from 15-minute solo presentations to 45-minute discussions or performances – throughout each day of the Memory Marathon. Or, they can immerse themselves fully in the three-day festival, during which time they will be transported on a deeply evocative journey through music, culture and history; consider the importance of memory in law and biology; learn what animal brains 'do' and how machines 'think' in the company of experts from a wide range of scientific fields; discover the impact an increasingly digitised world has on memory; learn tips on how to remember a 1,000-digit number in an hour; and experience first-hand the powerful links between the senses and memory.Including musical and theatrical performances, film screenings, discussions and participatory experiments, this three-day event will make for a fun, enlightening and stimulating experience.
SERPENTINE GALLERY MEMORY MARATHON Friday 12 October (6pm – 11pm) Saturday 13 October (12 noon – 10pm) Sunday 14 October (11am – 9pm)
Tickets are £25/£20 for Saturday and Sunday or £15/£10 for one day Tickets available from the Serpentine Gallery Lobby Desk or www.ticketweb.co.uk
Julia Peyton-Jones, Director of the Serpentine Gallery, says:
"The Serpentine Gallery's annual Marathon is a central focus of our live Pavilion programme. As playful as they are intense, the Marathons are emblematic of the Serpentine as a place to explore ideas. We look forward to widening these explorations when the Serpentine Sackler Gallery opens in 2013."
Hans Ulrich Obrist, Co-Director of the Serpentine Gallery, says:
"As a curator, I am constantly engaged in building memory or, as Eric Hobsbawm put it, leading a 'protest against forgetting'. I look forward to exploring a subject that is so pertinent in an age where, as Ai Weiwei says, 'we move so fast that memory is something we can only try to grasp'. Although we are hugely sad that Ai Weiwei still cannot travel to be with us and see the Pavilion that provides the inspiration for this year's Marathon, his brilliant co-designers, Herzog and de Meuron, will be among a stunning array of world-leading experts exploring the subject of memory through the prism of art, history, science and technology, considering – among many other things – the suspicion that there is a kind of systematic forgetting at the core of the information age."
The Memory Marathon is dedicated to Eric Hobsbawm.
Categories
Tags