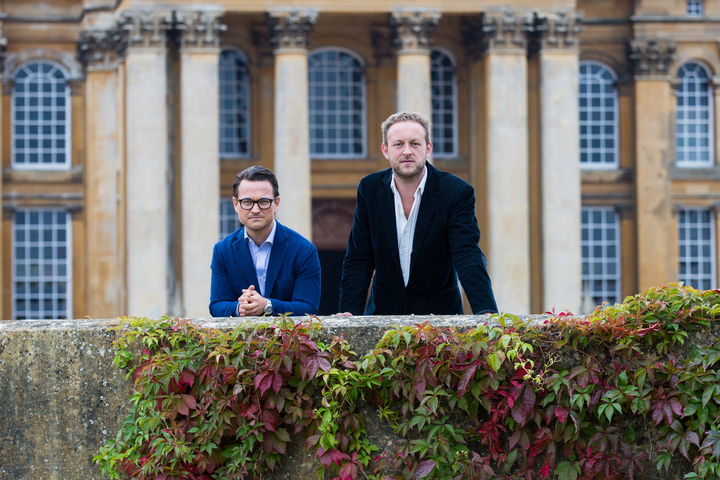 Portrait of Michael Frahm and Lord Edward Spencer-Churchill, Outside Blenheim Palace, Photographer credit to Amy Parton
1st October – 14th December 2014
Blenheim Art Foundation is launching tomorrow Wednesday 1st October an idea realised by Lord Edward Spencer-Churchill in partnership with Michael Frahm and his team with the most extensive UK exhibition to date by probably one of the most important artists alive today Ai Weiwei.
The exhibition is showcasing more than 50 artworks by Ai Weiwei produced over the last 30 years. Featuring early photography dating to Ai's time spent in New York in the 1980s through to new site-specific works conceived in China especially for the Palace, the show will give visitors the opportunity to experience first-hand the breadth of the artist's practice, taking place throughout Blenheim Palace, a UNESCO World Heritage site, and its grounds.
Ai Weiwei at Blenheim Palace is the first major contemporary art exhibition to be presented in a building that dates back to 1704 and was famously the birth place of British Prime Minister Sir Winston Churchill in 1874.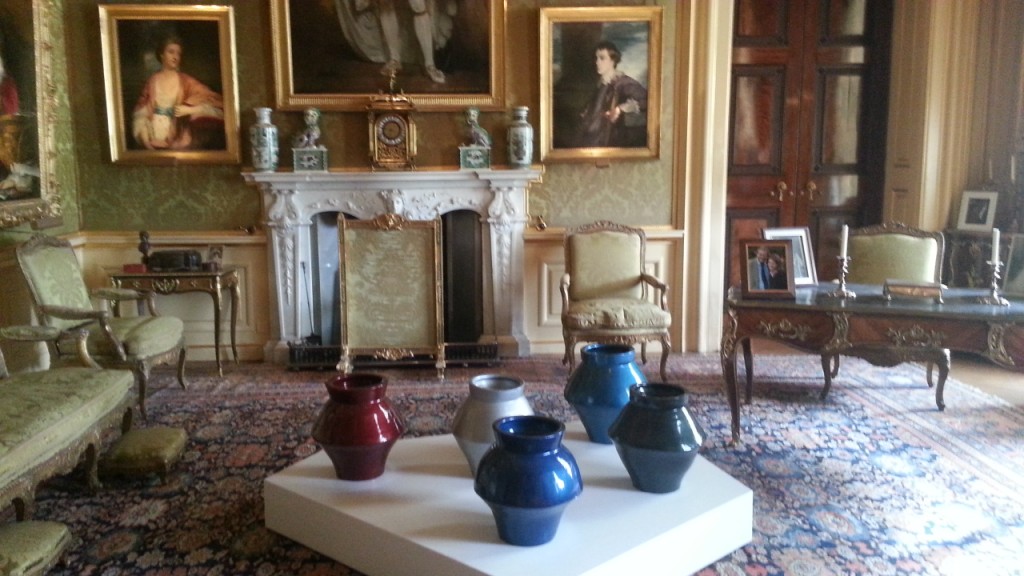 Han Dynasty Vases in Auto paints 2014, han Dynasty vases (202 BC – 220 AD) and auto paint.
What is great and hats off to Michael Frahm and his team is how the Ai Weiwei works are integrated so seamlessly into the existing Blenheim Palace artworks.
A globally-recognised social activist, Ai Weiwei has not been able to leave China since 2011 when his passport was confiscated by Chinese authorities. The exhibition at Blenheim Palace was realised through a close collaboration between the artist and the Blenheim Art Foundation team who have worked together with 3D plans and models of the site and grounds and heavy use of Instagram, Skype and Vimeo.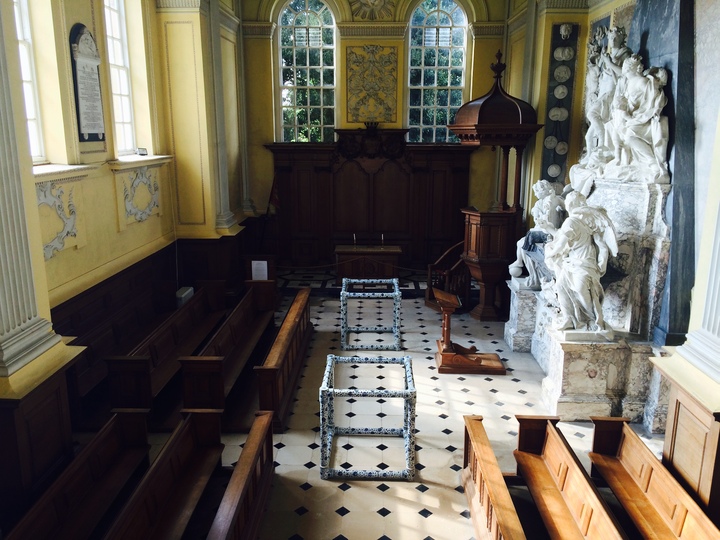 New works realised for the Palace will include 'Soft Ground (Great Hall)', a site-specific carpet measuring 4510cm by 200cm displayed in the Great Hall; alongside hand-painted porcelain plates with 'freedom flower' details in the China Ante Room and 'Sunflower Seed Stools', also crafted in porcelain.


Seminal artworks on display include 'Circle of Animals/Zodiac Heads: Gold' (2010), Ai Weiwei's reinterpretation of the legendary bronze zodiac head statues that once surrounded the fountain-clock at Emperor Yuanming Yuan's Beijing imperial retreat and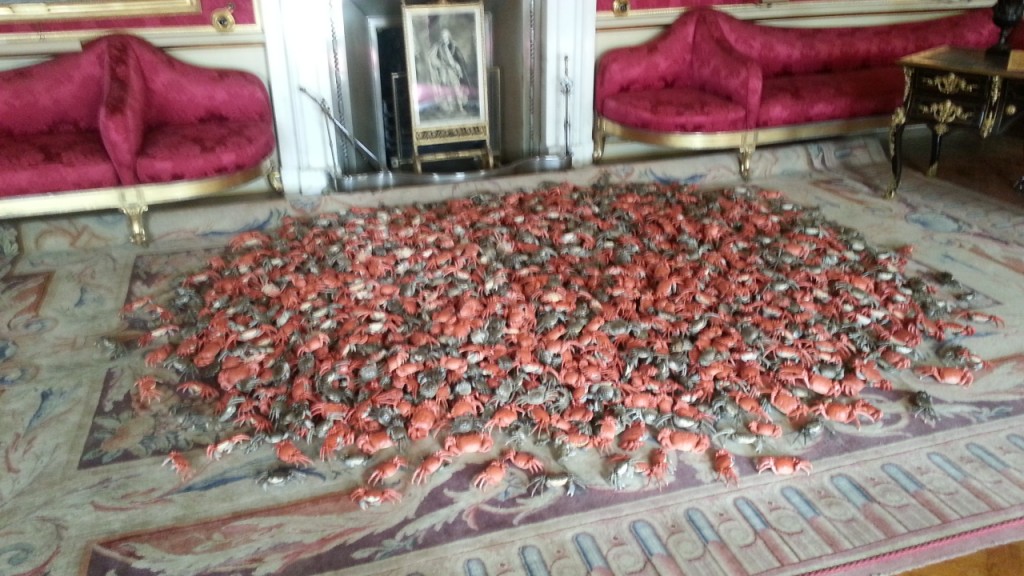 'He Xie' (2010), featuring 2300 small porcelain crabs presented in the Red Drawing Room. (See Above)
As well as artworks in the main palace there are artworks to be discovered in the secret garden and other places dotted around the grounds.
As the inaugural exhibition of the Blenheim Art Foundation, Ai Weiwei at Blenheim Palace marks a new programme of contemporary art, which will see exhibitions presented at the palace by internationally acclaimed contemporary artists.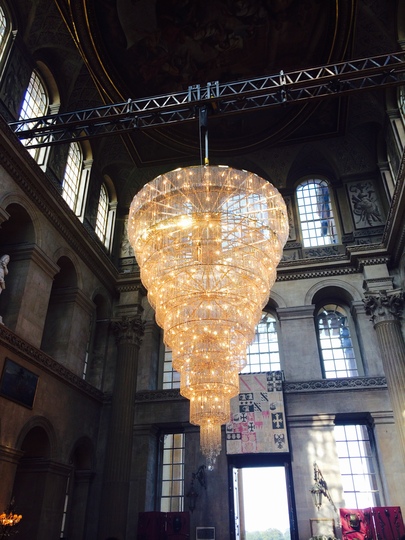 Chandelier, 2002 Glass crystals, Lights, Metal and scaffolding
About Ai Weiwei
Born in 1957 in Beijing, Ai Weiwei is one of the most influential cultural figures of the 21st century. A prolific artist and social activist, based in Beijing, he has been a vocal critic of democracy and human rights in China. Ai was arrested in 2011 and held for 81 days without charge, sparking global protest. His passport was confiscated and he is currently detained in China where he lives and works in restricted conditions.
Recent and current solo exhibitions include Evidence, Martin-Gropius-Bau, Berlin; Ai WeiWei in the Chapel at Yorkshire Sculpture Park, Ai Weiwei: According to What?, Pérez Art Museum Miami; Ai Weiwei. Resistance and Tradition, Centro Andaluz de Arte Contemporaneo, Seville, Spain; German Pavilion, Biennale de Venezia, Italy. With Herzog & de Meuron, Ai Weiwei was architect for the National Stadium of the 2008 Beijing Olympic Games. @Large Ai Weiwei on Alcatraz will open on Alcatraz Island on 27 September 2014.
About Blenheim Art Foundation
Blenheim Art Foundation will establish a new programme of contemporary art at Blenheim Palace in Woodstock, Oxfordshire. Offering visitors a unique opportunity to experience contemporary art in the historic setting of the palace and its celebrated grounds, the not-for-profit foundation aims to give the greatest number of people access to the most innovative contemporary artists working today. www.blenheimartfoundation.org.uk

Categories
Tags