The Skateroom, has unveiled two limited edition collections with internationally renowned artists Ai Weiwei and Shepard Fairey, in response to the first 100 days of Donald Trump as President of the United States.
Launching today, during Art Market in San Francisco (27 – 30 April 2017), The Skateroom has teamed up with contemporary Chinese artist and political activist Ai Weiwei for the second time, to launch a limited edition deck of his influential artwork Study of Perspective: The White House.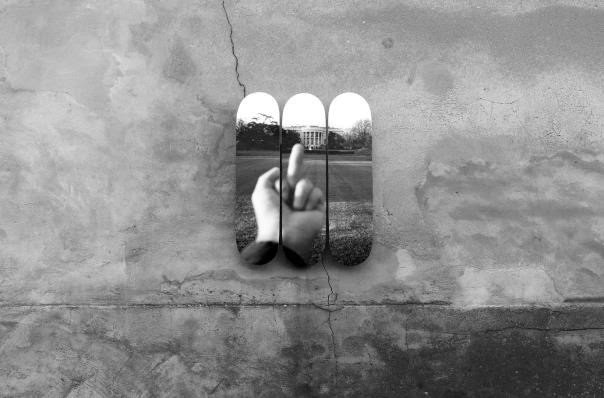 Study of Perspective: The White House is an iconic example of a larger body of work by Ai Weiwei that melds art and activism, and is an overt critical response to the current political climate in the United States.
In addition to the launch of Ai Weiwei's Study of Perspective: The White House, The Skateroom has collaborated with LA-based street artist, graphic designer and activist Shepard Fairey to create a limited edition series of decks also responding to the first 100 days of Donald Trump as President.
For this collaboration, Shepard Fairey has adapted one of his existing artworks; 'No Future', which denounces the hate-speech and propaganda delivered to an often uninformed or misinformed public. Shepard Fariey has been active in denouncing the antagonising and fearmongering vision of the new presidency through a poster campaign entitled "We The People" launched with the Amplifier Foundation on Donald Trump's inauguration day.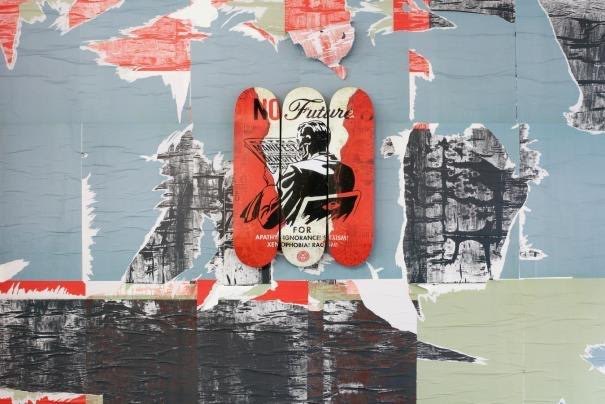 Shepard Fairey has adapted one of his existing artworks; 'No Future'
Through these artworks, The Skateroom and the artists will be able to support a number of NGOs. Following his trip to Gaza, Ai Weiwei has selected B'Tselem, an organisation which promotes respect for human rights in Israel and the Occupied Territories through a variety of means. Alongside this, proceeds will also go to Halklarin köprüsü (Bridging Peoples) a non-profit charity and solidarity association based in Turkey. Bridging Peoples purpose is to assist in fighting the struggle against all sorts of 'otherism', hate speech, discrimination, racism, nationalism, sexism and denominationalism.
On the collaboration, Ai Weiwei comments:
"My favourite word is 'act'. I am partnering with the Skateroom for that very reason. During the filming of Human Flow, my documentary on the global refugee condition, I had the opportunity to speak with individuals from both B'Tselem and the Bridging Peoples Association in Turkey. What these two organizations do is very valuable to society, both in fighting against injustice and in helping those that are unfortunate."
Both collections are available to buy exclusively from The Skateroom online store and during Art Market San Francisco.
Categories
Tags