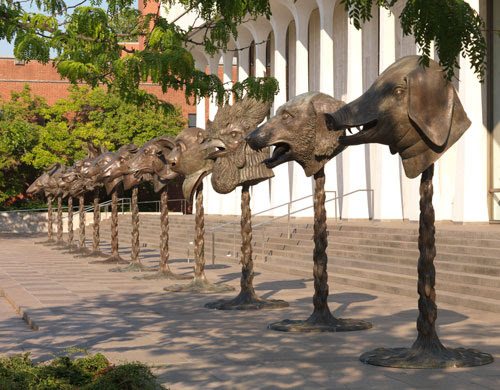 In celebration of its 40th anniversary, Yorkshire Sculpture Park is pleased to present sculptures by internationally acclaimed Chinese artist Ai Weiwei. Circle of Animals / Zodiac Heads (2010) is a dramatic group of 12 bronze animal heads that has been on a worldwide tour since May 2011, making a colossal migration through Europe, Asia and the Americas. Presented in the Lower Park, visitors to YSP can enjoy an unusual year-long opportunity to see the seminal artwork. Viewed by millions of people in person, on the internet and through digital media, the work is one of the most viewed sculpture projects in the history of contemporary art.
Ai reinterpreted the 12 bronze heads representing the traditional Chinese zodiac that once adorned the famed fountain-clock of the Yuanming Yuan, the imperial summer palace retreat in Beijing. Ransacked in 1860 during the Second Opium War by the British and French, only seven of the original heads have been returned to China – the rat, ox, tiger, rabbit, horse, monkey, and boar. The locations of the other five – dragon, snake, goat, rooster, and dog – are still unknown. Central to Ai's reimagined zodiac is the metamorphosis provoked by expulsion, migration, and deliberate change of location undergone by people and objects alike.
The physical migration of the work responds directly to its central concerns; Zodiac Heads has travelled enormous distances and has been welcomed and accepted in global locations – a liberty that is not available to everyone. In 2011, Ai was released from secret captivity by Chinese authorities, whereby his passport was confiscated. For the duration of their exhibition in Chicago in 2014, Zodiac Heads were hooded, an eerie reminder that the artist was still confined to China. In 2016, he was granted travel and flew to Prague to see the Zodiac Heads for the first time in person.
Circle of Animals / Zodiac Heads joins Ai's major sculpture Iron Tree (2013) at YSP, which is sited in the historic Chapel courtyard, following the artist's 2014 exhibition at the Park. It also forms part of a series of projects developed by YSP that investigates migration and human freedom, including Shirin Neshat (2011), Yinka Shonibare (2013), Amar Kanwar (2013) and Beyond Boundaries: Art by Email (2017).
Ai Weiwei: Zodiac Heads at Yorkshire Sculpture Park
8th April 2017–22nd April 2018
Categories
Tags