Normally art critic Tabish Khan brings you 'The Top Art Exhibitions to see each week'. Given that most galleries are shut due to the current Covid-19 health crisis, each week he'll be bringing you a different top 5 to enjoy while in self-isolation. Avid viewers of The Simpsons will notice lots of references to famous works in the show, here Tabish has picked his top 5. For other things to do while self-isolating see his top 5 art initiatives, films to watch, podcasts to listen to, books to read, Instagram accounts to follow and apps to download: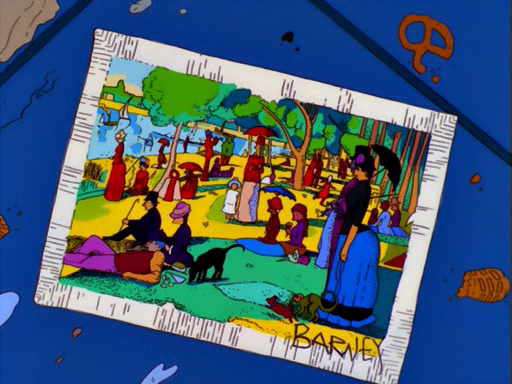 Mom and Pop Art
What better way to start than with the episode where Homer becomes an artist. It's littered with art references including a thieving Jasper Johns. My favourite moment is when Homer pays his bar tab with a scrawl but when Barney tries to do the same he's shot down. When Barney's work falls to the floor it's a beautiful replica of Seurat's 'A Sunday Afternoon on the Island of La Grande Jatte', and it's also a lovely dig at how commercial factors rather than talent often drives who does well in art.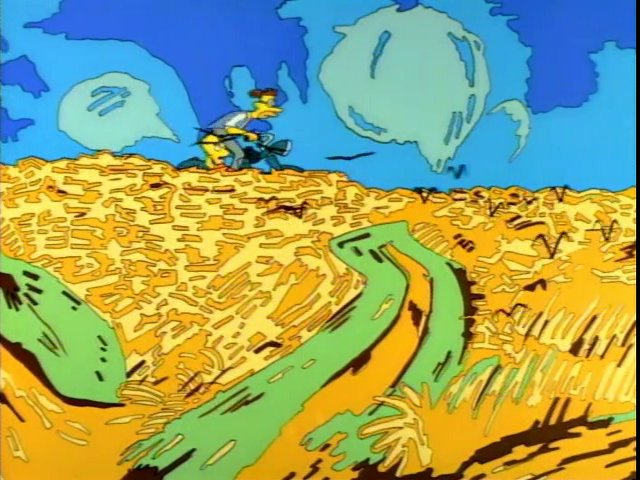 The Crepes of Wrath
Bart gets whisked away to France as an exchange student. While en route to his new home they whisk through a countryside made up of masterpieces include Manet's  le déjeuner sur l'herbe and Monet's Japanese Bridge. In between those two the crows go scattering in a nod to Van Gogh's Wheatfield with Crows.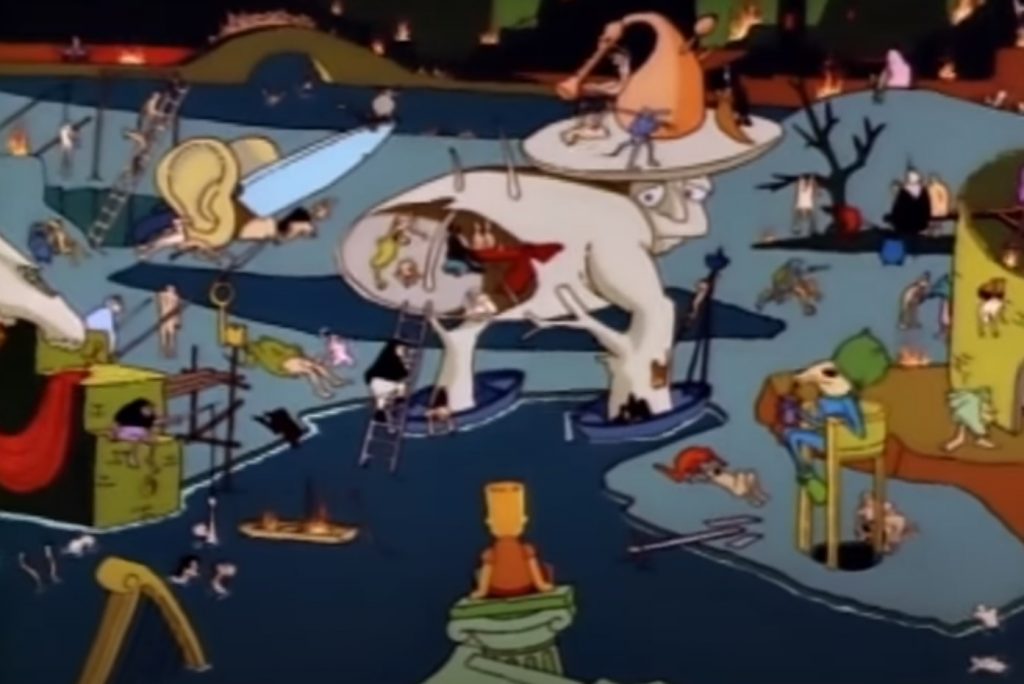 Bart gets hit by a car
When Bart has a near death experience after being hit by Mr. Burns' car he goes to hell, and it's very closely based on the hell panel from Hieronymus Bosch's Garden of Earthly Delights.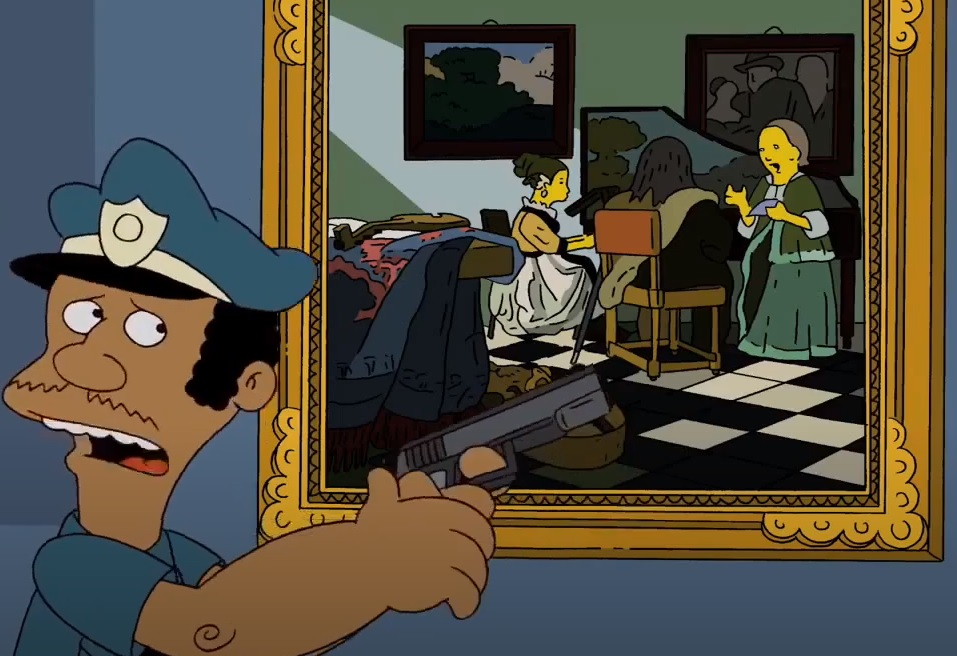 American History X-cellent
Another art centred episode when Mr Burns is arrested for possessing stolen art and found as the perpetrator of Isabella Stewart Gardner Museum theft –  a heist that actually happened and remains unsolved. His drunken employees play Twister with a collection of Old Masters and Mr Burns is rumbled by the fact he has the stolen 'The Concert' by Vermeer on his wall. Given that it was stolen 30 years ago and still hasn't been found, this is probably the closest we're likely to get to a resolution in finding what may be the world's most expensive stolen work.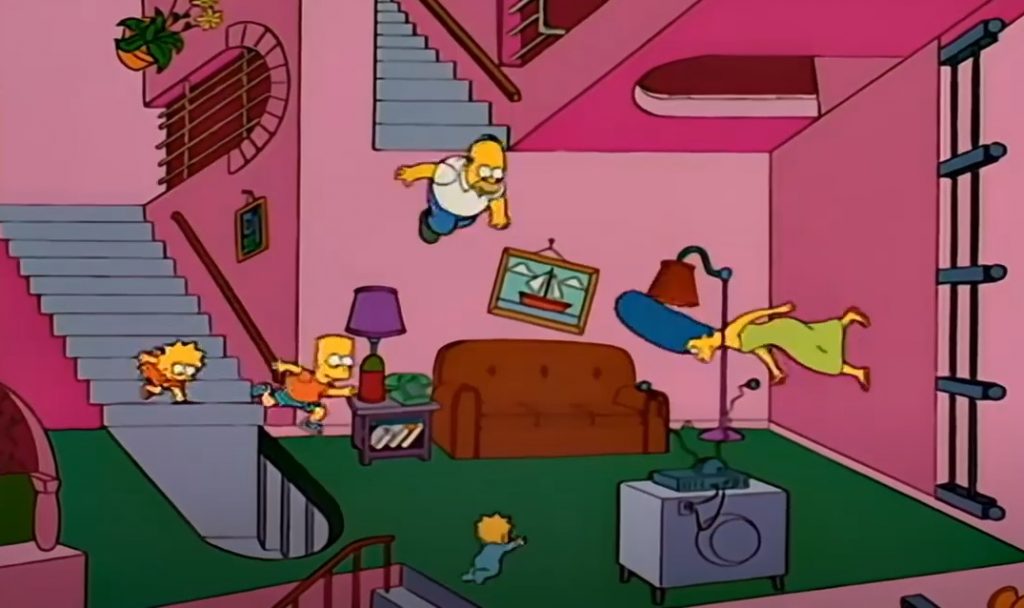 Escher Couch gag
One of the most famous elements of The Simpsons is the famous couch gag at the beginning, and how they assemble on to the sofa. This time they come in from all angles in the style of an MC Escher artwork. Escher is referenced a fair few times throughout the hundreds of Simpsons episodes so it's one to look out for other instances as well.
All images copyright The Simpsons and Fox TV. 
Categories
Tags