Spring is setting down roots. Only after assessing her favorite gallery shows from the past few weeks did Brooklyn-based art writer Vittoria Benzine see the foundations uniting them: painting, primarily, but also strong principles and an ambition to build beyond each artwork's surface. We're all riding the rhythms, and this time of year is for going big rather than going home. That means saturating colors instead of dialing them back, and downloading dating apps rather than deleting them. Get out in the garden to see these five shows on view this April. Each comes with a concise review to help decide whether it's for you. If you want more, all but one show from our last NYC roundup remain on view.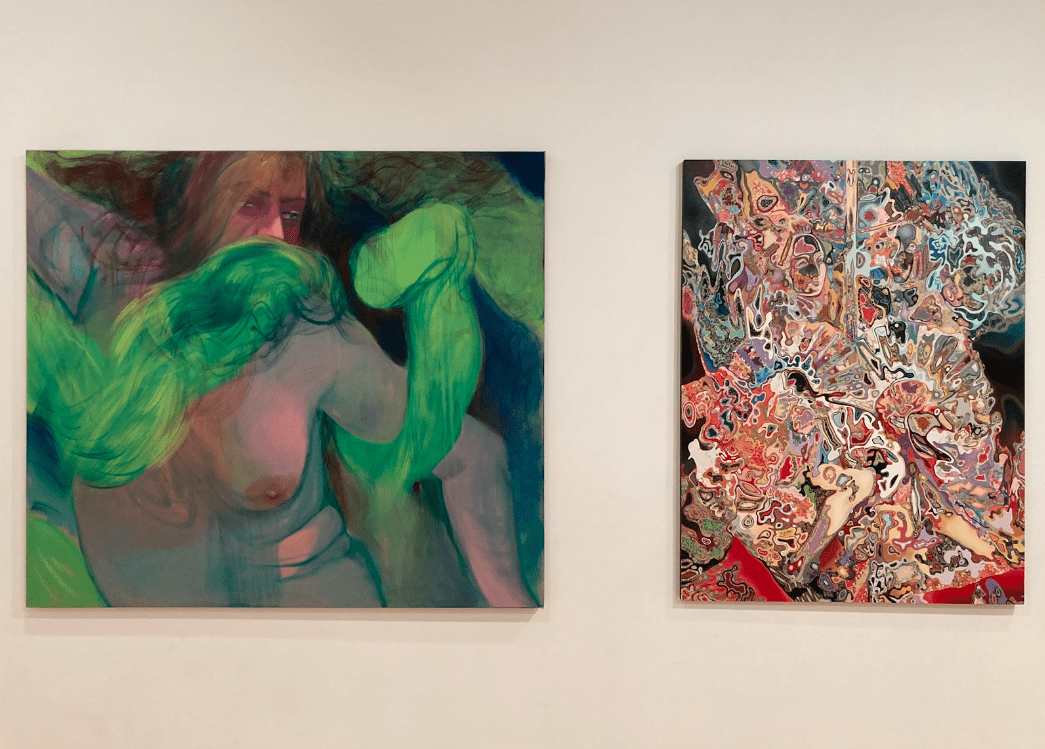 An exhibition presenting over a dozen artists requires a strong central premise. Fortunately, Ethan Rafii and Jonathan Travis (co-founders of Chappaqua's Wolf Hill residency and the independent curators behind this show) have harmonized scores of artists they've come to love from collecting through undeniable maximalism and a single question: which 'masters' inspire, constrain, and drive your practice? Rafi and Travis favor a certain visual youth, whimsy, and colorful commotion, but here the known cacophony of talents like Ken Gun Min and Yowshien Kuo achieves a new fever pitch, demonstrating how performing for an idol shatters one's upper bounds. Through April 29.
Photo by Vittoria Benzine.
Rising star Kevin Claiborne confounds photography's veracity using the raw materials of his own lineage. Culminating Claiborne's 11-month residency at the Lower East Side Printshop, "Family Business" presents his personal history across thirteen pictorial panels. At first glance they could be abstract paintings, but bright smiles and eyes resolve from preliminary pieces at the entryway. By the show's main room, viewers witness pivotal moments like the marriage of Claiborne's parents, caught on film and worked over, like the rest of the pieces in this show, with acrylic and ink that shift each scene in color and shape. At once, Claiborne asserts his role as author of his personal history — and proves that memory is ultimately subjective. Through April 8.
Photo by Vittoria Benzine.
Not that long ago, in a land maybe not that far away — just a bit deeper into Midtown, in fact — Ukrainian-born painter Anastasiya Tarasenko reminds us that fairytales have withstood the demise of the oral tradition because they encompass the everlasting story of us. This fantastical show spans nearly every classic archetype, from the witch that got Hansel and Gretel to serenading maidens, white whales, and devils (not just in the details.) Tarasenko hasn't simply satisfied herself with meticulous attention to compositional accents — she's even built her paint up from the plane so these stories literally stand out with perfectly textured, technically contoured forms, enveloping viewers that much deeper into the narrative fold. Through April 29.
Photo by Vittoria Benzine.
I went because it looked flashy, but once I got up close to these massive-scale works by Canadian painter Dorian FitzGerald was reminded that hyperrealism most often hails not from perfectly placed lines, but strategically placed splotches, which here also carpet FitzGerald's canvases with tactile sensations, gently layered atop each other to make these scenes look even more real. Tiny canvases complement larger works, balancing their scale and demonstrating the artist's versatility. Maybe it was that Saturday's drizzle or the MCR I was singing to the empty room, but these works' devotion to ostentation illustrated, to me, the sensual vulgarity of consumer culture's insatiable thirst for gilded rooms, gleaming monuments, and artificial aquariums. The ugliness is all so delicious. Through May 13.
Photo courtesy of Charmoli Ciarmoli.
New transcendentalism awaits us — not every original thought has been had. I'm betting new bombshells in physics will further shake the way we see the world. While Ma's work feels soft and spiritual, I see a lot of science in it too, like how Einstein's theory of relativity removed the preeminence of right angles in art. This marks Ma's first Manhattan solo — and the inaugural exhibition at Charmoli Ciarmoli, an interesting new gallery situated in the nook of a luxurious office building on Park Avenue. Tucked inside you'll find Ma's latest paintings from the past two years. Color palettes and forms oscillate gently, and if you know what to look for, what you're looking for, you'll find the divine in spades here, where everything looks much like it would at light speed — the only true present. Through April 23.
Categories
Tags