PM/AM are giving you an opportunity to catch up with Brooklyn based artist Anthony Miler during his residency in London. Given the circumstances the world is currently facing, we're skewing convention by utilising remote methods of interaction to which you are invited. These are namely personal, video based visits to his workspace, and published reports that will help to illustrate the progression of his creative practice, with an insight into the experience of an artist working in these unprecedented conditions.
Anthony deconstructs the geometries of living things and discernible environments, reassembling to create images that are at once familiar and strange. At this unprecedented moment it is ever more pertinent to consider the artist isolated with their work, the outside world both an influence and source of trepidation.
Miler's greyscale pieces possess a wild expressive energy; monochrome depictions captured in a framework of lines, scrawls and patches that apply narrative and character to formations not unfamiliar to William Anastasi.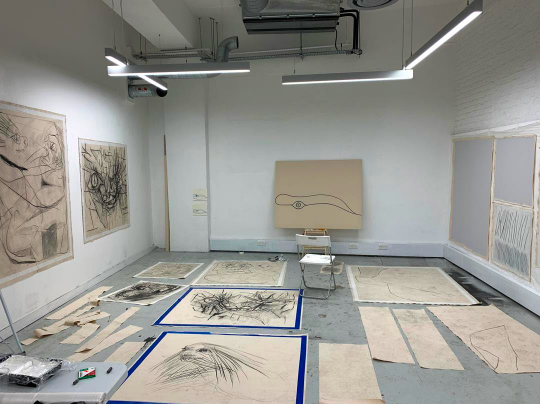 In his quieter works, flowing shape elements share space with a palette elevated through a subtle use of colour, a world away from the overwhelming vividity of pervasive media. These pieces have a sense of balance associated with Eastern aesthetics and the tonality of the Ukoyi-e works from Japan's Edo period. Where a lightness of touch and attention to essential details characterised the work of Hiroshige and his contemporaries, Miler imposes bolder constraints on his components. Graphical segments come together to form abstract, Miro-esque creatures gazing out from the canvas through mysterious eyes. The simplified, gentle environments of these paintings could be seen as a refuge from a world caught in increased anxiety.
Anthony's first solo show The Grisaille Paintings was held at Art 3 in New York in 2014. He has since been exhibited in solo and group shows at other spaces including Almine Rech and Rod Barton (London), Galerie Tom Christoffersen (Copenhagen) and Thierry Goldberg (New York). His latest exhibition The Sun Sets on Us All saw 23 new works mounted at Tokyo's Masahiro Maki Gallery, each displaying the latest developments in Miler's artistic practice.
To register your interest in attending a visit email paddy.barstow@pmam.org
Categories
Tags