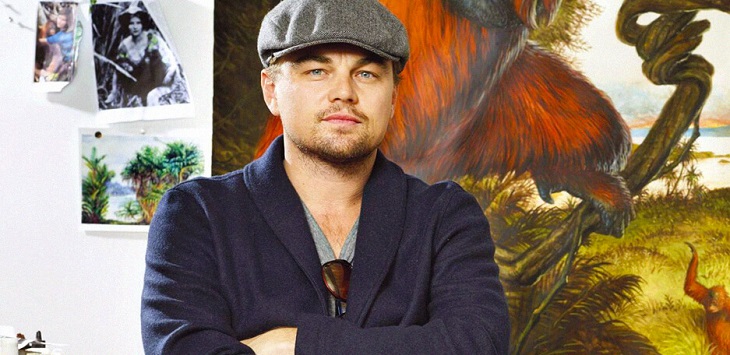 Leonardo DiCaprio has joined the ranks of the world's top art collectors with a collection that includes Basquiat, Murakami and Picasso. This places him in the company of Microsoft co-founder Paul Allen and hedge-fund manager Steven A Cohen, owner of Hirst's infamous shark, from whom he could learn a thing or two about patience and decorum. DiCaprio accidentally bid on a Walton Ford painting at a charity auction, leaving him with an unwanted $250,000 bill.
DiCaprio is reluctant to talk about his art collection so it has been up to the paparazzi to spot him at Art Basel Miami Beach and artnet to catalogue his purchases. Unlike other celebrity collectors, he is content to collect for his own pleasure and to use his knowledge and passion to stage fundraising auctions with Christie's. This diffidence and generosity of spirit is part of the reason why Leo was my first true love when I was a teenager; that and the gratuitously mucky sexual energy that flows through every scene of The Basketball Diaries. It was so deliciously compelling that it was only the onset of a profound maturity that switched my affections to Kieron Richardson from Hollyoaks. But then came The Wolf of Wall Street, where Leo was brutal and buff and irresistible again, leaving me with a conflict of interests that stretches all the way from New York to Chester. But I digress.
The auction, at New York's Bowrey Hotel, was to raise funds for endangered turtles. Walton Ford's Pacific Theatre (2015) was valued at $500,000, but when the auctioneer started the bidding at $250,000, DiCaprio, who already owns three works by the artist, was overtaken by anticipation. Expecting more competition for the lot from other celebrities in the room, such as Ted Danson and Richard Branson, DiCaprio raised his arm. The room fell silent and nobody entered a bid. Since it was a charity auction, it would have been obscene for the lot to be returned unsold, so DiCaprio won as the sole bidder.
The sale, while good for the charity, had two unfortunate consequences. First, DiCaprio immediately entered into negotiations with art dealer Tico Mugrabi and Christie's international specialist Loic Gouzer. After some hushed discussions and furrowed brows, Gouzer agreed to split the cost with DiCaprio, although it is not clear who would end up taking custodianship of the work. This is awkward because although a quarter of a million dollars is a lot of money for most of us, for DiCaprio, who is reportedly worth $220million, it is small change. Why, then, would he be unwilling to part with the cash, especially for charity? It does a certain delicate violence to Ford's reputation – and potentially his market – to be seen to be unwanted, even at half of a work's reputed value by a major collector.
The second thing is even more cringe-worthy in its awkwardness. DiCaprio and Ford are good friends, so it will be something of a carbuncle on their relationship to know that DiCaprio was unwilling to pay full price and only reluctantly accepted part ownership for a measly $125,000. Difficult questions arise concerning the boundaries between business and the personal spheres, since if millionaires will purchase their friends' works then they shall have to be able to explain themselves when they suddenly desist from doing so.
It seems as if DiCaprio never really wanted to buy the painting, but that he rather intended to start the bidding off and to drive up the price like any faithful dealer would do. But it all went wrong when it quickly became apparent that nobody else in the room shared his taste. This leaves Ford insulted and DiCaprio ungraciously embarrassed, out of pocket and looking like a vicious turncoat, not the mention the potential ripples of doubt that may spread through the rest of Ford's market. A man whose collection includes signature pieces by Frank Stella, Andreas Gursky and Ed Ruscha should know better, but it seems that DiCapro is not yet familiar enough with the subtleties of the art market to play ball with the big boys.
Words: Daniel Barnes
Categories
Tags