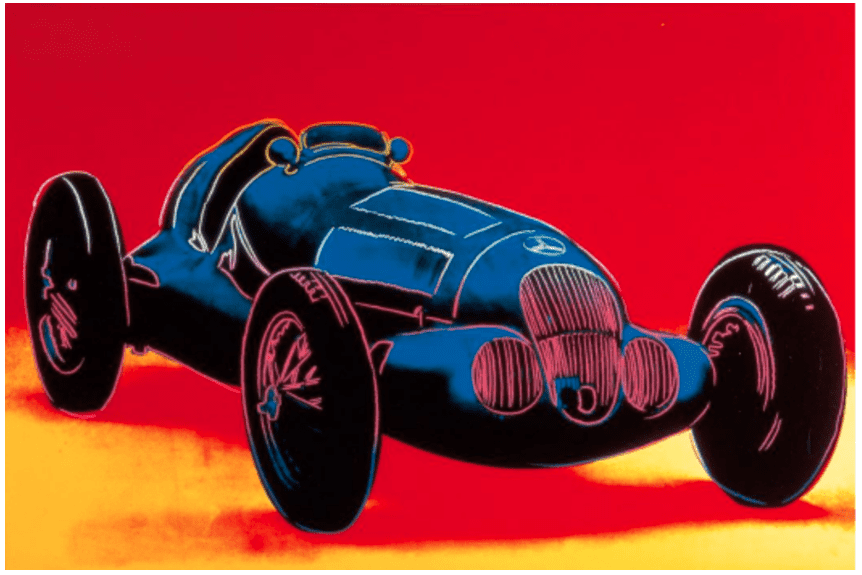 Commissioned on the occasion of the hundredth anniversary of the motor car, Andy Warhol's uncompleted 1986/87 Cars series was to include 80 pictures intended to record the history of the motor car from the Daimler Motor Coach and Benz Patent Motor Car, both dating from 1886, to the present day.
The last series of pictures to be undertaken in his lifetime, only 36 silk-screen paintings and 13 drawings representing eight different Mercedes-Benz models were completed. Much like his previous work involving the iconography of branded consumer products and celebrities, Warhol managed to bring together the image of the automobile, and more specifically the Mercedes-Benz brand, within the context of high art. 
Having started his career in advertising before becoming an artist, and eventually developing into what he called a "business artist," Warhol's commissions represent an acknowledgement of the commercial reality of artistic production often concealed by modern notions of the autonomous artist. Falling just outside of Warhol's specific "iconography of the everyday," these vintage automobiles, like many exclusive luxury products, are desired by many but scarcely available to the masses. Thus, as objects of general longing and icons of automotive history, the abstracted images associated with these consumer products occupy a prominent space within cultural memory. In this exhibition, these highly allusive automobiles and their images appear within the context of two celebrated brands, Mercedes-Benz and the one that Andy Warhol constructed for himself.
Andy Warhol: Cars works from The Mercedes-Benz Art Collection at The Armand Hammer Foundation Gallery opening July 23rd 2022
Co-Curated by Dr. Renate Wiehager Head of the Mercedes-Benz Art Collection, Stuttgart, Berlin
Categories
Tags