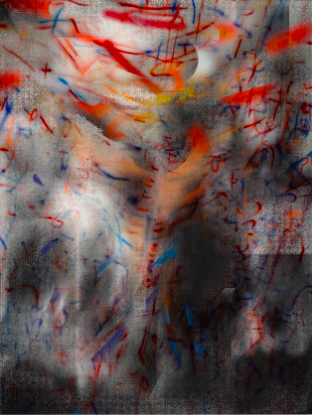 When you google Julie Mehretu, names such as Amy Sillman, Bridget Reilly, Mark Bradford, and Tracy Emin appear under "related search." I would like to argue, though (bear with me here) that the Ethiopian/American contemporary visual artist, deserves a category all her own. Not only is Mehretu a visual and creative genius, but her whole persona seems to be devoted to influencing and inspiring—TIME magazine (among many others I am sure)  appears to agree with me on this as they named the artist one of the most influential people of 2020. Mehretu's expansive, and incredibly labour intensive works each tackle their own important themes—immigration, displacement, social and economic inequality, and natural disasters (like the California wild fires and hurricane Irma) are just the tip of the iceberg…
Mehretu brings controversy to the forefront of conversations amongst her transcontinental audience; her work also has an uncanny ability to demand dialogue long after it has been exhibited. The artist has often relied on an erasure technique of sorts. Systems of breaking down and erasing fuel her captivating canvases. She can then fully do away with, if you will, and eventually rediscover. Finally, these ravishing palimpsests are born. Each work is more aesthetically pleasing than the next. But that doesn't seem to be enough for Mehretu by any means because her fundamental aspiration comes from working with "source material" that stimulates her "conceptually and politically."
Themes of displacement and relocation have sadly engrained themselves deeply into the artist's own life; Mehretu was forced to flee her home in Addis, Ethiopia in 1977. This relocation was not exactly voluntary; As the country's military leadership enacted a reign of terror, the artist and her parents (her mother was American and her father Ethiopian) were left with no choice. Mehretu's work with, and connection to, memories of lives lived across various countries and continents begin to form concrete stories in her art; ultimately these are big and challenging concepts regardless of whose personal story they account for. But I especially noticed that something unique and truly special happens in this exhibition, as we are reminded that each chopped up and repositioned recollection is subjective.
Mehretu has come to label such pieces as "psychogeographies." Layers define each work— size, colour, form, line, perspective and all of the other material components of each work are sometimes starkly opposite. The entrance of the show (black and white works were given their own reductive space) was the first to define this. Simultaneously, hues of red and blue and yellow and green defined the walls in neighbouring rooms. There is, though, an underlying theme which works to connect the paintings. Yes this sounds simple, and obvious—and who knows perhaps for every other viewer it was. But a large part of each work's success lies in the artist's inherent reliance on creation, separation, and unification of various different parts that eventually fit together as one.
Even from afar, the paintings are bold and entrancing—so much so that my eyes darted around the 96 X 120 inch canvas, struggling, begging for a place to land. The New York city night also conveniently added to the uncomfortable quiet in Marian Goodman Gallery's vast upper east side location. But as I worked up the courage to move closer to each work my eyes blurred even more. The blurring now was not defined by the paintings many moving parts, but instead it was clearly purposeful. Instantly the energy shifted from intimidating to approachable.
I'm not sure why a blurred edge is less scary than a sharp one, but it just is, and Mehretu likely knows this. She has said in previous interviews that for her "there is usually a small entryway to the painting." There is a specific moment in which "a collection of drawings is translated into a geometric abstract moment." Perhaps as my eyes continued to blur I just accepted it as my entry point to read the work and moved on. I am sure it is not the entry point the artist would have intended, and for that, I do apologise!
 But it was amazing all on its own because it was mine. I loved aspect the most in about the space of half an hour that no matter how complicated and meaningful and intense each painting was, Mehretu still invites you in. She still offers her audience an entry point in the same way she made one for herself. This is not to say that Mehretu lets it come easily, and maybe it never comes at all. But, I have a feeling, if you trust me and Mehretu on this one you will find your very own entry point. Not only to her phenomenal vision, but also to layers upon layers of beautiful, and terrifying, and wonderfully perplexing shared human experience. Sorry to be cheesy, but thought I'd begin the new year on a positive note!
Categories
Tags