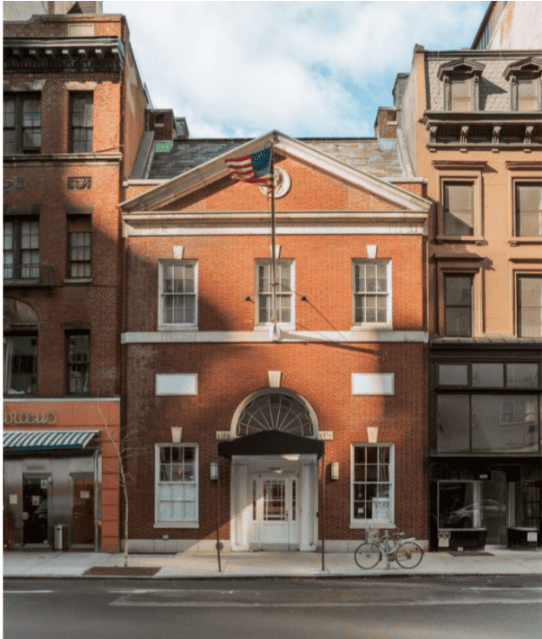 White Cube has announced the opening of its New York gallery this fall, at 1002 Madison Avenue in the city's Upper East Side. Housed in a historic former bank constructed in 1930, the three-story space is the gallery's first permanent location in the United States after launching the seasonal White Cube West Palm Beach gallery in 2021. This year also marks 30 years since the 1993 opening of White Cube's first location on Duke Street in London.

The inaugural exhibition at White Cube New York, titled 'Chopped & Screwed', will occupy two floors of the new gallery. Curated by Courtney Willis Blair (Senior Director, US), the show explores the idea of distortion as both a formal and conceptual tool used to examine and subvert well-established narratives or systems.
Bringing together a group of artists exemplary of the gallery's global network from both inside and beyond the roster, the exhibition includes works by David Altmejd, Michael Armitage, Georg Baselitz, Theaster Gates, David Hammons, Christian Marclay, Tiona Nekkia McClodden, Julie Mehretu, Nathaniel Mary Quinn and Ilana Savdie among others.

The selection of artwork demonstrates how the choice to alter or corrupt an existing idea, image, or material is integral to artistic practice and innovation. Specifically, the exhibition considers the practice of sourcing in contemporary art through the framework of musicality – how techniques such as sampling, mash-up, and remixing are mirrored in visual art by methodologies of distortion, experimentation, and revision.
Referencing the subgenre born out of Houston, TX and largely attributed to DJ Screw, the exhibition title directly points to the act of manipulating critical elements of an existing thing to shape something entirely new. These methods are referential by design and can point to nostalgia as much as subversion.

Illustrating the very essence of the exhibition premise, works by Julie Mehretu and Theaster Gates speak directly to sampling with their use of source images and everyday objects, referencing elements that are both deeply historical and familiar.
Known for revisiting his subject matter again and again, Georg Baselitz takes something old to build something new, while Christian Marclay explores the physical and cultural intersection between sound and image. Rendered in unconventional materials, the human subjects in works by Ilana Savdie and David Altmejd allude to the nostalgic and the perverse.
Following the inaugural exhibition, the gallery will present new paintings by Tracey Emin in a solo presentation in November 2023, the artist's first show in New York for 7 years
This month, White Cube will participate in TEFAF New York (12 May – 16 May) at Booth 355 and Frieze New York (17 May – 21 May) at Booth A4.
Categories
Tags