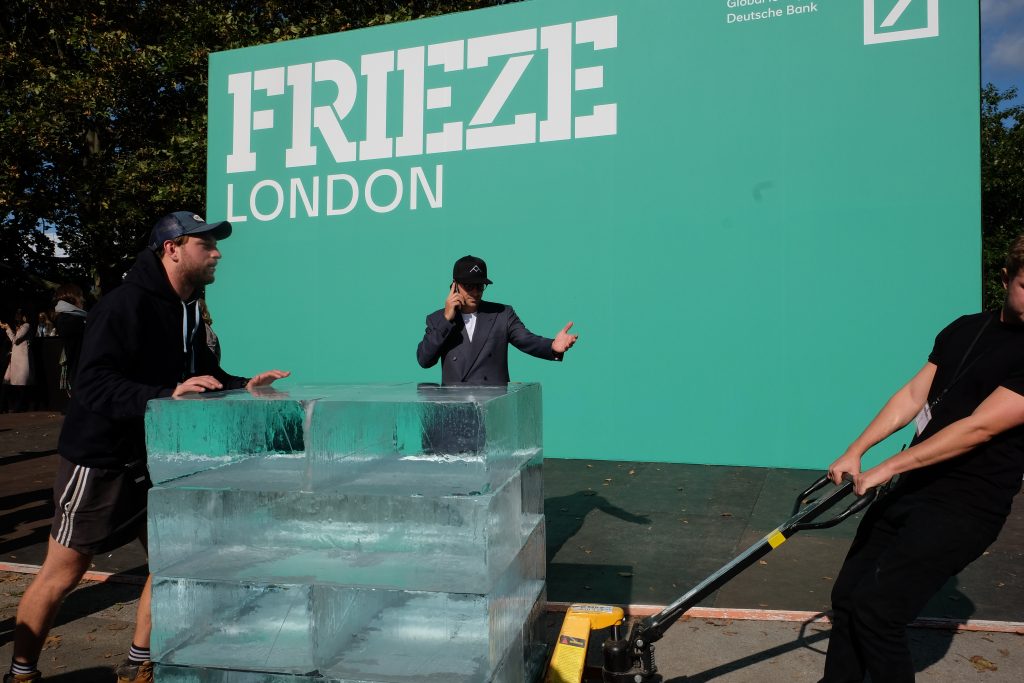 In one of his interventions Massimo Agostinelli Deposits Blocks of Ice at Frieze London.
Frieze London and Frieze Masters revealed the full line up of participating galleries for the second edition of Frieze Viewing Room. Taking place October 9th – 16th, with preview days on October 7th and 8th, the digital initiative brings together over 250 leading galleries on one platform. The mobile and web-based Frieze Viewing Room platform will showcase curated gallery sections and benefit from new developments including a live chat feature, social media integrated sharing functionality and the option of six virtual spaces designed by Annabelle Selldorf.
This year Frieze London and Frieze Masters will introduce a hybrid format of online and offline activity, with Frieze Viewing Room taking place alongside an expanded programme of Frieze Week activity across London. Together, Frieze Viewing Room and Frieze Week in London will form a significant moment in the city's cultural calendar as well as an opportunity for cultural connections and conversations on an international level. Global lead partner Deutsche Bank supports Frieze fairs for the 17th consecutive year, continuing a shared commitment to artistic excellence.
Eva Langret, Artistic Director of Frieze London commented: 'While I could never have imagined that my first fair as Artistic Director would be made in these conditions, I could not be more excited about the presentations, both online and offline, that we're bringing together for Frieze London and the ingenuity that all our participating artists and galleries have shown. I am particularly excited to introduce Possessions, the section curated by Dr. Zoe? Whitley, featuring Vera Frenkel, Mike Cloud and Veronica Ryan; and to bring LIVE, curated by Victor Wang to Cork Street for Frieze Week as well as Frieze Sculpture, curated by Clare Lilley to Regent's Park. This year promises to bring a global audience online, and participants across London together, in support of a community that needs them now more than ever.'
World-Leading Galleries
Frieze London and Frieze Masters will see participation from world- leading galleries, including international names such as Gagosian, Marian Goodman Gallery, Hauser & Wirth, Xavier Hufkens, Pace Gallery, Skarstedt, Spru?th Magers, Van de Weghe and David Zwirner, and leaders in their field such as 303 Gallery, A Gentil Carioca, Kavi Gupta, Jenkins Johnson Gallery, Jhaveri Contemporary, Karma, kurimanzutto, Mendes Wood DM, Almine Rech and Sikkema Jenkins & Co. A strong representation of prominent London galleries such as Sadie Coles HQ, Pilar Corrias Gallery, Thomas Dane, Stephen Friedman Gallery, Alison Jacques Gallery, Victoria Miro, Maureen Paley, Richard Saltoun Gallery and White Cube, celebrate the city's position as a global arts hub.
The Frieze Masters iteration of the Viewing Room presents a rare opportunity to bring museum-quality pieces to the digital sphere, underlining the fair's longstanding commitment to presenting historical works within a contemporary setting. Frieze Viewing Room will welcome returning Frieze Masters participants Acquavella Galleries, ArtAncient, Galleria Continua, Gise?le Croe?s s.a., Massimo De Carlo, Dickinson, Sam Fogg, Dr. Jo?rn Gu?nther Rare Books, Johnny Van Haeften, Luxembourg + Co., Barbara Mathes Gallery, Nahmad Contemporary, Raccanello & Leprince, Galerie G. Sarti and Waddington Custot, amongst others.
In keeping with this year's reimagined hybrid format, many galleries are embracing the opportunity to present online-offline presentations, exhibiting works featured in their viewing room or complementary exhibitions in their gallery spaces. Highlights include:
• A Gentil Carioca are set to transform the 'Encruzilhada Gentil' (the crossroad in downtown Rio de Janeiro that the gallery overlooks) into a gallery booth. In addition to being one of the gallery's spaces, occupied by various activities such as exhibitions, performances and musical shows, 'Encruzilhada' is also the place where political manifestations, rituals, carnival songs, cars and people traffic, casual meetings take place – all of which have been interrupted in the current context.
• Stephen Friedman Gallery will present a selection of new works by British sculptor Holly Hendry shown both online in their Viewing Room, and in a specially designed space at 30 Old Burlington Street
• Lyndsey Ingram and Tristan Hoare are to feature 20th-century American prints from Ellsworth Kelly, Helen Frankenthaler, Donald Judd, Jasper Johns and Ed Ruscha in dialogue with objects from the collection of the legendary London gallerist John Kasmin, at Tristan Hoare's Fitzroy Square gallery
• Carlos/Ishikawa will show works by Marie Angeletti, Korakrit Arunanondchai, Bendt Eyckermans, Issy Wood, Oscar Murillo, and Stuart Middleton on Frieze Viewing Room while installing the same presentation at their gallery space in East London
• Lisson Gallery will present a solo booth by Laure Prouvost with an exhibition of the artist's work at their Lisson Street gallery
• Kate MacGarry will feature new and recent work by Turner Prize winner Helen Cammock, coinciding with a solo show at the gallery during Frieze Week
• Stephen Ongpin Fine Art will present a selection from their exhibition 'Drawn to Nature: Flora and Fauna from the 16th Century to the Present', also on view at their London gallery
• White Cube will present a specially conceived solo booth of new work by multidisciplinary artist Theaster Gates. Alongside, this will be presented as a public installation at White Cube Bermondsey, on 10, 11 and 16 October 2020, advance booking is required
Curated Sections
Possessions
Frieze London's new curated section, led by Zoe? Whitley (Director, Chisenhale Gallery), is set to feature solo presentations focused on the theme of spirituality in the art of our time. Highlights include: Iva?n Argote (Vermelho), Mike Cloud (Thomas Erben Gallery), Dewey Crumpler (Jenkins Johnson Gallery), Vera Frenkel (Georg Kargl Fine Arts), Jitish Kallat (Nature Morte), Lucia Koch (Christopher Grimes Projects), Prafulla Mohanti (Jhaveri Contemporary), Buhlebezwe Siwani (Madragoa) and Veronica Ryan (Paula Cooper Gallery).
Focus
Devoted to galleries aged 12 years or younger, the Frieze London section provides a platform for today's most exciting emerging artists. Stand-out presentations include: Daiga Grantina and Nicholas Cheveldave (Emalin), Ana Rolda?n, Abel Rodri?guez & Wilson Rodri?guez and Marlon de Azambuj (Instituto de Visio?n), Rosario Zorraqui?n (Isla Flotante), Omar Fakhoury, Rania Stephan and Talar Aghbashian (Marfa'), and Zina Saro-Wiwa (Tiwani Contemporary).
Spotlight
Composed of solo booths dedicated to visionary artists from the 20th century, the celebrated Frieze Masters section is once again curated by Laura Hoptman (Executive Director, The Drawing Center, New York). Highlights include: Renate Bertlmann (Richard Saltoun Gallery), Ben Enwonwu (ko?), Viola Frey (Gavlak), Magali Lara (waldengallery) and Felipe Jesus Consalvos (Gallery of Everything / Fleischer Ollman).
Viewing Room
Galleries will be able to present up to 36 artworks within their digital space on Frieze Viewing Room alongside video, additional images and text features and have an unlimited number of artworks with which to change their presentation as often as they wish. The second edition also sees a host of new and improved developments including:
• Live chat to connect collectors and galleries in a seamless online conversation
• Virtual gallery spaces designed by Annabelle Selldorf and options for bespoke gallery design
• A digital waiting room, to plan your visit in advance of opening
• Social media shareability, save and like features
Improved search functionality
• Upgraded AR functionality for the mobile app
• Improved search and navigation to find and browse galleries and artworks
View Frieze London Galleries Here
View Frieze Masters Galleries Here
About Frieze
Frieze is the world's leading platform for modern and contemporary art for scholars, connoisseurs, collectors and the general public alike. Frieze comprises three magazines—frieze, Frieze Masters Magazine and Frieze Week— and four international art fairs—Frieze London, Frieze Masters, Frieze New York and Frieze Los Angeles.
Frieze was founded in 1991 by Matthew Slotover and Amanda Sharp, with the launch of frieze magazine, the leading international magazine of contemporary art and culture. In 2003, Sharp and Slotover launched Frieze London art fair, which takes place each October in The Regent's Park, London. In 2012, they launched Frieze New York, which occurs each May in Randall's Island Park, and Frieze Masters, which coincides with Frieze London in October and is dedicated to art from ancient to modern. In 2018, Frieze announced the launch of Frieze Los Angeles, which opened February 14–17, 2019 at Paramount Pictures Studios, Los Angeles. In 2016 Frieze entered a strategic partnership with Endeavor, a global entertainment, sports and content company.
Categories
Tags