Three months of lockdown… that's a lot of online art. It's easiest, for sure, to appreciate the virtual offerings of artists whose work you have already seen 'for real'. But I have also been newly interested in artists now on my list of 'see IRL when you get the chance'. Such as these three to go with the three last week…
Kinke Kooi: 'Sweet Care' 2014 (top)
I discovered  Kinke Kooi's 40 year back catalogue via a show of new work at Exile, Vienna: the wonderfully-named Dutch artist's softly visceral microcosmic drawings, some with such as buttons, shells and Q-tips (as above) attached, make up a tempting garden of desire from an interior bodily perspective. 

Albina Mokhryakova: 'Maybe Therapy?' 2020.
The young Russian artist's performatively-based practice has included crawling round an art fair, tennis actions without balls and the aestheticisation of bruises. 'Maybe Therapy?' arises from a performance which criticised pharmacological treatments for depression by proposing that the best use of such pills was to lay them out into a beautiful pattern as part of a more spiritually-based approach. Here the pattern makes a mask of sorts, evidently ineffective in a Covid-19 context but alluding to the potential for lockdown regimes to increase mental health problems. At the Museum of Contemporary Art Metelova in Ljubljana.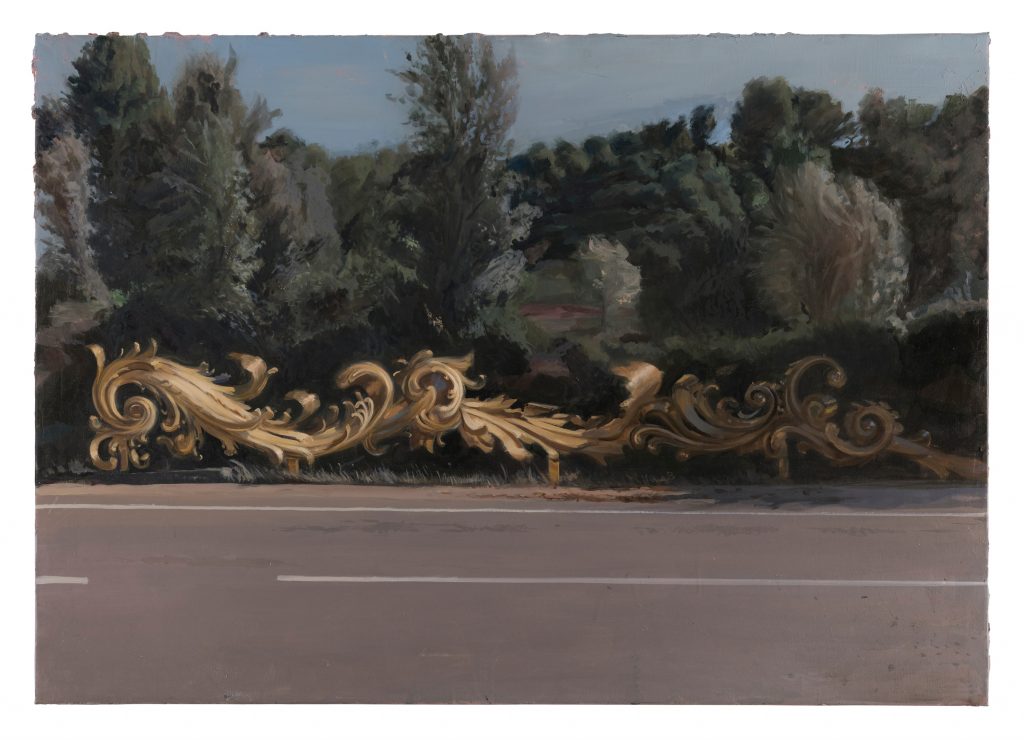 Pere Llobera: 'Rococo Guardrail' 2018
This shows the side of a road where the crash barrier has been transformed into a golden 'Rococo' frame, all curls and shine. According to the artist he painted the spot where motorcyclists find their death, making it at least a beautiful place.  I also like how the barrier takes on the writhing form of the trees, as it resists its more natural art allegiance to the controlled contours of geometric minimalism, leaving that to the road markings. At Hidde van Seggelen in Hamburg.
Art writer and curator Paul Carey-Kent sees a lot of shows: we asked him to jot down whatever came into his head
Categories
Tags