Art critic Tabish Khan brings you 'The Top Art Exhibitions to see in London'. Each one comes with a concise review to help you decide whether it's for you. For those looking for more shows, they should see his top 5 to see in December, before Christmas and outside London – all are still open to visit:
Natasha Caruana: A Timely Tale @ ASC Gallery
Step inside a makeshift GP waiting room complete with worn carpets, faded signs, used toys and even a discarded coffee cup under a chair – just don't mistake it for the actual health centre nearby. Strap on a virtual reality headset and be transported into the artist's mother's bedroom living with a kidney that needs replacing. It's an intimate look at one person, her dating life, her reliance on the struggling NHS coupled with her clothes strewn across the floor. A touching portrait. 
Until 20 December.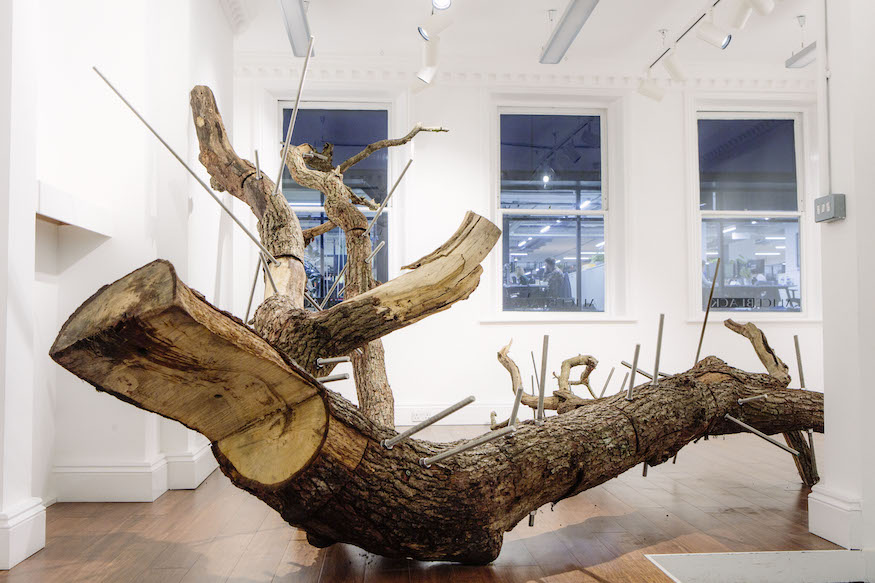 Resurrect: Rachel Louise Bailey & Johnny Woodford @ Alice Black Gallery
A 200 year old oak tree that fell has been broken apart and reassembled and resurrected with bolts so it takes up the whole of the gallery space. It's both massive and delicate as I spot the little cracks where it's just about holding together. Normally wood doesn't enter the domestic space until it's been processed into say a table or a bookshelf, but here it's in a largely unadulterated form and it's therefore more moving as if it's suspended in a state between life and death. 
Until 20 December. 
Angels @ James Freeman Gallery
Red eyes, a form made out of feathers and a skeletal angel are all part of a show on the theme of angels. Mixing contemporary works with stained glass and head dresses from South America shows how the history of art has involved angelic forms and that the idea of winged beings is not a purely Western European tradition. Taking centre stage is Kate MccGwire's white feathered entity that where you almost expect a head to pop out from its centre. Until 21 December.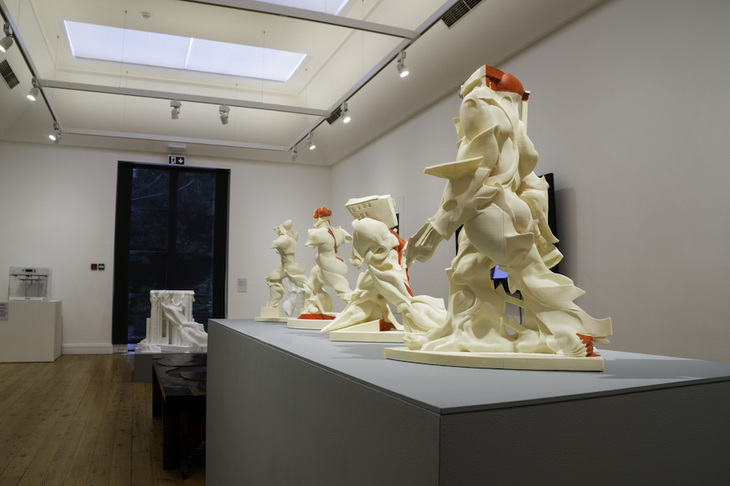 Umberto Boccioni @ Estorick Collection of Modern Italian Art
A man strides forward and he seems halfway between man and machine — like a historical Transformer. It's based on one of Umberto Boccioni's sculptures that were destroyed in 1927, but they've now been resurrected based on photographs and using 3D printing. It's a wonderful use of technology so that modern eyes can appreciate beautiful sculpture in a way that wouldn't otherwise be possible. 
Until 22 December.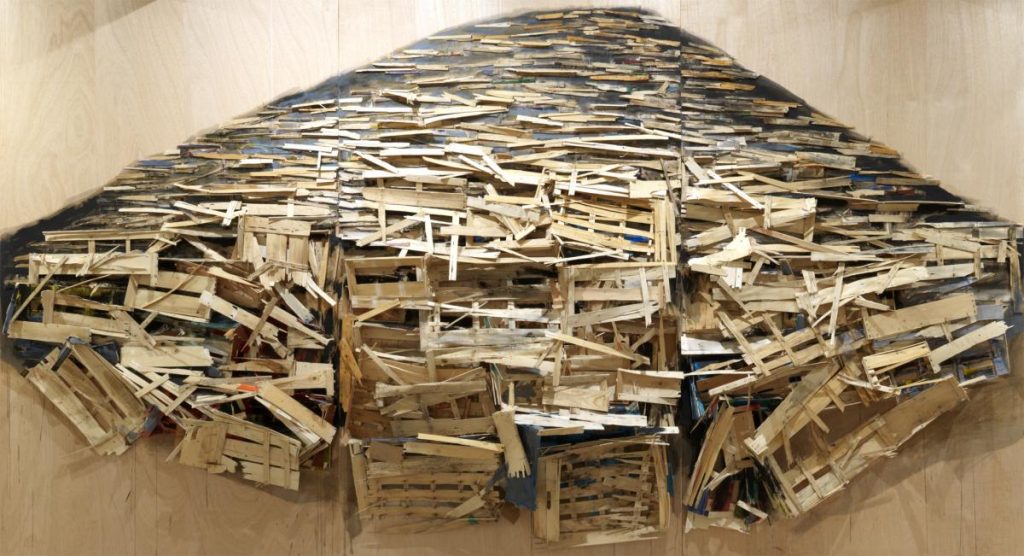 All images copyright artist and gallery unless otherwise stated. James Freeman image copyright Kate MccGwire.
Categories
Tags