May You Live In Interesting Times at the 58th la Biennale di Venezia
Words & Images Lee Sharrock
There are some tough yet critical themes running through the 58th la Biennale di Venezia. The 2019 edition is curated by Ralph Rugoff and inspired by an ancient Chinese proverb which turned out to be a fallacy. Very appropriate for the unsettled times we are living through, where global economic disparity, alternative facts, migration and accelerated global warming are some of the most urgent topics concerning humanity and its future.
For more than 80 years respected Western authors and politicians including Arthur C. Clarke and Hillary Clinton have referred to the 'May you Live in Interesting Times' as an ancient Chinese curse, yet it transpired that the phrase was not an authentic Oriental proverb, but a fabricated statement which could be seen as an 'Orientalism' created in the Occident, or a version of Colonialism that could be viewed as one of the first examples of 'Fake News' before Trump made the term ubiquitous.
The 58th edition of la Biennale di Venezia presents art produced during a Post-Truth Era, and many of the artists selected for the central exhibitions at the Giardini and Arsenale succeed in capturing the zeitgeist of 2019 and addressing the critical issues of contemporary society. In the words of James Baldwin Artists are here to disturb the peace, and indeed the artists selected for the 2019 Venice Biennale have produced work which is either polarising or thought-provoking, and many of the artists encourage us to question our own world view. One of the more controversial exhibits is the positioning of the wreck of a ship which sank near Lampedusa in 2015, resulting in the death of over 800 migrants. Swiss artist Christoph Buchel is 'exhibiting' the ship during the Biennale. This repositioning of a tragedy as an artwork is polarising opinion and could be seen as distasteful, but the main purpose of its display in Venice during the Biennale is to confront humanity with its mistakes, and attempt to stop us burying our heads in the sand about the devastating loss of human lives as thousands of people continue to escape poverty or persecution by crossing the Mediterranean. Lets just hope it doesn't become selfie-bait which would trivialise the seriousness of the subject.
There are also some captivating satellite exhibitions outside of the central Pavilions exploring the Biennale's theme, as well as other contemporary topics such as gender disparity and colonialism. The inaugural India and Ghana Pavilions, along with the 2nd edition of the Native American Pavilion, are a positive first step on the long road to redressing the imbalance of the Western perspective of our world and our history.
An intuitive curator, Ralph Rugoff has shaken up the conventional format of Venice Biennale with two parallel exhibitions featuring different work by the same artists: at the Arsenale he presents 'Proposition A', with 'Proposition B' at the Giardini. The artworks selected for the Arsenale and Giardini represent differing modes of each individual artists's practice.
Lithuania were awarded the The Golden Lion for Best National pavilion for 'Sun and Sea (Marina)', a fabricated beach complete with musical soundtrack and sunbathers which provides light relief from some of the heavier themes of the Biennale, while US Artist Arthur Jafa won the Golden Lion for Best Participant for his mammoth sculptures that dominate the central exhibition of the Arsenale.
It's impossible to see everything in the city during the Biennale, with a total of 90 national exhibitions presented around the island on top of the main Giardini and Arsenale exhibitions, but the good thing is that the Biennale di Venezia continues until 24 November, so there is plenty of time for art lovers to visit now that the frenzied Vernissage days are over and the inner sanctum of the art world are onto the next stop on the global contemporary art trail.
1.Arsenale central exhibition
An absolute highlight of the Venice Biennale this year is the central international exhibition curated by Ralph Rugoff in the Arsenale, a vast complex of former armories and shipyards embodying the naval power of the Venetian Republic during the 12th Century. The large-scale paintings, photography and video art selected for the central Arsenale group show are powerful enough to match the scale and history of the venue, and examine the key themes of Rugoff's exhibition title: 'May you live in interesting times'.
A vast black and white painting by George Condo inspired by Warhol's Elvis screenprints opens the show. But refreshingly the Arsenale exhibition isn't full of blue-chip male artists, for there are many powerful women artists on display here, as well as a welcome representation of different cultures. Monumental monochrome photographs by rising star Zanele Muholi, a South African artist and proud black lesbian who photographs herself with a defiant gaze into the lens, are exhibited throughout the exhibition. Shilpa Gupta's arresting sound installation 'For, in your tongue, I cannot fit' (2017-18) is a symphony of verse penned by 100 poets who were incarcerated by oppressive governments for their political opinions between the 7th century and present day.
Martine Gutierrez photos portraying herself, an indigenous woman in a world saturated by images of 'perfect' white Western models, were produced for her self-published 'Indigenous Woman' magazine. One of the series of photographs depicts the artist dressed in a Maid's costume, situated in a scene populated by pale-skinned sun-bathing dummies, a scene which evokes the central theme of the Oscar-winning film 'Roma', whose central character is an indigenous Mexican servant, indispensible to the family yet almost invisible in the 'polite society' of upper class Mexico. And Soham Gupta's haunting portraits of the inhabitants of Kolkata's slums depict the humanity of some of the city's most vulnerable and invisible citizens.
There is plenty of impressive sculpture on display here, including Jesse Darling's 'March of the Valedictorians' (2016), a group of red primary school chairs with distorted legs, and two gargantuan sculptures by Yin Xiuzhen which use recycled materials on a vast scale to examine the phenomenon of the aeroplane and its association with our endless pursuit of speed and growth.
Arthur Jafa's vast rubber tyre sculptures earned him the Golden Lion for Best Participant in the Venice Biennale, and rightly so. 'Big Wheel I, II and III' are made of giant chain-wrapped truck tyres inspired by his interest in the monster truck culture of Mississippi. While Sun Yuan and Peng Yu present 'Dear' (2015) a frightening installation featuring a marble throne housing a hose which intermittently thrashes and whips the walls of the Perspex case enclosing it, in the manner of the monster from 'Alien', foreseeing a dystopian future where AI has taken over from humanity.
On a smaller more delicate scale, but with no less powerful a message, is the exquisite sculptural installation 'Bleached Reef' by Christine and Margaret Wertheim, a depiction of an endangered coral reef crafted from yarn, beads, felt and wire. And the stunning paintings of Kenyan artist Michael Armitage deserve a special mention. His canvases challenge the traditional depictions of the 'exotic' African landscape familiar from Western Art History, creating a dialogue with the European artists who created a fictional aesthetic of the African continent during colonial times.
Until 24 November: https://www.labiennale.org/en/venues/arsenale
2. She Persists at Palazzo Benzon
This impressive multi-generational HEIST gallery exhibition fills the beautiful Palazzo Benzon with distinctive artworks created by 20 women from a variety of cultures, and perfectly captures the zeitgeist of the #MeToo movement, particularly since it showcases Tonia Arapovic's new film 'Indecision IV' featuring a mesmerising performance by feminist activist Rose McGowan.
McGowan has made a successful transition from Hollywood to the art world with this brilliant group show in Venice. She Persists is a collateral exhibition curated by Mashael Al-Rushaid and Sona Datta. The inspiring exhibition features work by women artists stretching from Judy Chicago's 70s video art through to contemporary artists including the Guerrilla Girls and Maria Kreyn. My highlights were; McGowan's video piece; Maria Kreyn's exquisite and imposing Renaissance-inspired oil painting 'The Allegory of Indecisions' (2018); Maïmouna Guerresi's triptych 'Blue trampoline', 'Red trampoline', 'Grey trampoline'; and Judy Chicago's film installation from her Women & Smoke series (1971-72). Empowerment, rebellion, celebration and resilience are central themes connecting female artists from a variety of backgrounds and generations.
Co-curator Sona Datta commented: Bringing together the diverse practices of women from South Asia, North Africa and the Middle East alongside artists from the London-Paris-New York nexus offers a broader lens that reaches across a richer, more complex, vista. In so doing, the exhibition challenges the Grand Narrative that sits at the high temple of MoMA revealing how profoundly that feminism is not an exclusively western story.
Until 11 June at Palazzo Benzon, Calle Benzon 3927, 30124 Venice
3.Ghana Pavilion, Arsenale
Ghana's first foray into the Venice Biennale is accomplished and educational. Titled 'Ghana Freedom' and curated by Nana Oforiatta Ayim, if features paintings, photography, video and sculpture created by Felicia Abban, John Akomfrah, El Anatsui, Lynette Yiadom Boakye, Ibrahim Mahama and Selasi Awusi Sosu. These are all installed within a bucolic structure designed by British-Ghanaian architect David Adjaye.
'Ghana Freedom' takes its name from E.T. Mensah's song composed to celebrate the country's independence. Artists from different generations including Felicia Abban who is in her 8th decade, through to younger artists Ibrahim Mahama and Selasi Awusi Sosu, provide different perspectives on the post-Colonial history of Ghana, and showcase the cultural renaissance of Ghana and it's diaspora since independence.
Adjaye's fitting architectural structure was created from Ghanaian soil transported to Venice to recreate the traditional earthen dwellings found in West African villages. Adjaye said of the design: The pavilion's design is influenced by historic Ghanaian architecture and it creates a cyclical space that connects different generations of artists as a labyrinth … Architecture here is a form rooted in tradition, but it is also something that expands and grows.
Standout pieces are the exquisite wall coverings created by El Anatsui from recycled bottle caps and copper wires, and Ibrahim Mahama's sculptural creations referencing consumption and waste, and its detrimental impact on the environment.
Until 24 November: https://www.labiennale.org/en/art/2019/national-participations/ghana
4. French Pavilion, Giardini
Although the Biennale Golden Lion was awarded to Lithuania for the fabricated beach where visitors can listen to opera, Laure Provost's multi-sensory installation for the French Pavilion was for me a standout exhibition, which completely embraced the Biennale theme of 'We Live in Interesting Times'. Titled 'Deep see blue surrounding you/ Vois ce bleu profond te fondre', Provost's surreal and thought-provoking installation is reached after climbing stairs to reach the Pavilion from under ground. Visitors enter a room where the floor is covered in artfully scattered detritus such as iPhones, cigarettes, rubbish, pigeons and sea creatures, representing the detritus left in a Venetian Square after nocturnal festivities. Only after explanation from the curator did I realise that every single piece on the floor was crafted from Murano glass, even the phone cables.
In the adjacent room people can perch on Thrones reminiscent of something from Atlantis, or lounge on the floor and watch a spellbinding film of a frenetic road trip from Paris via Marseille to Venice, featuring a magician, a rapper and a granny, and warnings about the destruction of our planet, with an eery fairy-tale soundtrack voiced by immigrants. Curated by Martha Kirszenbaum, this is an essential exhibition to see and a wake up call about the devastating impact we are having on the earth.
Until 24 November: https://www.labiennale.org/en/art/2019/national-participations/france
5.Giardini central exhibition
There is something distinctly apocalyptic about the central exhibition in the Giardini, which features a ghostly corridor filled with white smoke, an imposing cement wall covered in Barbed wire, and an unleashed robot thrashing around a transparent cube. The sculpture and installation is the most impressive part of this unsettling exhibition, in particular Shilpa Gupta's automated security gate, with opens and closes intermittently, smashing a hole into the brick wall of the gallery. Gupta's gate represents the economic divide between rich and poor in India, while a 12 metre long bullet riddled cinderblock wall transported from Mexico to Venice by Teresa Margolles, tells a story of the drug-related violence that plagues the Mexican city of Ciudad Juarez. Sun Yuan and Peng Yu's unsettling installation 'Can't Help Myself' (2016) features an industrial robot spinning erratically around inside a hermetic cube with acrylic walls, spraying red blood-like liquid around ominously, and prophesying a time when AI takes over, or a 'Robopocalypse' in the words of the Daniel H. Wilson novel.
Until 24 November: https://www.labiennale.org/en/venues/giardini-della-biennale
6.Zuecca Projects; Native American pavilion 'Volume 0', Warren Neidich 'Rumor to Delusion', and The Death of James Lee Byars
Founded by Alessandro Possati in 2011, non-profit cultural organization Zuecca Projects have made a huge impact on the contemporary art scene of Venice, commissioning and creating projects in the areas of art, film and architecture. This year Zuecca Projects have 9 collateral exhibitions in Venice during the art Biennale, and 3 of them were real highlights of my trip.
Warren Neidich: Rumor to Delusion
Warren Neidich's punchy installation 'Rumor to Delusion' at Zuecca Project Space leaves a huge impression with its sensory overload of a 3 dimensional neon sculpture reflected in a giant mirror, juxtaposed by a multi-screen news channel spouting various forms of 'fake news'. Inspired by the Pizzagate conspiracy and the contemporary post-truth era, Neidich presents a complex web of fabricated stories and hacked emails, which tell a dark story behind the rainbow-coloured sculpture. Curated by Lauri Firstenberg and Antonia Alampi, Neidich's astute exhibition examines the Trump malaise of fake news through the bizarre Pizzagate myth, which was a fabricated story leading to a witch-hunt of American high fliers such as Hillary Clinton and legendary art world figures including Marina Abramovic.
Until 31 July at Zuecca Project Space, Guidecca 33, 30133 Venice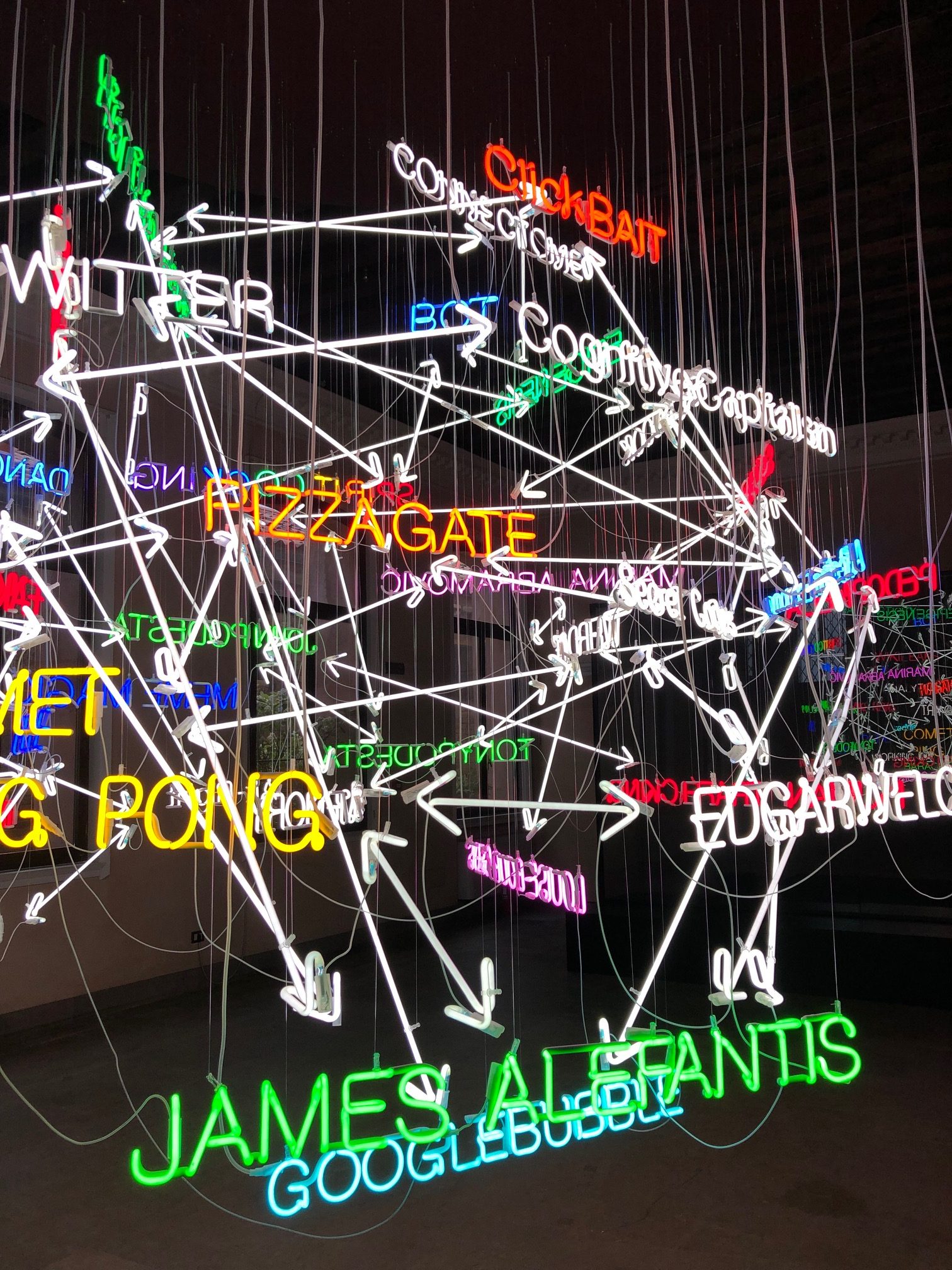 Warren Neidich
Native American Pavilion: Volume 0
Zuecca Projects commissioned the first Native American Pavilion in 2017, in an attempt to redress the balance of this overlooked area of contemporary art. Academin Dr. Max Carocci invited two Native American / First Nations artists to create bespoke artwork for 'Volume 0' – Alan Michelson (Mohawk, USA) and Nadia Myre (Anishinaabe, Canada). The exhibition examines Venice's historical role in the development of European knowledge about Indigenous North-Americans. Michelson and Myre have responded to the often-outdated European perceptions of indigenous American peoples with this exhibition. Alan Michelson created 4 powerful films which are projected onto white spheres in a blacked out room. The films deconstruct the traditional colonial view of Native American history and heritage, and lay bare some of the horrific acts committed against Native Americans throughout history – uncomfortable but essential viewing for anyone who is interested in knowing the authentic history of Native Americans, and not the one presented in Western history books. Nadia Myre has created a beautiful installation featuring motifs from Native American mythology, including the Sky-diving Huron woman. According to Iroquois Native Americans, water animals inhabited the earth before there was land, and when a Sky Woman feel from above, they caught her and spread mud from the bottom of the sea onto the back of a Turtle, which formed North America, which in Native American mythology is called 'Turtle Island'.
Until 31 July at Fondamenta Sant'Anna 994, 30122 Venice
The Death of James Lee Byars
Curated by Walter Vanhaerents, "The Death of James Lee Byars" features works by James Lee Byars and Zad Moultaka. The exhibition in the beautiful Baroque Church of Santa Maria della Visitazione is a recreation of one of James Lee Byars' most iconic installations, which the artist created in Brussels exactly 25 years ago when he staged his own death, and is part of the Vanhaerents collection.
Until 24 November at Chiesa di Santa Maria della Visitazione, Fondamenta Zattere Ai Gesuati, 30123 Venice
For information on Zuecca Projects go to: http://www.zueccaprojects.org
7.Glasstress
Glasstress is a vast exhibition housed in the Fondamenta dei Vetrai on Murano, curated by Vik Muniz and Koen Vanmechelen to celebrate 10 years of Glasstress and 30 years of Berengo Studio. Since the inaugural Glasstress exhibition in 2009, project founder Adriano Berengo has succeeded in reviving the traditional craft of Murano glassblowing by commissioning high profile contemporary artists to work with Muranese Maestri to push the boundaries of the artform. Artists from Europe, Latin America, India, China and the US make this a truly international show.
Stunning glass artworks created by artists including Erwin Wurm, Mat Collishaw, Tony Cragg and Tracey Emin are exhibited in Glasstress. Eye-catching pieces include Ai Wei Wei's vast chandelier with Twitter birds, and Saint Clair Cemin's ghostly glass school chairs. The curator Koen Vanmechelen and Glasstress founder Adriano Berengo have successfully injected life back into the abandoned glass furnace.
Vanmechelen says: The world of the unknown and unseen becomes visible and tangible through beautiful accidents in time.
The Fondamenta dei Vetrai is also home to the inaugural Human Rights Pavilion, an evolving artwork by Koen Vanmechlen in collaboration with the Global Campus of Human Rights, which addresses the negative human impact on the geology and ecosystems of our planet.
Until 24 November at Fondazione Berengo Art Space, Campiello Della Pescheria, Fondamenta dei Vetrai, Murano
8.Malta Pavilion, Arsenale
"Maleth / Haven / Port – Heterotopias of Evocation" is curated by Dr Hesperia Iliadou Suppiej and features artists Vince Briffa, Klitsa Antoniou, Trevor Borg, and Architect/ designer Perit Matthew Joseph Casha. The Malta Pavilion puts Maleth (Malta) at the centre and examines the island's historic and contemporary role as a cultural centre of the Mediterranean Sea, inviting the audience to examine their own personal quest for a Haven or Port. A multi-sensory experience featuring Vince Briffa's multi-screen video art 'Outland', and Trevor Borg's installation 'Cave of Darkness – Port of No Return', which reimagines excavated creatures and civilizations of the past.
Until 24 November: https://www.artscouncilmalta.org/pages/the-council/our-strategy/internationalisation/malta-pavilion-at-the-biennale-arte-2019/
9.Lisa Hilton group show: All in Green went my love riding
This hidden gem of an exhibition is on until 18 May in the beautiful garden of celebrated British Author and Historian Lisa Hilton. 'All in Green went my love riding' is curated by Elinor Stanley, Adam Gibbery and Jean Feline, and features 12 artists including many art school alumni from the UK. A magical exhibition providing respite from the heavy themes of the main Biennale, it features sculpture, painting and installations from an intriguing roster of emerging artists; Leo Arnold, Max Syed Tollan, Eliza Collin, Pietro Librizzi, Jean Feline, Tal Regev, Jaana-Kristiina Alakoski, Adam Glibbery, Aisha Christison, Jack Burton, Elinor Stanley and Timothy Lee Standring.
Until 18 May at Giardino dello Zuccaro, 410 Calle Zucchero, Dorsoduro, Venezia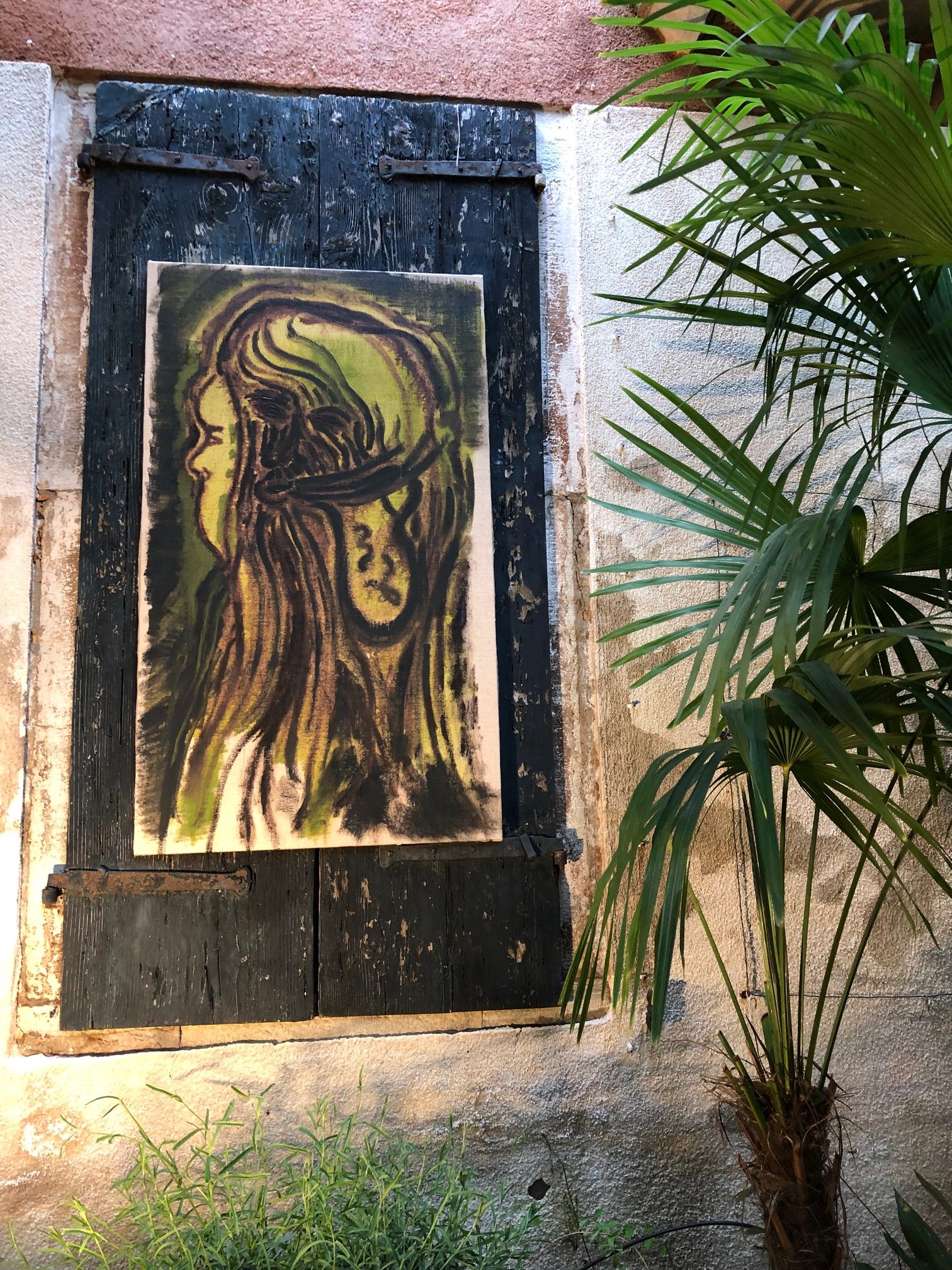 All in Green went my love riding Exhibition
10. Transformer at Londra Palace
The British contingent rule in "Transformer", a group exhibition curated by James Putnam at Londra Palace in collaboration with Ben Brown Fine Arts and Gervasuti Foundation, featuring artworks by Rob and Nick Carter, Gavin Turk and Vik Muniz. Launched in true-Brit style with a 'Swinging Londra' party hosted by the Groucho Club, the venue Londra Palace is a perfect pit-stop to rest weary legs and view some beautiful contemporary art whilst having a cocktail after walking round the Giardini and Arsenale,
Londra Palace, Riva degli Schiavoni, 4171, 30122 Venezia
http://londra-palace-venice.hoteque.com
Categories
Tags