Frieze Sculpture will return to The Regent's Park for three months this summer, featuring works by 25 contemporary and modern artists presented by world- leading galleries. Selected and placed by Clare Lilley (Director of Programme, Yorkshire Sculpture Park), Frieze Sculpture will create an exceptional cultural attraction at the heart of the city, for Londoners and international visitors alike. For the first time, Mtec, logistics partner for Frieze Sculpture, will cover the cost of installation for two emerging galleries, enabling them to participate in the display; and Frieze will also launch a new audio tour and family guide app in collaboration with mobile platform ARTimbarc. Offering free public admission throughout the summer months, Frieze Sculpture will open in the English Gardens of The Regent's Park on 4 July and welcome audiences until the end of Frieze Week in October.
Presented by international galleries, the 2018 artists are: Larry Achiampong, John Baldessari, Rana Begum, Yoan Capote, James Capper, Elmgreen & Dragset, Tracey Emin, Tim Etchells, Rachel Feinstein, Barry Flanagan, Laura Ford, Dan Graham, Haroon Gunn-Salie, Bharti Kher, Kimsooja, Michele Mathison, Virginia Overton, Simon Periton, Kathleen Ryan, Sean Scully, Conrad Shawcross, Monika Sosnowska, Kiki Smith, Hugo Wilson and Richard Woods.
New for 2018, Mtec will support young galleries and emerging artists to reach larger audiences, by enabling their participation in Frieze Sculpture. In 2018, Mtec will cover the costs of installation and de-installation for two galleries: Hannah Barry Gallery (London), presenting TREADPADS (2018) by James Capper and Copperfield Gallery (London) with PAN AFRICAN FLAGS FOR THE RELIC TRAVELLERS' ALLIANCE (2018) by Larry Achiampong.
Clare Lilley said:
'Last year, our first-ever summer Frieze Sculpture was a resounding success, with more than five million visitors enjoying exceptional sculpture by artists from around the world. The 2018 edition is just as expansive and diverse, so that the public and collectors alike can experience world-class artwork in the beautiful English Gardens, designed by Markham Nesfield in 1866. My hope is that the exhibition will give pause for thought as well as great pleasure, and that visitors to Regent's Park will have a snapshot of the fantastic imagination of artists and variety of sculpture being made today.'
'Artists of different generations and from across the world – including a strong female contribution – will come together and explore multiple concepts, spanning political and architectural ideas, animal forms and material experimentation. Highlights include Larry Achiampong's (b.1984, UK) Afrofuturistic icons, Pan African Flags; Yoan Capote's (b.1977, Cuba) enigmatic sculpture of concrete and bronze, entitled Stress; Haroon Gunn-Salie's (b.1989, South Africa) chilling group of crouching figures; Michele Mathison's (b. 1977, South Africa) subversive street-lamp sculptures, exploring civic collapse and decay; and Tim Etchells's (b. 1962, UK) new text-based work, Everything is Lost. Veteran Dan Graham (b.1942, USA) presents an exquisite glass pavilion which will be activated by visitors alongside a brightly coloured Holiday Home by Richard Woods (b.1966, UK); a 14-metre-high needle woman tower by Kimsooja (b.1957, South Korea); a new, monumental Optic Labyrinth by Conrad Shawcross (b.1977, UK); a stained-glass structure by Rana Begum (b.1977, Bangladesh) and Monika Sosnowska's (b. 1972, Poland) hanging metal sculpture which collapses architectural and mental space.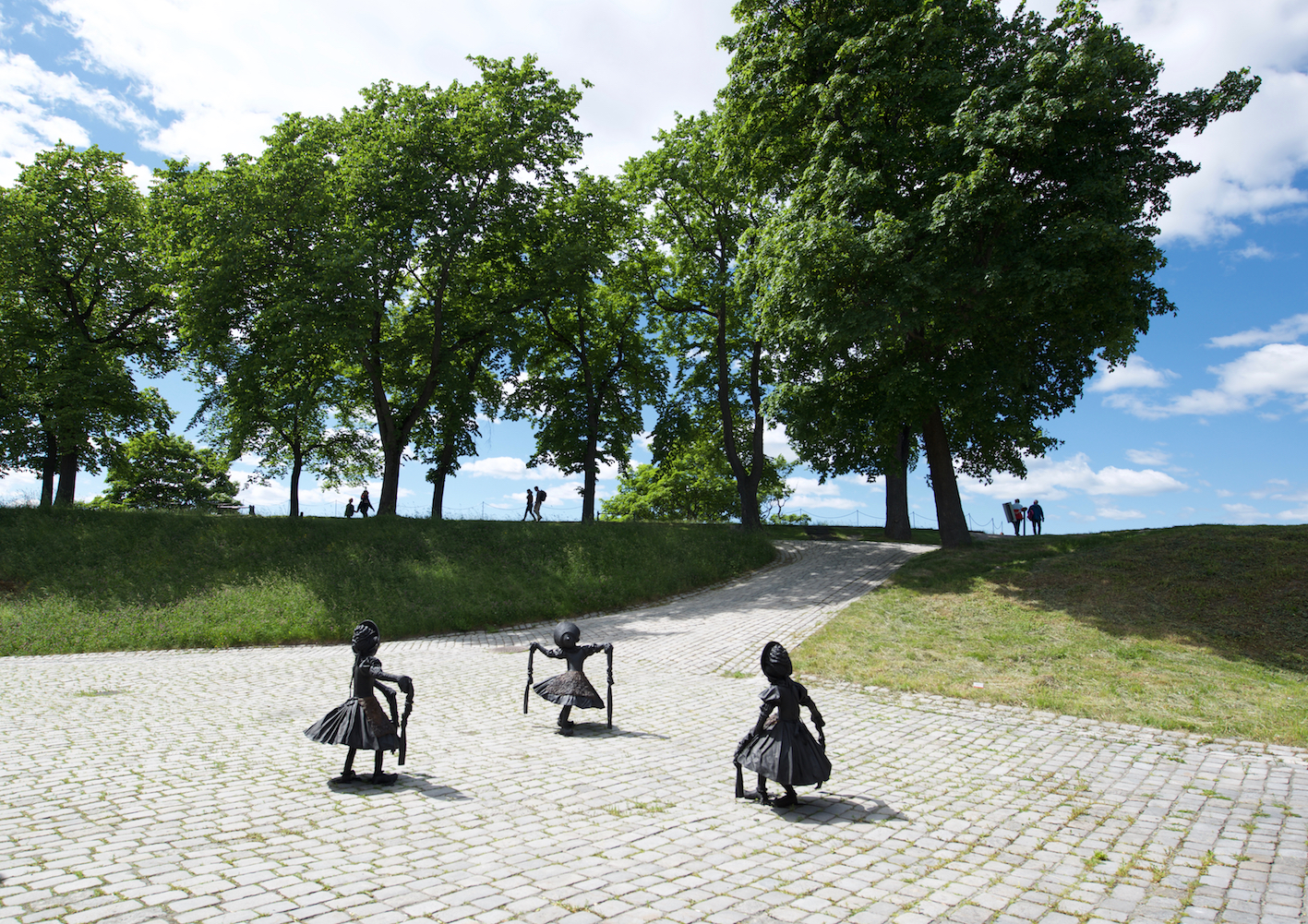 Meanwhile, the natural and animal world is referenced in very different ways with sculptures by John Baldessari (b.1931, USA), Elmgreen & Dragset (b.1961, Denmark & 1969, Norway), a beguiling work by Kathleen Ryan (b.1984, USA) a lyrical ock by Tracey Emin (b.1963, UK); and a coloured leaf-form by Simon Periton (b.1964, UK); while Barry Flanagan's (1914-2009, UK) seven-metre- high bronze features the artist's signature dancing hare. Kiki Smith's (b.1954, Germany) uncanny, white seated girl seems to observe everything. Major new works include, among others, Rachel Feinstein's set of four beautiful Majolica sculptures using classical forms; Stack, made in corten steel by Sean Scully (b. 1945, Ireland), renowned for his painting and prints; Hugo Wilson's (b.1982, UK) first-ever work in bronze, referencing baroque Italian sculpture; James Capper's (b. 1987, London) TREADPADS connected with his upcoming project at the Venice Biennale (2019); a shamanistic gure in bronze by Bharti Kher (b.1969, India); and a new piece by Virginia Overton (b. 1971, USA), who is currently the subject of a solo show at Socrates Sculpture Park (USA).'
Works in Frieze Sculpture are selected by Clare Lilley, following an open call for proposals submitted by international galleries. In place from 4 July to 7 October 2018, Frieze Sculpture is located in the English Gardens of The Regent's Park. Entrance to Frieze Sculpture is free to the public.
Frieze Sculpture is accompanied by a free Audio Tour by Clare Lilley and family trail in a new, freely downloadable app, produced in partnership with ARTimbarc. The app will launch on 3 July on frieze.com/sculpture.
Categories
Tags