The Museum of Modern Art is heading to the Frank Gehry-designed Fondation Louis Vuitton in Paris this October.
For an exceptional exhibition devoted to the unrivaled collection of the Museum of Modern Art. Featuring more than 200 renowned masterpieces and less familiar, but highly significant works. This exhibition highlights the pivotal role that MoMA, its curators and its exhibition program have played in the history of art in the 20th and 21st Centuries. Now engaged in a significant expansion and renovation of its building, MoMA has chosen Fondation Louis Vuitton as its partner to bring its legendary artistic heritage to Paris, showcasing its mission to be perpetually modern.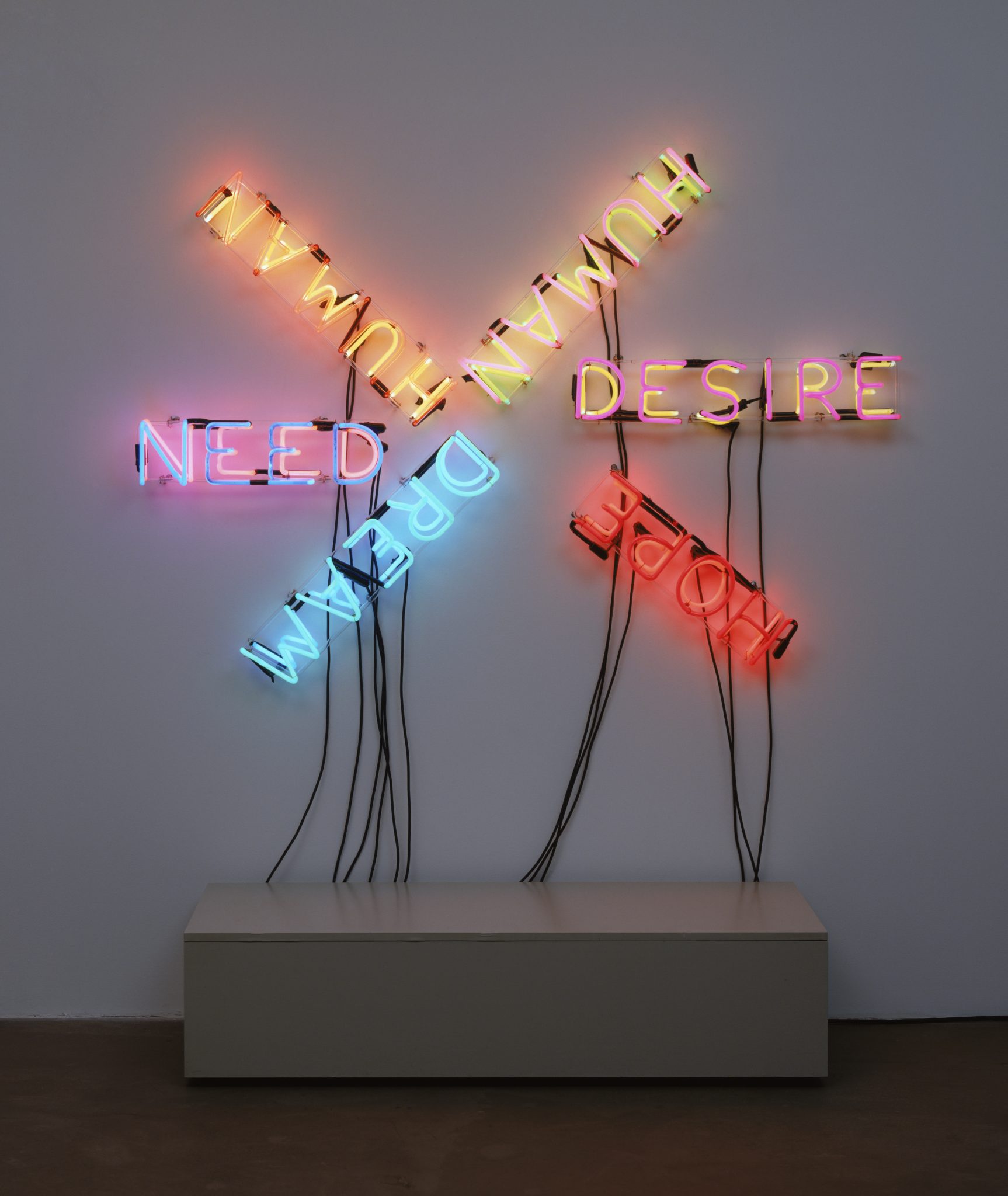 Bruce Nauman (American, born 1941) Human/Need/Desire 1983 Neon tubing and wire with glass tubing suspension frames
The Museum of Modern Art, New York. Gift of Emily and Jerry Spiegel, 1991 © 2017 Bruce Nauman/Artists Rights Society (ARS), New York
Organised by Fondation Louis Vuitton in Paris and the Museum of Modern Art in New York, the exhibition
"Being Modern: MoMA in Paris"
draws together a superb and far-reaching representation of the highly important artworks that MoMA has acquired since its founding in 1929. The exhibition includes masterworks ranging from the birth of modern art through trends and styles such as American abstraction, Pop art and Minimalism to the most contemporary art.
A multidisciplinary selection of 200 works will occupy the whole of the Fondation's building. The works are drawn from all six of the MoMA's curatorial departments, reflecting the history of the institution and the choices it had made in building its collecting. The exhibition responds to two objectives: to show a significant body of MoMA's great collection in Paris, and to evoke the more fluid and interdisciplinary installations that visitors to MoMA will encounter following the completion of the expansion and renovation project.
Among the 200 works presented at Fondation Louis Vuitton are masterpieces by Paul Cézanne, Gustav Klimt, Paul Signac, Ernst Ludwig Kirchner, Pablo Picasso, Henri Matisse, Giorgio de Chirico, Edward Hopper, Max Beckmann, Ludwig Mies van der Rohe, Marcel Duchamp, Francis Picabia, Alexander Calder, René Magritte, Walker Evans, Yayoi Kusama, Willem de Kooning, Jasper Johns, Yvonne Rainer and Frank Stella. The selection will alternate between acknowledged masterpieces and less familiar but nevertheless highly significant artworks. A selection of rarely shown materials from MoMA's archives, retracing the history of the Museum, will also be incorporated into the galleries.




Some of the works will be shown in France for the first time: Constantin Brancusi's bronze Bird in Space (1928); Diane Arbus's Identical Twins, Roselle, New Jersey (1967); Andy Warhol's Campbell's Soup Cans (1962); Philip Guston's Tomb (1978); (Untitled) "USA Today" by Felix Gonzalez-Torres (1990); 144 Lead Square by Carl Andre (1969); Untitled by Christopher Wool (1990); Untitled (You Invest in the Divinity of the Masterpiece) by Barbara Kruger (1982); and Patchwork Quilt by Romare Bearden (1970).
Bernard Arnault, President of Fondation Louis Vuitton says:
"I wanted Being Modern: MoMA in Paris to fall within the tradition of our previous major exhibitions such as Keys to a Passion, 2015, and Icons of Modern Art, The Shchukin Collection, 2016. All three have been organised in close collaboration with some of the world's most prestigious international modern art museums. This exhibition marks, once again, our desire to provide the widest possible audience with the opportunity to engage with some of the world's most remarkable works of art."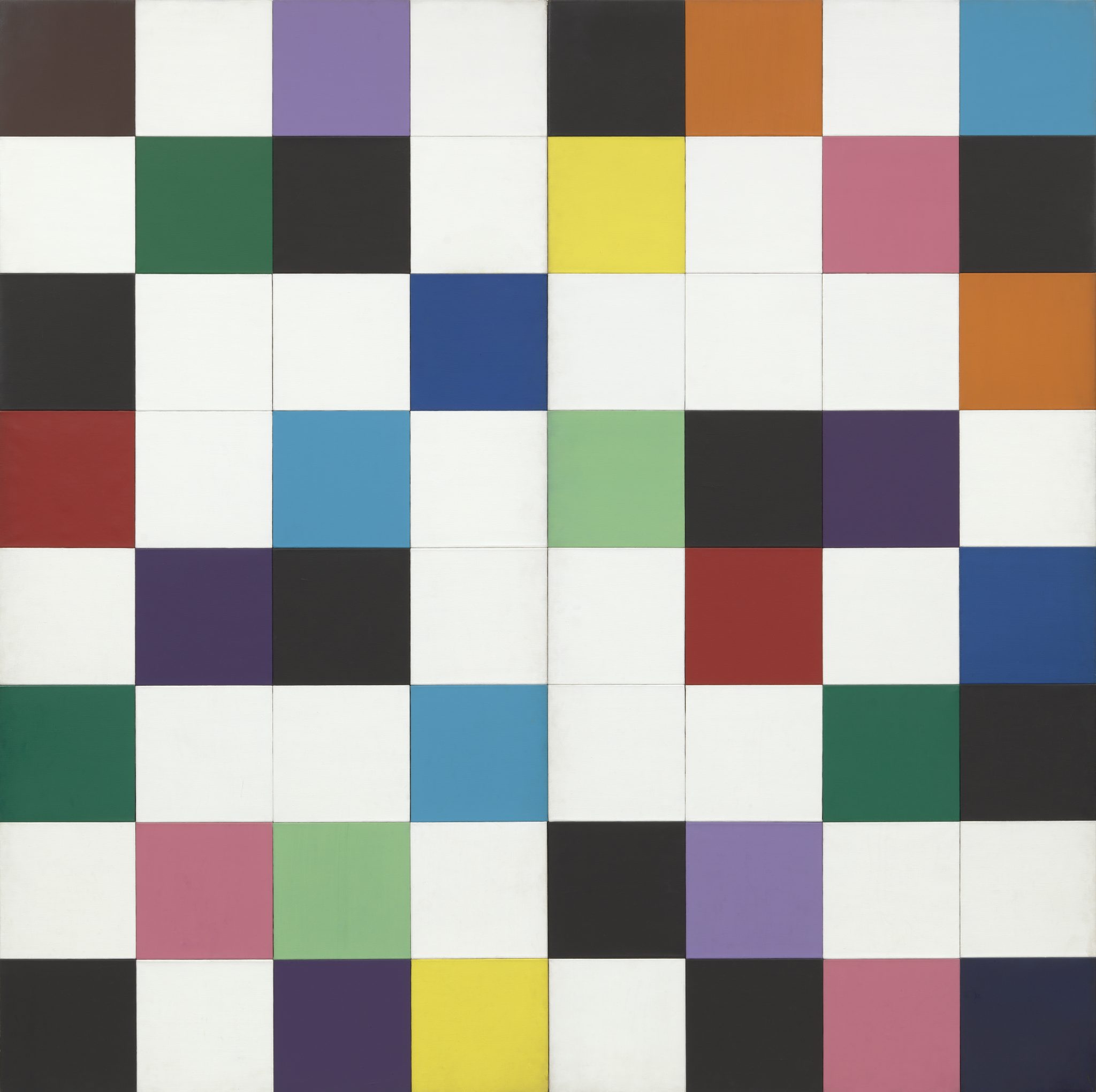 Ellsworth Kelly (American, 1923–2015) Colors for a Large Wall 1951 Oil on canvas, sixty-four panels The Museum of Modern Art, New York Gift of the artist, 1969. © 2017 Ellsworth Kelly
Suzanne Pagé, Artistic Director of Fondation Louis Vuitton and overall curator of the exhibition, says:
"This exhibition has two objectives: to show in Paris works that represent pivotal moments in the history of modern art, while eliciting the impact that the expanded and renovated MoMA will have on the international landscape. Paradoxically, the immense overall success of MoMA means that many interesting particularities about the Museum have been eclipsed. Its almost hegemonic status proposed the idea of a potentially universal art museum – an idea which, as its proponents are aware, has now become outdated. The famous 'canon' presented in the 1936 manifesto of Alfred H. Barr, the legendary founding director of MoMA, set out two directions based on European precursors: fauvism and cubism, both of which led to abstract art. This canon has become an almost uncontested reference; however, it contradicts certain principles of openness towards other geographical locations, identities and disciplines, which Barr himself also established. These principles are clarified in this exhibition, redefined and redeployed with a new perspective."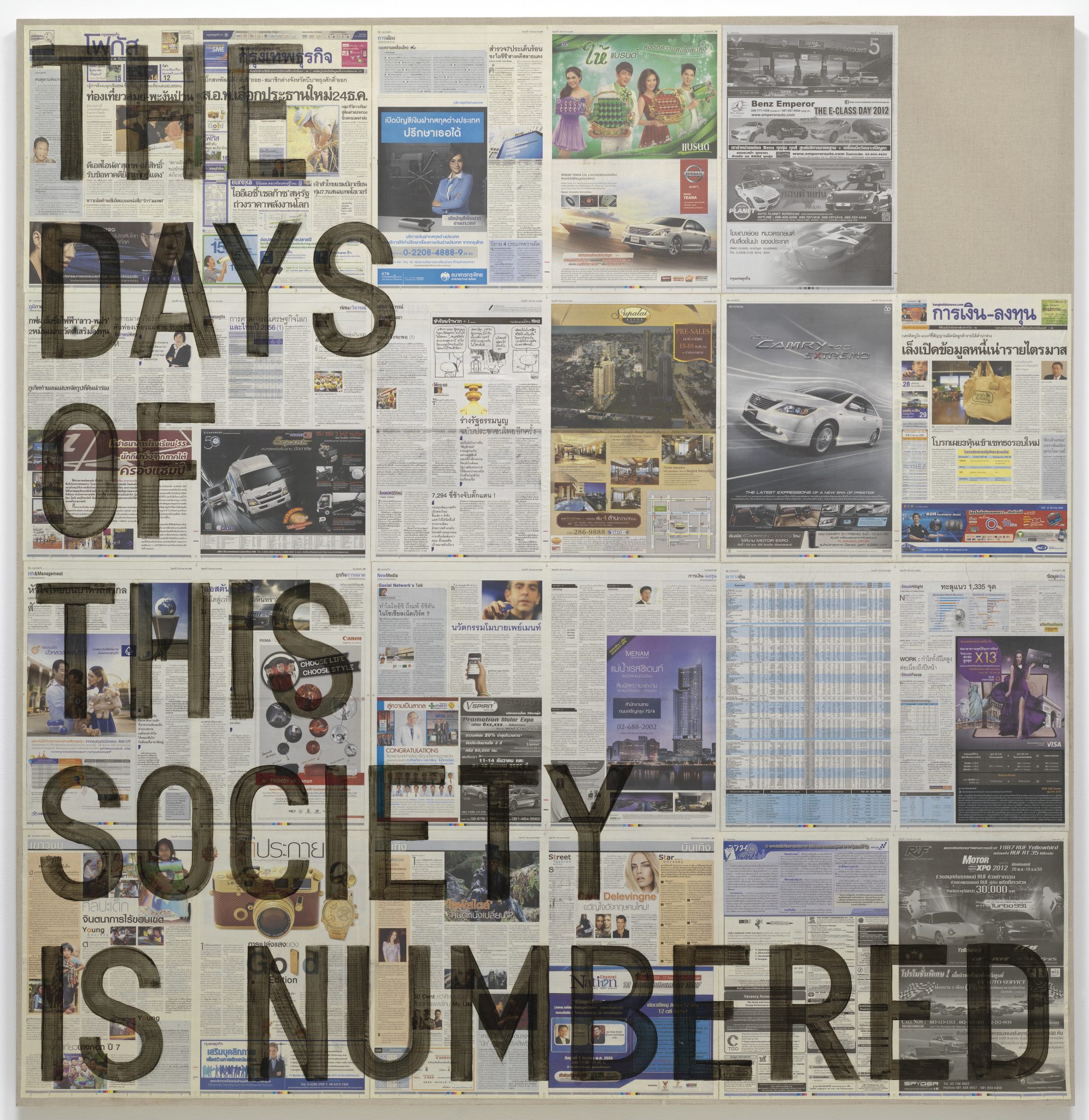 Rirkrit Tiravanija (Thai, born Argentina 1961) untitled (the days of this society is numbered / December 7, 2012)
2014 Synthetic polymer paint and newspaper on linen The Museum of Modern Art, New York Committee on Drawings and Prints Fund, 2014. © 2017 Rirkrit Tiravanija
Glenn D. Lowry, Director of MoMA, says, regarding MoMA's strategy for the coming years:
"The Museum's dual strategy for the future is to have both integrated galleries and medium-specific galleries. The disjunctive nature of modern and contemporary art can—and should—be reflected in the galleries. This means using a collage-like approach, with each gallery telling an independent story, enabling competing and even contradictory relationships to emerge instead of trying to present a linear progression of artistic movements or relationships that can never, in fact, be more than an arbitrary abstraction. In doing so, we return to one of the founding principles of the Museum: that its interests lie in the various manifestations of a modern aesthetic across multiple disciplines. This is the promise of the idea of a museum of modern art. And while this promise has been contested, revised, and reinterpreted over time—as it will continue to be in the future—it is fundamental to ensuring that the Museum of Modern Art stands for a generous and broad understanding of modern art."
"Etre Moderne: le MoMA à Paris" is co-organised by the Museum of Modern Art in New York and Fondation Louis Vuitton in Paris, under the direction of Glenn Lowry (director, Museum of Modern Art) and Suzanne Pagé (artistic director, Fondation Louis Vuitton). The curator of the exhibition is Quentin Bajac (The Joel and Anne Ehrenkranz Chief Curator of Photography, MoMA), assisted by Katerina Stathopoulou (Assistant Curator, MoMA) in association with Olivier Michelon (Curator, Fondation Louis Vuitton) for the installation of the exhibition in Paris. The section pertaining to the archives is organised by Michelle Elligott (Chief of Archives, MoMA).
The selection of artworks and the structure of the exhibition were defined by Glenn D. Lowry and Quentin Bajac, with the support of the various curatorial departments of the Museum. These departments have worked together during the planning of this exhibition to enable discussions, develop comparative approaches and foster openness towards other geographic and aesthetic horizons or potential identities. The project was undertaken in close collaboration with the artistic department of Fondation Louis Vuitton.
Etre moderne: Le MoMA à Paris Fondation Louis Vuitton from October 11, 2017, through March 5, 2018.
www.fondationlouisvuitton.fr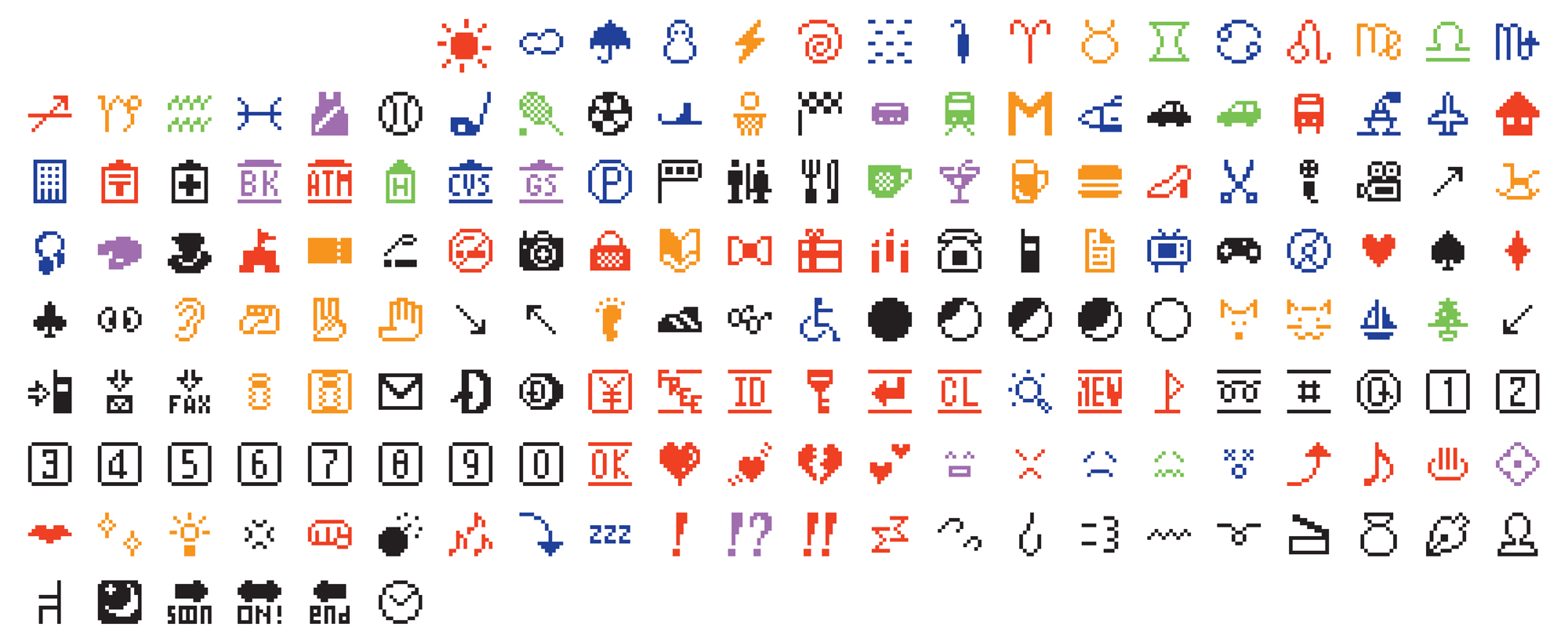 Shigetaka Kurita (Japanese, born 1972) for NTT DOCOMO, Inc., Japan, est. 1991 Emoji 1998-1999 Digital image dimensions variable The Museum of Modern Art, New York Gift of NTT DOCOMO, Inc., 2016. © 2017 NTT DOCOMO



Categories
Tags