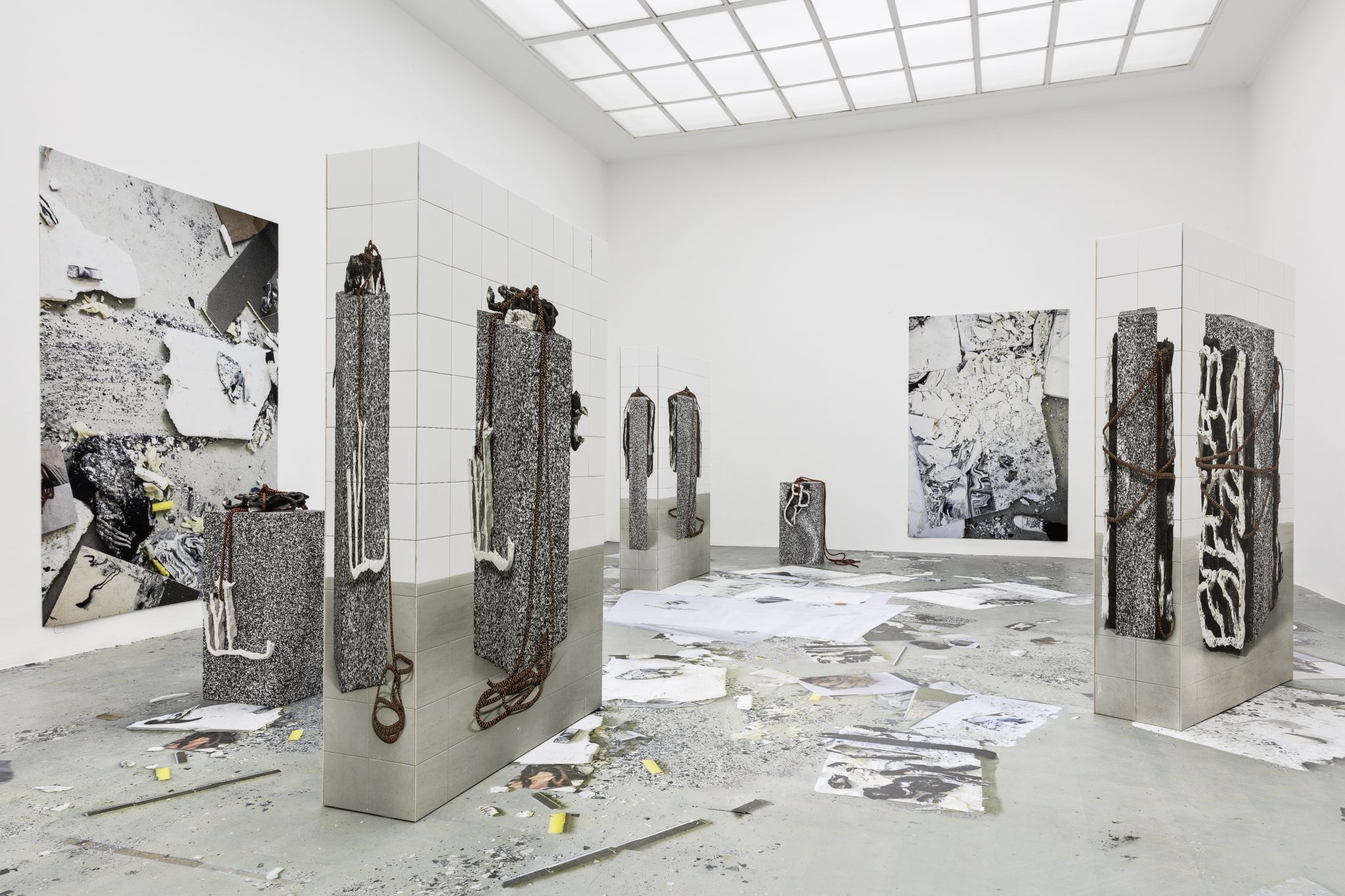 Peles Empire in Hanover: 'Grid', 2017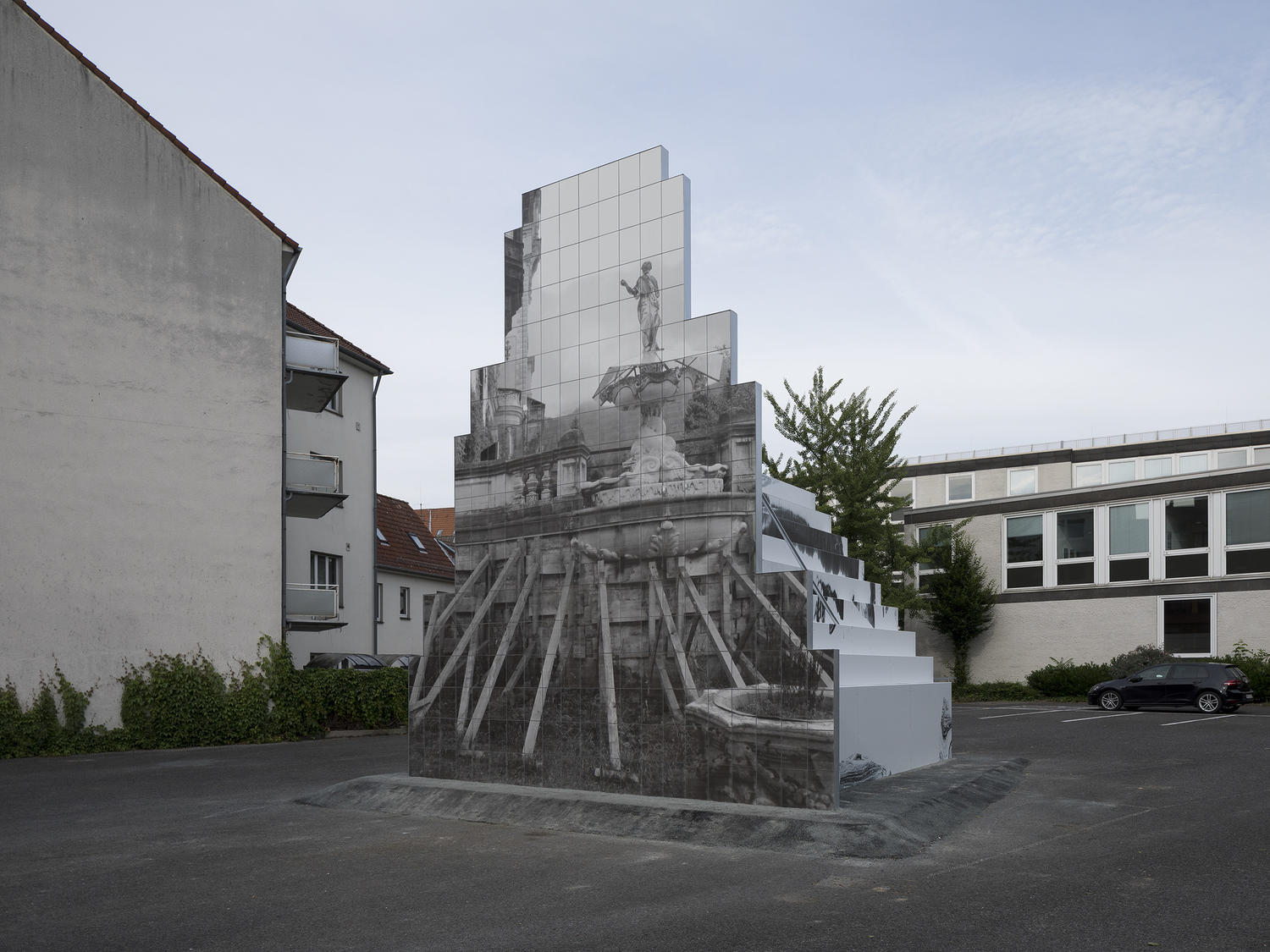 Peles Empire in Munster: 'Sculpture', 2017
Peles Empire in Kassel:'Remnant', 2017
Passing through Munster, Kassel and Hanover last week, I saw work by the collaborative project Peles Empire (Barbara Wolff and Katharina Stoever) at all three. What's more, there a sense in which all their work is part of one: since 2005, both their own shows, and the space in which they exhibit other artists (they currently run one in Berlin, following on from London and Cluj) collide their actual architecture with photo-copy-derived features from the Neo-Renaissance Peles Castle in Romania, a grand palace which imitates other architectural styles to an absurd extent. Peles Empire copy and dislocate the Castle, applying printed images of its rooms to walls, sculptures, and other surfaces to complicated effect. It can get hard to tell 2D images on a 3D surfaces from 3D versions of a 2D images: their room in Hanover at WENTRAP gallery, part of an admirable quinquenial survey of art being made in Germany, features plenty of such play, including detritus in the floor which proves surprisingly easy to walk across. As part of the decennial sculpture festival at already much-reconstructed Munster, they have built a castle-derived meeting place in a car park; and though in Kassel they're not part of Documenta 14, they have a bigger presence than most artists through a solo show at the Kunstverein. So they are making a good fist of ruling, all confusing levels of reality and time – making the point perhaps that contemporary cultural production inevitably acts similarly, even when that isn't acknowledged.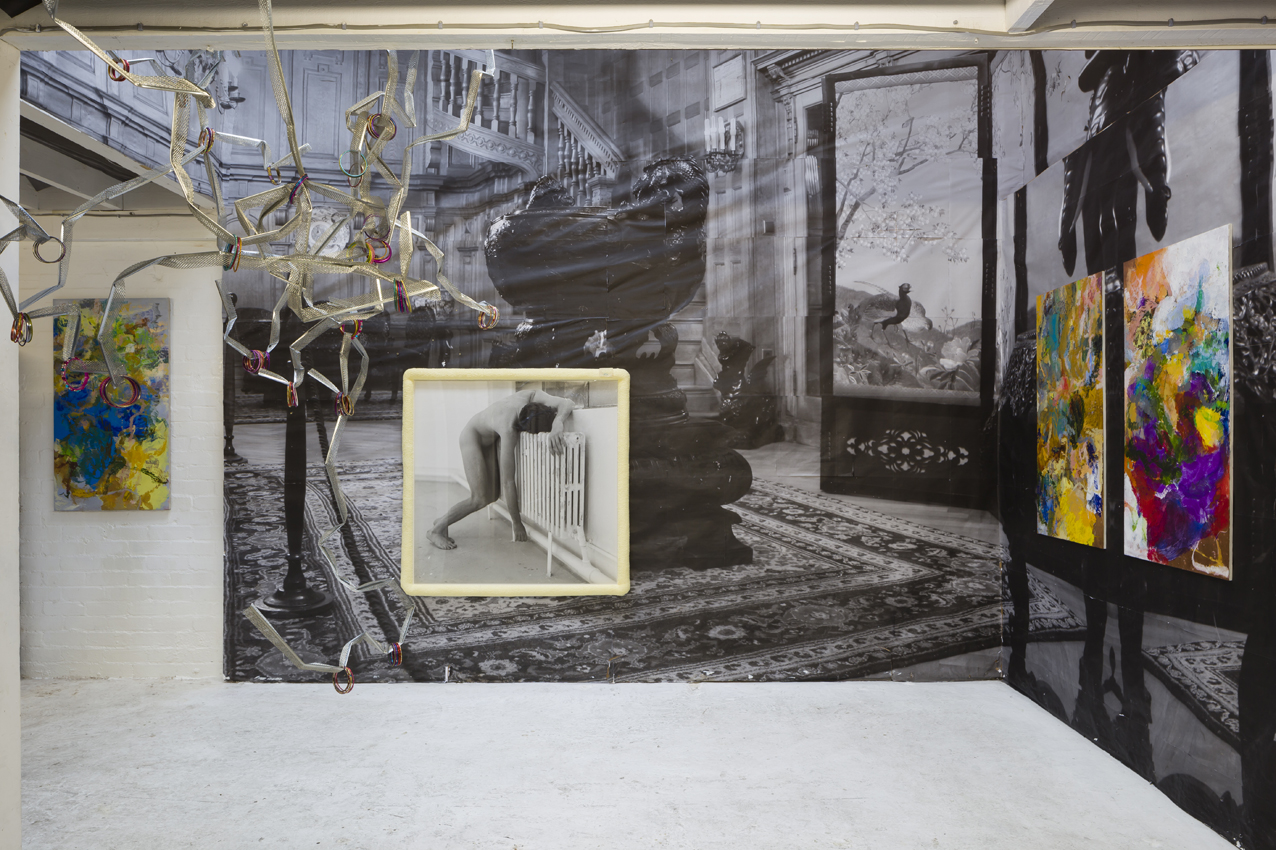 The show 'Da Da Da' in Peles Empire's London space, 2014
Barbara Wolff and Katharina Stoever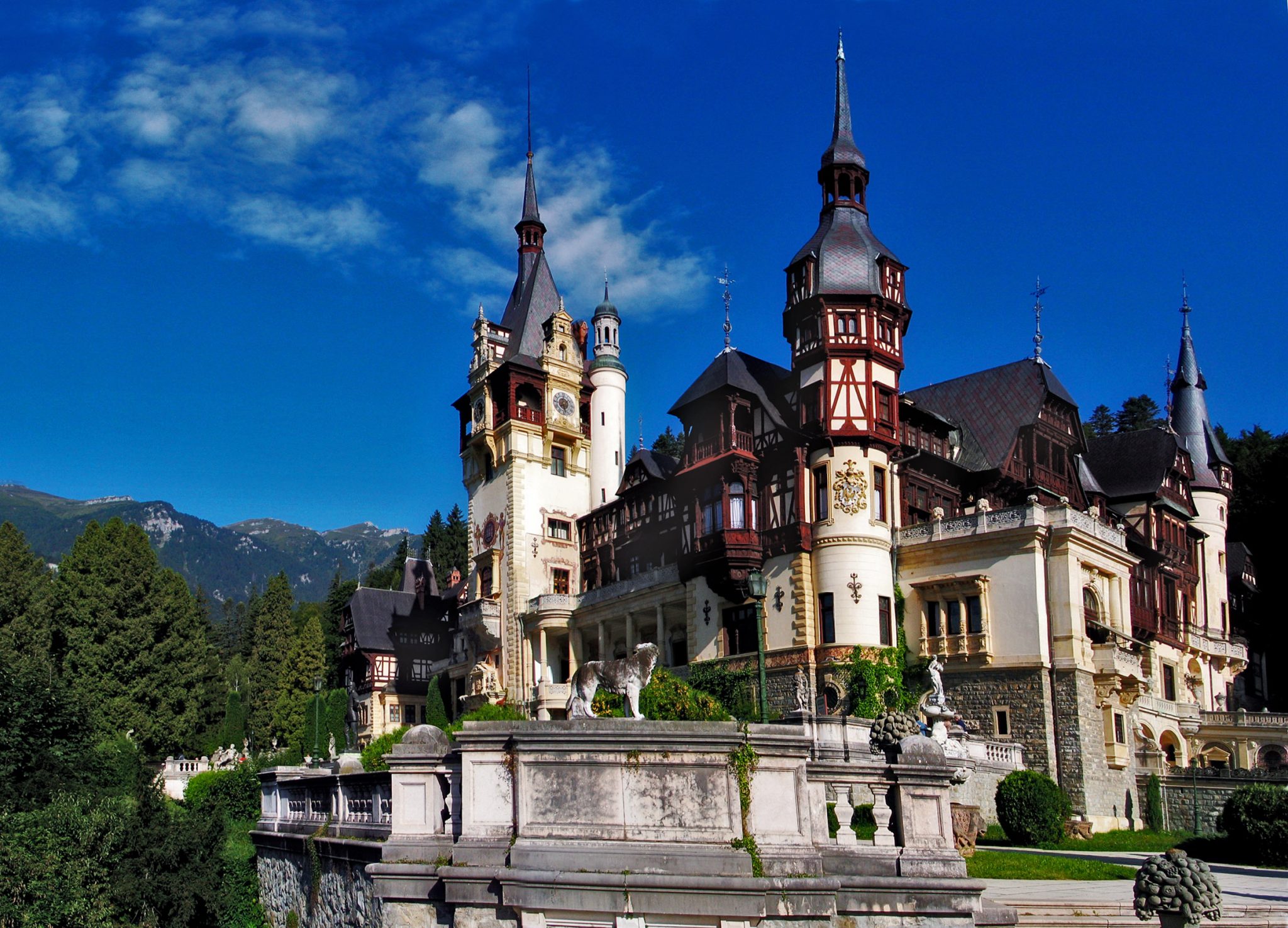 The 170-room Peles Castle in the Carpathians, built 1873-94
Most days art Critic Paul Carey-Kent spends hours on the train, traveling between his home in Southampton and his day job in London. Could he, we asked, jot down whatever came into his head?
About
Peles Empire – a collaboration between artists Katharina Stoever and Barbara Wolff – is a multifaceted exploration of these mechanisms. The starting point for their work is Peles Castle, a summer residence built for King Carol I at the end of the 19th Century in Romania's Carpathian Mountains. The interior décor of Peles is characterized by a crude mash-up of décors, each room dedicated to a different historical era such as Gothic, Baroque, Renaissance and Art Deco. In its quintessence, the castle is a collection of copies in architecture, a dream of historical edifices and interiors made real. 2005 Peles Empire began by compiling a photographic documentation of its rooms. These images then served as the focal point of their artistic work in myriad ways, functioning as the basis for the works themselves as well as for curatorial projects.
As such, Stoever and Wolff reconstructed some of the castle's rooms by wallpapering spaces with the photos taken in Peles. This environment often serves as a backdrop for the exhibition of works from other invited artists (e.g. in their former apartment in Frankfurt or in the project spaces they operate in London and Cluj) or for a bar (2011 for Frieze Projects at Frieze Art Fair, London). Essential here is still the installation's changing location between the private and public sphere: a salon in the artists' home, within a protected environment of an institution, or finally as an exhibition space in their London studio. Also key is the displacement of the original castle room's three-dimensionality to the reproduction's two dimensions and then back to the three dimensions of the exhibition space. Here the two-dimensional copy of the original is now the backdrop for the artists' own installations or works from their colleagues. The result is a stepwise distortion at all levels.
2012/2013, the castle copies made their way back to their country of origin: for about one year, Peles Empire ran a project space in Cluj, Romania. Part of the concept was to invite both artists in London and Cluj to participate in tandem. To illustrate the sameness and differences of both places, the same castle room served as the background for the two presentations – but in b/w in the United Kingdom whereas the Romanian space used the image in colour. The artists were given a free hand to deal with the photographic intervention already installed in the space as they pleased.
Since 2010, the duo has varied their approach to working with the castle imagery and is pushing even further the concept of abstracting an original through its reproduction. The new work is still based on the interface between three and two-dimensional spaces, but also of objects and images as well as what is possible in the displacement of material. Here, the artists copy details in b/w from their large-format castle photographs onto DIN A3 paper (the standard copy size), thus creating reproductions of the reproductions whose colours, materiality and excerpt nature hardly contain a single reference to the original. These copies are then collaged on walls or processed into paper-mâché and transformed into large sculptures in minimalist shapes. The latter become hybrids of autonomous settings and supports for other works in playing a role in the overall architectural context of the space, functioning as dividers, screens or pedestals for the ceramics and smaller objects from Peles Empire. These sculptural works are further distortions of the DIN A3 images or the original interior furnishings of the castle. By the method of copying and the non-hierarchical juxtaposition of different materials and styles, Peles Empire distort the original ever more – that far that it almost disappears and something distinctive different takes shape.
Categories
Tags