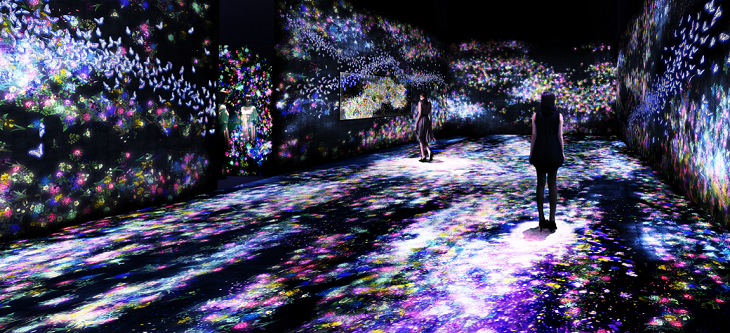 teamLab, 'Flutter of Butterflies beyond Borders', START Art Fair 2015
Art fairs have become ubiquitous in the landscape of the art market. Once you've seen one fair, you've seen them all: row upon makeshift row of booths desperate to stand out, populated by art that stirs a faint sense of déjà vu and expectant gallerists wielding bottles of champagne. And there's always a throng of revellers who are there to be seen and those of us waving our press passes as if we matter to the whole circus. But START is different.
It is difficult to say exactly what its distinction is, but there's something in the air. Perhaps it is the Saatchi gallery – its noble tradition of supporting emerging art and its grandiose seriousness, which Saatchi has styled without a hint of irony. It is that, but it is more than that, too. The fact that it occurs inside a gallery space, rather than a conference hall or a big top, makes it feel cohesive, manageable like an extraordinarily diverse group show, as if the white walls, ceilings and dedicated lighting fuse the disparate elements better than the standard fair.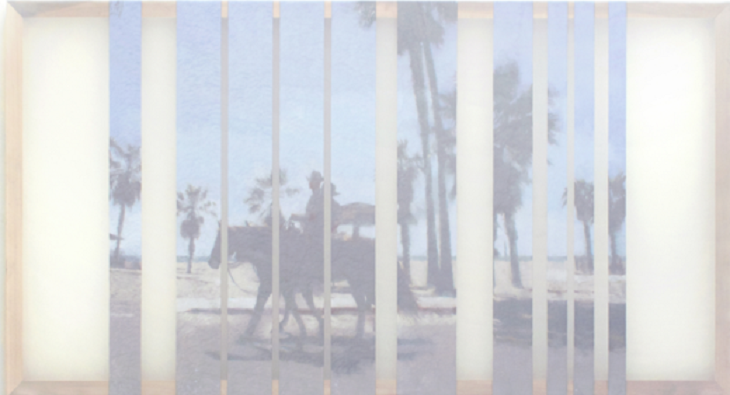 Martine Poppe, '15.37 04.25.2015', 2015
But the real difference is that START shows stuff that looks like art. A lot of fairs are too nervous about the real difficulty or challenge of contemporary art and have an unintelligent view of what art would look like it were commercially viable. As a consequence the galleries they select show work that looks like it was made by a novice who is merely grappling at the edges of their abilities to make something that simulates art. This means a lot of photography – because photography is cheap and popular – that has neither aesthetic nor technical merit; or garish abstract paintings that looks like rejects from the Paris Salon of 1945; or trendy net art that raisers a titter or a guffaw before being ignored by anyone over the age of 15. It's all so quickly absorbed, dispensable and poorly executed, as if art fairs have taken their role to be the purveyors of the sensation of art without the boredom of its conveyance.
START, however, tries, and largely succeeds, to eschew the throwaway and embraces the mystifying possibility that one might have to ruminate and cogitate in the face of a worthwhile artwork. Of course there's the usual dross, but that's par for the course; it's the exceptions that make this fair valuable. Kristin Hjellegjerde Gallery (London), making its first art fair appearance, is showing work by Dawit Abebe, who is already in Saatchi's Collection and features in his current show, Fredrick Raddum and Martine Poppe. Abebe's paintings are infused with cultural memory and vaguely erotic, but this weight is balanced by the bold colours and familiar iconography, making them endearing enough to hang at home but challenging enough to provide a lifetime's stimulation. Poppe's paintings are absolute dreams: murky, smoky images spliced to within an inch of coherence by white strips of the most tantalising silken texture, like a memory that is just out of reach or the fading cry of a dying soul.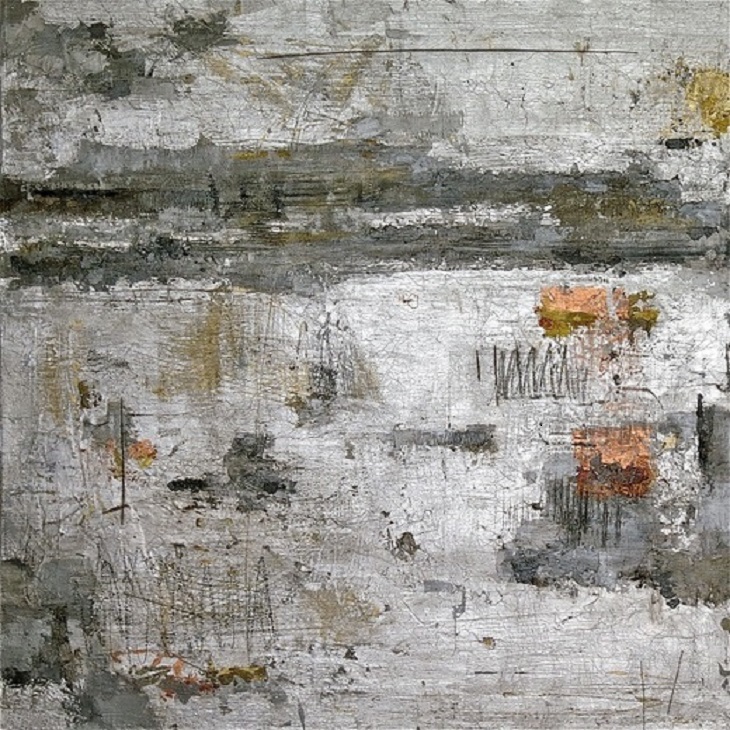 Takefumi Hori, 'Silver VIII', 2015
Fiumano Projects (London) has works by Takefumi Hori, whose canvases of acrylic paint and gold or silver leaf, layered and removed, sanded and built up, should be much less than they are. They should be less – less interesting, less seductive – because someone should have done it before and because the gesture seems too obviously commercial. But in reality these paintings possess the alchemic fascination of Kiefer and the irresistible draw of an intoxicating mystery. They are like Richters but with the bling on the outside. Similarly, Ncontemporary (London) is showing Jonny Briggs, whose search for a lost childhood often takes a deceptively simple photographic form, sometimes at a glance coming across as a one-liner, but which always distils itself into a complex network of relationships which are essentially conceptual but always fully embodied in the form of the work.
The START projects, curated specially for this edition, offer a mixed bag that very transparently tries to offer something for everyone. The star here is teamLab, a group of 'Ultra-technologists', which has created an immersive digital installation. It's a contemplative cocoon in the madness of their fair that cannot be missed. The rest of the projects ebb and flow with good ideas and aesthetic flourishes, but the important thing here is that START has given over lucrative commercial space to people who are not making the kind of commercial work that the fair demands in order to survive. It is a brave and refreshing move from a fair that, although new to the scene, is already making its mark as a serious purveyor of strong contemporary art.
Words: Daniel Barnes
Categories
Tags