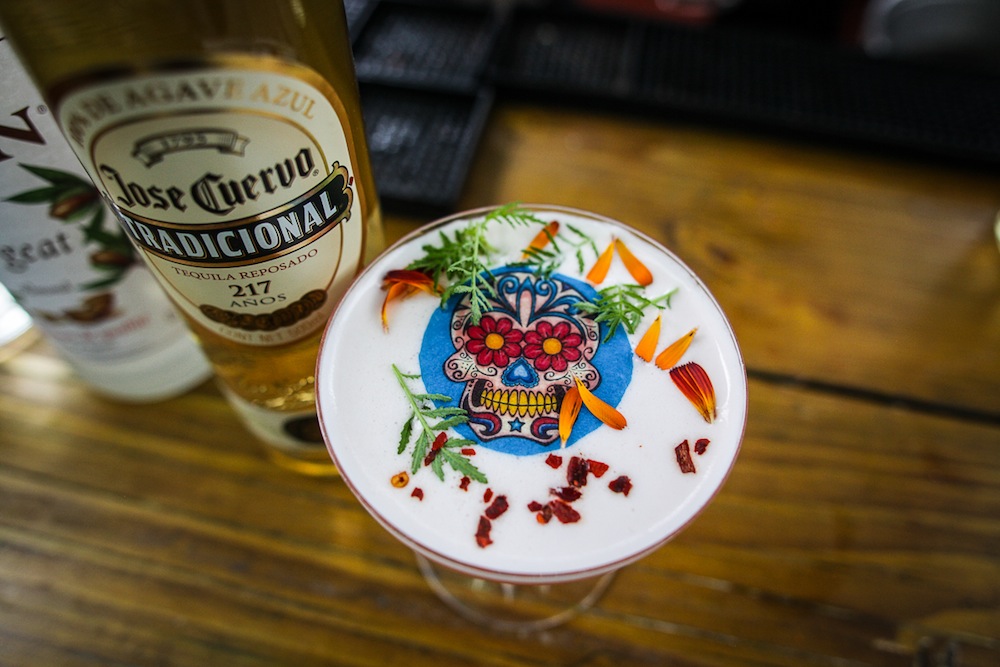 The Bargehouse, Oxo Tower Wharf, Bargehouse Street, South Bank, London SE1 9PH
Opening times Exhibition: Thursday 30th October – Sunday 2nd November 2nd, 11am – 6pm
In celebration of Mexico's rich and cultural history, the Embassy of Mexico (UK) has partnered with Jose Cuervo, the world's oldest tequila brand and Arte Mexico to bring the 3000 year old Mexican celebration to life with The Day Of The Dead Festival 2014 at The Bargehouse, Oxo Tower from 30th October to 2nd November.

Jake and Dinos Chapman Unholy McTrinity
With support from the Arts Council, recent works from a host of contemporary artists including The Chapman Brothers, Graciela Iturbide, Jordan Baseman, The Drawing Exchange, James Ostrer, Juan Jose Rivas & Johnnie Shand Kydd will be showcased in a pop-up exhibition. There will also be the newly commissioned traditional Mexican Day of the Dead Altar by master folk artist Rodolfo Villena Hernandez, from the state of Puebla in Mexico, on display. The Mexican Day of the Dead Altar is dedicated to the Unknown Soldier of World War One, created as part of the Great War's 100-year anniversary. The Altar will not only feature Mexican Cartoneria (paper-mache) techniques but prized objects including daily icons used to represent the life of those who served in WWI. Archive material from the Great War will also accompany the Altar, which has been generously provided by the Imperial War Museum, London.
Arte Mexico will be presenting a contemporary Mexican Art exhibition, highlighting traditions as a prolific element in the development of art in Mexico. This will be curated by Javier Calderon and will showcase works by Luis Felipe Ortega, Tania Candiani, Mario de Vega, Hector Falcon, Guillermo R. Gudiño, Mariana Magdaleno and Isaac Olvera, who is currently doing a residency at Gasworks, London.
Day of the Dead (Día de los Muertos) is a national holiday in Mexico celebrating and honouring family members and loved ones who have died.
Guillermo del Toro has also just released an animated film featuring Dancing skulls and the Day of the Dead ! More Info HERE
Workshops:
Friday 31st October, 12pm – 6pm Saturday 1st November, 11am – 6pm Sunday 2nd November, 11am – 6pm
Pre-registration opens on 11th October: dayofthedeadfestival.eventbrite.com
"Under the Volcano" screening times:
Daily screening times: 11:30am – 1:30pm 1:30pm – 3:30pm 3:30pm – 5:30pm
A special screening of 'Under the Volcano' will take place on Friday, October 31st from 6:30pm, followed by a panel discussion exploring the films influence and legacy. The discussion will be followed by a late night screening of the award-wining documentary
'Observing Under the Volcano', an atmospheric and generous film capturing the process of making this cinema classic.
Schedule:
Under the Volcano – 6:30pm / 8:30pm
Panel Discussion – 8:45pm / 9:30pm Observations Under the Volcano – 9:40pm / 11pm
Tequila Masterclasses available on Saturday 1st November
1-2pm
3-4pm
Places on a first come first served basis: josecuervo@contagiousagency.com
Categories
Tags