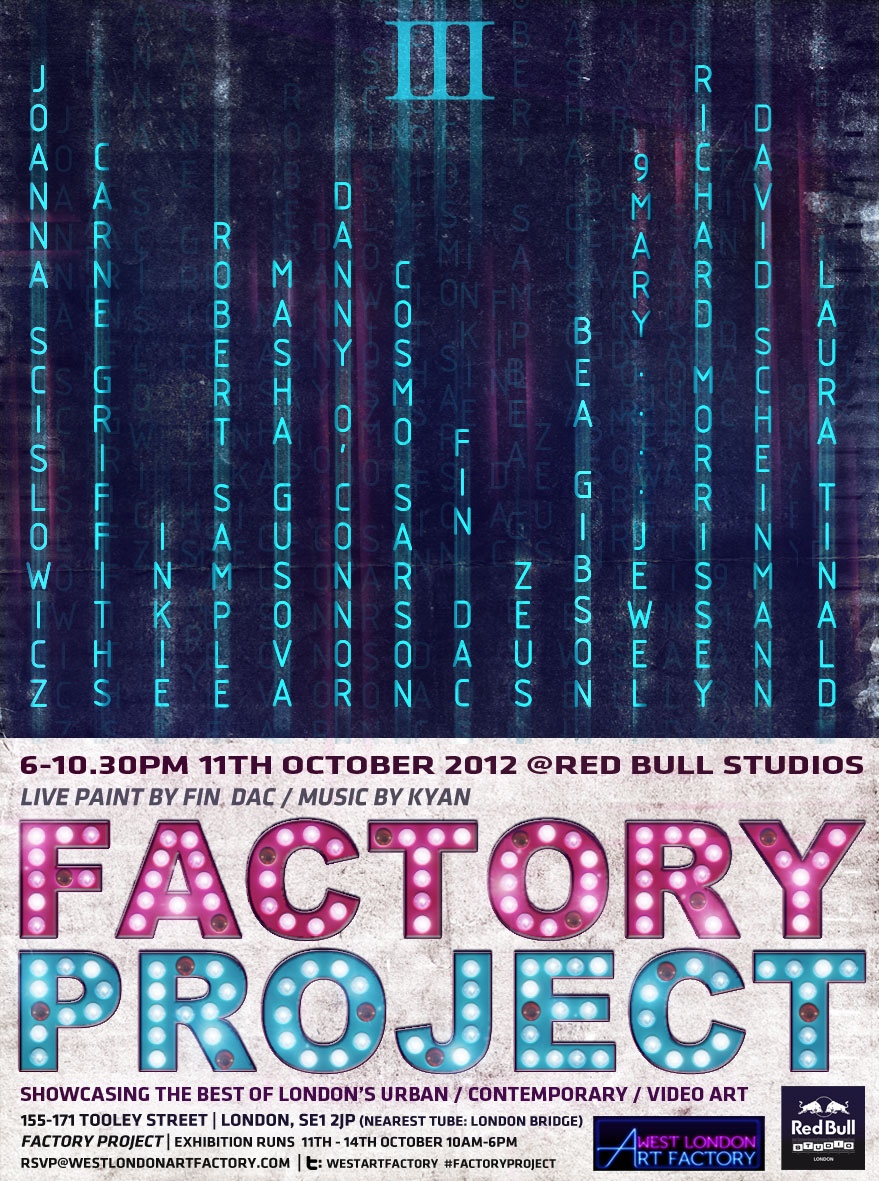 West London Art Factory is proud to present 'Factory Project III'. After the phenomenal success of the previous two, Factory Project returns to Red Bull Studios, the place where it was first launched as part of Red Bull's on-going support for the arts. This exhibition features some of London's most accomplished Urban / Contemporary and Video Artists who will be exhibiting works from the 11th Oct and throughout the week of the prestigious Frieze Art Fair 2012.
"This promises to be a great show with a really dynamic line-up of artists showcasing some exciting new work. We're really pleased to be returning to Red Bull Studios, it's a perfect space."
Joanna Scislowicz
The subject matter of the art on show, the "what is this about?" reflects the varied themes and techniques currently being employed by the participating artists.
Many of the works employ a notable use of the female form as a means of expressing and exploring human emotion as well as examining themes such as femininity, beauty, power, frailty and a sense of loss. Other contributing artists are interested in political and spiritual themes and for some of the exhibitors it is the act of creation itself that takes precedence. Typically, the work provides only hints or glimpses as to their meaning and motivation encouraging the viewer to take a step back and come to their own conclusions.
Mediums used in the collection include, oils, acrylics, spray paint, graphite, charcoal, resins, prints, photography and tea. Also on show will be video installations, music videos and live paint.
Artists featured include…
Inkie ,Richard Morrissey ,Robert Sample ,Masha Gusova , Zeus , Joanna Scislowicz ,Jewel ,Fin DAC ,Carne Griffiths ,Cosmo Sarson ,Bea Gibson ,Laura Tinald ,Danny O'Connor ,9mary ,Tom Pope ,David Scheinmann.
Private View / Opening party: 11th October (Guest List Only) 6-10.30pm Exhibition Open to public from Fri 12th 10-8pm and Sat 13th 10-2pm
Red Bull Studios, 155-171 Tooley Street, London, SE1 2JP
The West London Art Factory, which "Design Week" has compared to Andy Warhol's famous Factory in New York, is home to artist studios, a fully equipped water based screen-printing workshop and creative workspace facilities in North Acton.
Categories
Tags