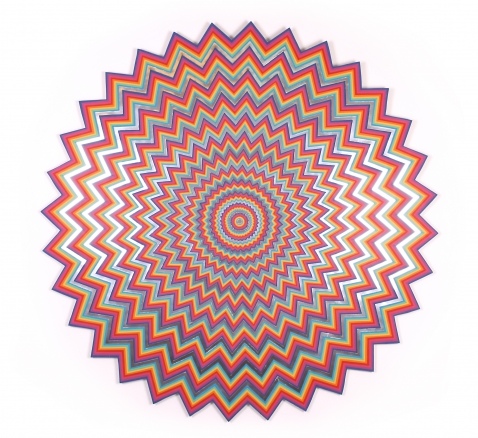 Exhibition dates: 27th January – 10th March 2012
Featuring; Cain Caser, Caroline Jane Harris, Andrew McAttee, Jen Stark, Malgosia Stepnik, Scott Hove and Ye Hongxing
There was an awful rainbow once in heaven:
We know her woof, her texture; she is given In the dull catalogue of common things. Philosophy will clip an Angel's wings, Conquer all mysteries by rule and line, Empty the haunted air, and gnomed mine – Unweave a rainbow, as it erewhile made The tender-person'd Lamia melt into a shade.
John Keats, Lamia, 1884
Scream is to present 'Unweave the Rainbow', its second annual curated exhibition of emerging artists. The sequel to last January's 'States of Reverie', 'Unweave the Rainbow' features young artists from the USA, UK, China and Poland, each with a unique style, who have in common a psychedelic, other worldy or surreal sensibility.
The exhibition title is inspired by John Keats' 19th Century poem 'Lamia', an allegory for man's attempt to separate emotions and sensuality from reason, this poem inspired the selection of artists in 'Unweave the Rainbow'. The practice of each artist featured in this exhibition demonstrates tension between dream and reality, imagination and reason.
Several of the artists work in 2 or 3 dimensions, for example Caroline Jane Harris who creates otherworldly handcut photographs; Jen Stark whose psychedelic paper sculptures are also handcrafted, and Scott Hove who creates surreal cake sculptures fit for the fairy palace of Keats' Lamia. Ye Hongking uses a collage of multi-coloured stickers to create depictions of Nirvana. Malgosia Stepnik, Andrew McAttee and Cain Caser are all exhibiting paintings with explosive neon palettes that inhabit the entire spectrum of the rainbow.
Jen Stark was born and grew up in Miami, Florida, and cites the indigenous tropical plants and cultural diversity as influences on her artwork. She was commissioned this year by the Ft. Lauderdale Museum of Art to create a 90ft by 35 ft mural to adorn the outside of their building, and she exhibited at the recent Art Basel Miami at PULSE and Scope Art Fair with LMAK Projects.
At Scream she will exhibit 2 of her signature paper sculptures whose geometrical shapes can be found in natural and organic forms. Stark's practice displays an almost Platonic obsession with Form and the problem of universals, of translating the essence of what she observes in nature into 3 dimensional paper sculptures. She has been creating art since the age of 4, and graduated from Maryland Institute College of art in 2005. Her artwork recently graced the cover of Harvard Business Review, and she has been featured in Modern Painters, Nylon, New American Paintings and PUSH Paper: 30 Artists Explore the Boundaries of Paper Art. Stark started experimenting with coloured construction paper and a Xacto knife whilst studying in the south of France, where the transformation of an ordinary material into something multi-layered and magical began. In her work geometry, nature and mathematics collide, and the complex process can take several weeks.
Caroline Jane Harris transforms paper into unique kaleidoscopic marvels that encapsulate the inherent beauty of nature. She is fascinated by natural phenomena, and the geometric symmetries found in all levels of existence such as the bronchi of a lung, river networks and neuron activity. Pre-programmed visual preferences, encoded neurally in innate reference patterns are considered in the relationship between humans and their environment.
Eastern Printmaking and Paper-cutting techniques influence her work. Japanese wood-block prints whose simple lines capture the essence of organic forms, inform her lineated 'hand-cut white paper' compositions. Her work exceeds the viewer's expectation of the possibilities of paper. Harris was shortlisted for the Club Monaco Emerging Artist's Award at the The Other Art Fair this November. She graduated in 2009 with a BA in Fine Art Printmaking from the University of Brighton, was artist in residence at The Muse at 269 this year, and won the Silver Arts Award at the 2010 Flipside Film Festival.
Ye Hongxing also employs Eastern techniques and Chinese ceramic decorative patterns, which she fuses with the traditionally Western medium of oil paint. Hongxing will exhibit 2 works from her 'Thanka' series at Scream, both works depicting a circular collaged motif inspired by Indian deities, and composed of jewel-coloured stickers. East meets West in her practice, which embraces realism in its echoing of organic forms, with a heavenly visionary aesthetic. Hongxing is one of the rising stars of the Chinese contemporary art scene, and was selected as one of the top 20 emerging painters in China at the Dragonair Emerging Chinese Artist Awards (DECAA), and her work has been well received internationally, with exhibitions including Art Scene Beijing; Chongquing Art Museum; Nanjing Museum of Contemporary Art; the 7 th Annual Exhibition of Sculptures and Installations in Venice; Art Taipei in Taiwan; Art Cologne and Miami Basel. Born in 1972, Hongxing graduated from China's leading art academy – the Central Academy of Fine Arts in Beijing – with a Master's Degree in 1998.
Malgosia Stepnik is exhibiting the 5th painting in her series 'Journey to Self'. The canvas represents the Tabula Rasa we embark on our life journey with, which leaves us open to endless possibilities. The intention here was to represent on canvas the openness and purity of a child's mind, and the effort to retain that purity of thought as an adult in contemporary society. 'Tabula Rasa (Baby Dreams)' has a pared down aesthetic with a heavenly quality, enhanced by the used of phosphorus paint that emits an ethereal glow when the lights are dimmed. Stepnik studied Sociology with Psychology in her native Poland, before moving to London to pursue Modern and Contemporary Art Studies at Christie's, and graduating with First Class hons in BA Fine Arts at City & Guilds London College of Art. Her knowledge of psychology and sociology is inherent in her art, which has intellectual and psychedelic elements.
Andrew McAttee's paintings inhabit the more vibrant end of the rainbow, and the canvas he is exhibiting at Scream is a glorious riot of cosmic symbols that pops with colour. His work is a hybrid of graffiti and fine art, and he applied his Pop aesthetic to the drab disused public spaces of urban London, sending a message out that beauty can be found in the most unlikely places.
McAttee studied Fine Art at Central St. Martin's where he became interested in abstract expressionism, the influence of which is clear in his paintings. Since graduating in 1995 he has exhibited in New York and Europe in exhibitions such as 'Yeah, Yeah, Yeah' at Forster Gallery, and shown his work in Scope Art Fair at Miami Basel, and the London Art Fair. He worked on a project with Sony PS3 this year, and his work is included in private collections across the globe, including the US, Europe, South Africa, and Middle East. McAttee had a solo show at Lebenson Gallery in Paris this autumn, and has an exhibition at Pure Evil Gallery in London next March.
His work has been featured in publications including The Observer, The Daily Telegraph and New York Magazine, and in the publication Walls and Frames.
Cain Caser's paintings have a similar Pop sensibility as McAttee's, with roots as a graffiti artist, experience of rave culture, and an abstract expressionist style that are evident in his neon portraits of unexpected figures such as Agatha Christie. He is exhibiting until 7 th January 2012 in a solo show 'Hypnagogia' at Gallery 94. Born in 1973, Caser's developed his art on the streets of London from the tender age of 12, and his current work plugs a void between figuration and abstraction, reminiscent of Jean-Michel Basquiat. His abstract neon portraits exploit the tendency to see faces where none exist, and in turn be interpreted according to the visual hierarchy of the viewer.
He explains "The motivations of my younger self, ego and excitement, are the same cues that I paint by today. My working method currently is to cut up and photocopy sketches with paint on paper creating a collaged drawing, which then serves as maquette for a painting."
Scott Hove is based in California, and creates sculptures and installations exploring our search for gratification through indulgence, and society's celebration of the artificial. Unusually, he chooses to convey his message through the medium of cake. However there is a twist, Hove's cake is inedible and often comes with teeth. His surreal cakes with their menacing fangs portray the fight between desire and guilt, and bring to mind a kind of 21 st century version of the Surrealist vagina denta, as symbolized by Salvador Dali's depictions of Lions with manes, or Meret Oppenheim's Fur-covered cup and saucer.
At Scream Hove will exhibit 'Gearfac
Categories
Tags