Art critic Tabish Khan brings you 'The Top Art Exhibitions to see in London' with one cheeky addition from outside London. Each one comes with a concise review to help you decide whether it's for you. All end soon, so hurry if you want to catch them:
Far Side of the Moon: Victor Wong x A.I. Gemini @ 3812 Gallery
They appear as if traditional Chinese drawings, however the 'artist' behind the work is an Artificial Intelligence (AI) called Gemini. It's strange to see how human they look and it begs the question as to whether artists will survive the robot revolution that's coming, and whether the artist is actually the coder and not the AI. It's the prelude for some of the big questions of the future that all walks of life will have to face. Until 14 June. 
Lu Chao: Black Dots @ HdM Gallery
Miniature persons rush towards a swirling tornado made of faces and explore a massive cathedral where other faces adorn the massive columns – reminding me of Game of Thrones. It's great to spend hours delving into the details of Lu Chao's fantastical worlds. Until 11 May. 
Caroline Jane Harris: A Three Dimensional Sky @ Kristin Hjellegjerde
Landscapes transform in the hands of Caroline Jane Harris as they gain additional depth. Photographs are cut out by hand and recreated on materials as diverse as zinc and lens tissue. The light filtering through the gaps between the layers of her work gives a fantastic depth to these landscapes. Until 11 May.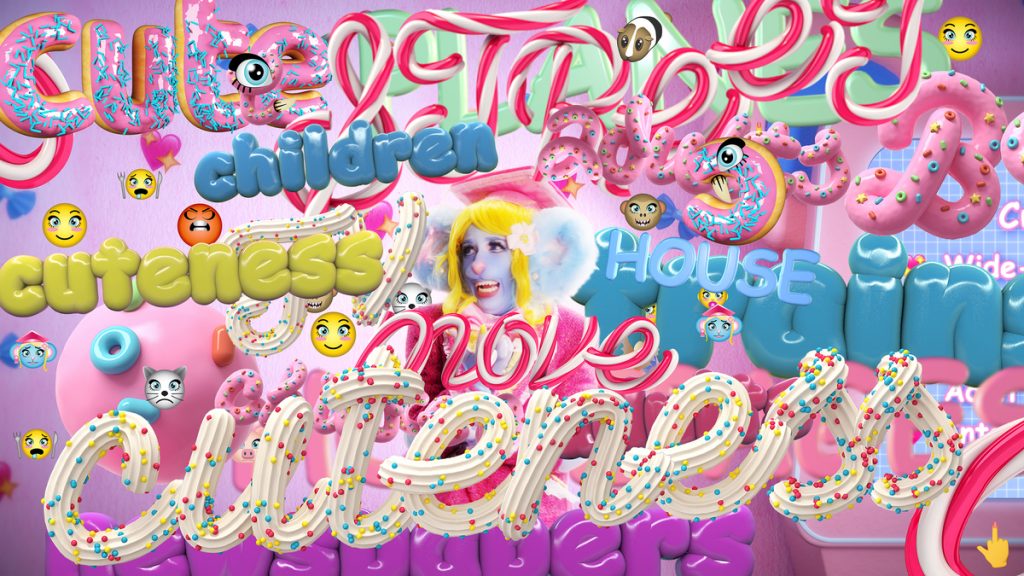 Rachel Maclean: Too Cute @ Birmingham Museum & Art Gallery
All it takes is a cute puppy to make everyone go 'aaah', but why are we so obsessed with cute things and how has what's deemed cute changed over the years? Rachel Maclean investigates with a video work of hers satirically casting an eye over social media. Maclean has also curated a selection of historical works that were deemed cute in the past, from rather awkward looking dolls to a small Ancient Egyptian carving. Until 12 May. 
Corita Kent: Power Up @ House of Illustration
Ever heard the one about the nun that made pop art? It's no joke as Corita Kent made bright colourful political works as she subverted advertising for her own ends. Add in some religious works, she was a nun after all, and we have a truly unique artist who made some eye-catching pop artworks at the same time as Andy Warhol. Until 12 May.
Oliver Jeffers: Observations on Modern Life @ LazInc
Humorous artworks abound in a show that look at the bizarre world we live in, in a fun and light-hearted exhibition. It includes works where 'this future glory' is splashed across a country that voted for Brexit and King Kong is atop the Empire State building acting as an air traffic controller. Until 15 May.
Joan Snyder: Rosebuds & Rivers @ Blain Southern
Get up close as that's where the joy is in these abstract paintings. Spot the subtle brush strokes and marks, or the flower buds, herbs and glitter integrated into the painting. There's a lovely materiality to these works that makes me want to run my fingers across them. Until 11 May.
All images copyright artist and courtesy gallery.
Categories
Tags