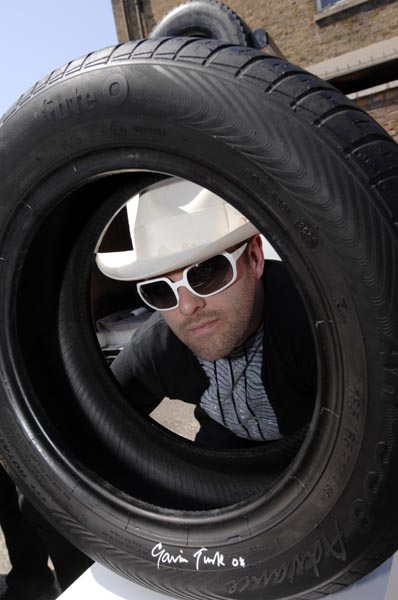 Sunday 6th June, 12 – 6 pm The Old Truman Brewery
The UK's hottest car boot fair returns to the Old Truman Brewery for a day of wrestling and wrangling, frivolity and fabulous high end art bargains. A permanent fixture in the London summer calendar, the Vauxhall Art Car Boot Fair has established a name for being the perfect occasion to hand out with some of the best British artists and grab a few art bargains to boot.
This year Martin Creed, Bob and Roberta Smith, Pam Hogg, Sir Peter Blake, Billy Childish and Jimmy Cauty are only a few of the stellar names who are contributing to the event. The day's fusion of bargains and bouts will be made complete through an eclectic array of performances taking place on the central wrestling ring stage, with Simon Horsley acting as compere for the wrestlers. Pete Fowler is also going to be performing live on a white car. Between haggling for bargains and playing spectator to the hourly wrestling matches, punters can enjoy all the musical entertainments on offer: Martin Creed will take to the stage with his band Owada, as well as Gabby Young and Other Animals.
The trendsetting new band Revere will also perform songs from their new album, adapted here for live performance with a rousing eight piece brass section. Along with these staged events, you can join in with the Cinemoi Can Can girls and their "Boules in a China Shop" antics or simply sit back and enjoy the zany antics of the ultimate fun generators Bethnal Green Working Men's Club.
Continuing the boot fair's support of fresh talent, sizzling young Catlin Art Prize curator Justin Hammond has been invited to curate a section of the car park this year. Art pieces by poet, artist, film-maker, musician and painter extraordinaire Billy Childish, in collaboration with ex-KLF superstar artist Jimmy Cauty, will complete the offer. Last but not least, the critically acclaimed event of 2009, The Museum of Everything, will bring its magic atmosphere to Brick Lane.
Categories
Tags