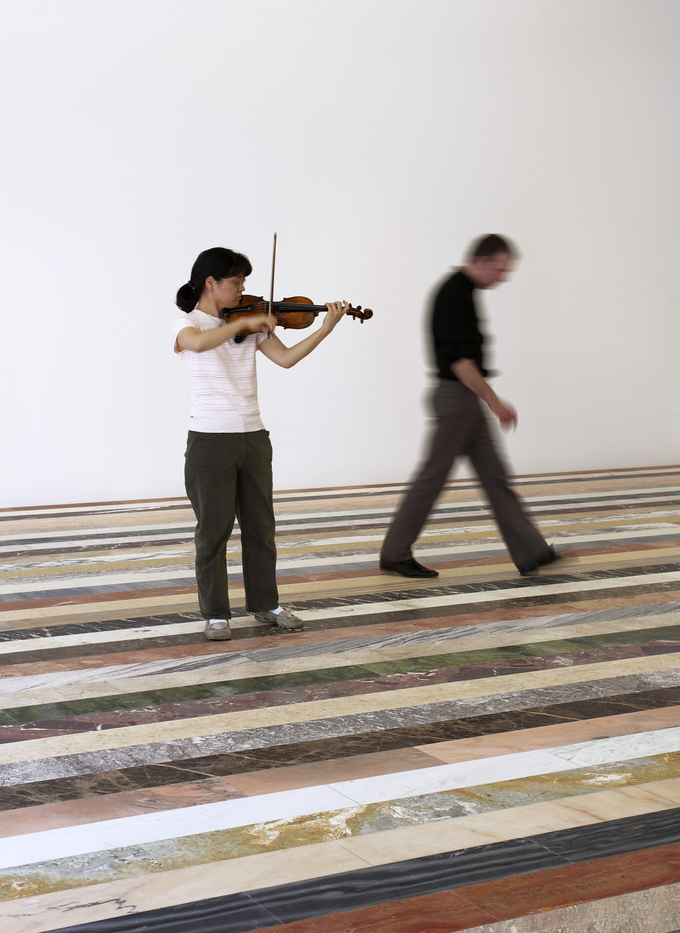 MARTIN CREED May 9 – June 19, 2010 Opening Reception: May 9, 2010 4-6PM
Gavin Brown's enterprise (GBE) is thrilled to announce the May 9th opening of a major exhibition by Martin Creed. Occupying GBE's freshly expanded gallery spaces, the exhibition will include a monumental architectural intervention and the premiere of a new film work.
This will be the gallery's third solo exhibition with the artist. It also will be Creed's first solo show in the United States since his mid-career survey "Feelings," at CCS Bard | Hessel Museum in 2007. In 2003, on the occasion of GBE's move from 15th Street to its present location at the intersection of Greenwich and Leroy Streets in the West Village, Creed created a permanent installation to inaugurate the new gallery: Work No. 300: the whole world + the work = the whole world is a black painted text wrapping around the corner of the building's white brick façade – a mission statement, a manifesto declaring the continuity between artistic gesture and everyday life. Today Work No. 300 is a landmark of sorts: Absorbed by its neighborhood, it has acquired a function far beyond that of mere "artwork," proving Creed's position that art exists to illuminate life while being enveloped by it.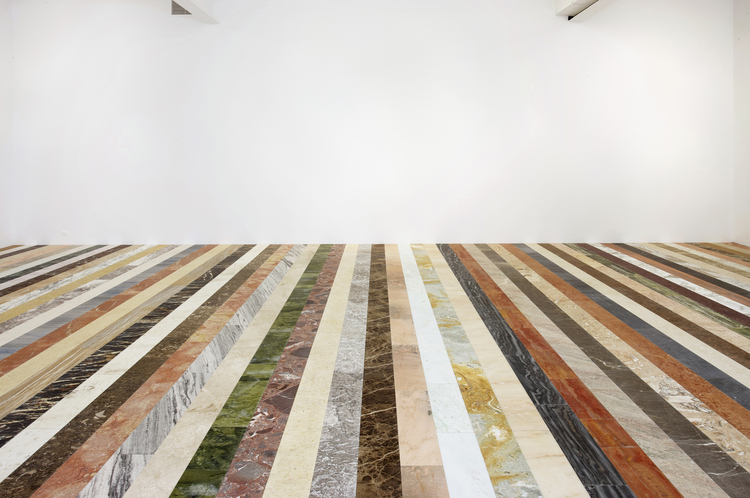 In the new exhibition, Creed will create a spectacular new site-specific installation, remaking the entire gallery floor with a painstaking arrangement of more than 100 types of marble in stripes of many colors and textures. Expansive in its cultural references, and optically dazzling, this floor will become a 'painting' framed by the space of the gallery. The walls will be bare. Engaging the work, each other, and the world outside GBE's windows, visitors will prove Creed's thesis that "works should have space for people in them.
"In an adjacent gallery created by GBE's expansion into the former Pat LaFrieda Meat Purveyors at 601 Washington, Creed will premiere an important new work: a film of an erection. In the same space he will show Work No. 909, a curtain that opens and closes at regular intervals. The exhibition will also include new paintings, as well as a performance.
About the Artist
Martin Creed (b. 1968) is best known for his simple sculptural interventions, including Work No. 200:Half the Air in a Given Space, Work No. 227: Lights Going and Off. Recent projects include Work No. 1020 (2009), Creed's first ballet presented at Sadler's Wells London; and Work No. 850: Runners (2009), the 2008 Duveen Galleries Commission at Tate Britain, in which a person runs as fast he can through the Museum's galleries every thirty seconds. In 2007 he presented Martin Creed's Variety Show, commissioned by the Public Art Fund and performed at the Abrons Arts Center in New York.
The sold out stage performance by Creed and his band of musicians and dancers was part music concert, part theatre, part talk and part dance. He was awarded the prestigious Turner prize in 2001.
Credits: All images Martin Creed at Gavin Brown¹s enterprise, May 9 June 19th, 2010, exhibition view
Gavin Brown's enterprise 601 Washington Street New York, NY 10014 Tu – Sat 10am – 6pm
Categories
Tags