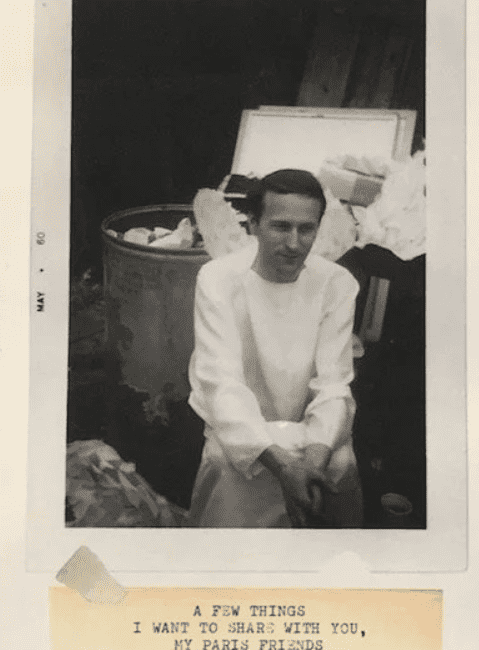 Close to  Maison de la Poesie on rue Quincampoix, a still modest street of galleries in Paris, is the agnès b Gallery du Jour. Often overlooked for her sincere contribution as a curator agnès b. (fashion designer for the modern, European homme et femme) demonstrates a classically Parisian flexibility when it comes to multi-métier activities. Suitably so, Jonas Mekas exhibits works of poetry, video, sound recordings, stills, installation and artifacts all seamlessly conversing with one another. Mekas still lives the avant-garde, and is still largely impoverished due to his un-wavering commitment. His notes on the gallery walls are a poet's monologue.
The exhibition includes posters from his underground cinema screenings with Kenneth Anger and John Cassavetes in 1960's New York. Tacked-up are video-stills of Patti Smith, her unmistakable profile and tousled hair, another figure who hasn't drifted from her poetic intensity.
Across the galleries courtyard is room of fervent and hectic video. Screens are stacked-up, turbulent with vibrant video-collages of different cities. Parts of the gallery walls are illustrated in red and blue by Mekas' own hand. The dangerous sounds of hot video continue to protest as you slip down into the cool basement. The video 1001 nights plays in the corner and in a room opposite sound recordings provide vivid memories of places and people we may never have even seen. We share a dark space with the sounds of New York City, followed by the singing cigales on an evening in Provence, an aural experience that is exceptionally sensitive.
 Mekas is a gentle natured man of sixty-five but his work is still fiercely avant-garde. With all the intellectual complexity of an established artist combined with a fresh visual-modesty of a fledgling.
His poetic nature remains unblemished after his foray in to the excess of the Warhol factory. He still writes tender letters, or seeks moments of fleeting Eden depicted in Summer Manifesto. Wistfully, just like those moments that we may never relive, many of the works in this exhibition may never be re-exhibited. Particularly the pages copied directly from his diaries. It is highly likely that this will be our only chance to witness such gifts that Mekas has chosen to share with his Paris friends. But this exhibition's brevity accentuates its jewel-like value.
 Until July 13th
44 rue Quincampoix

Categories
Tags