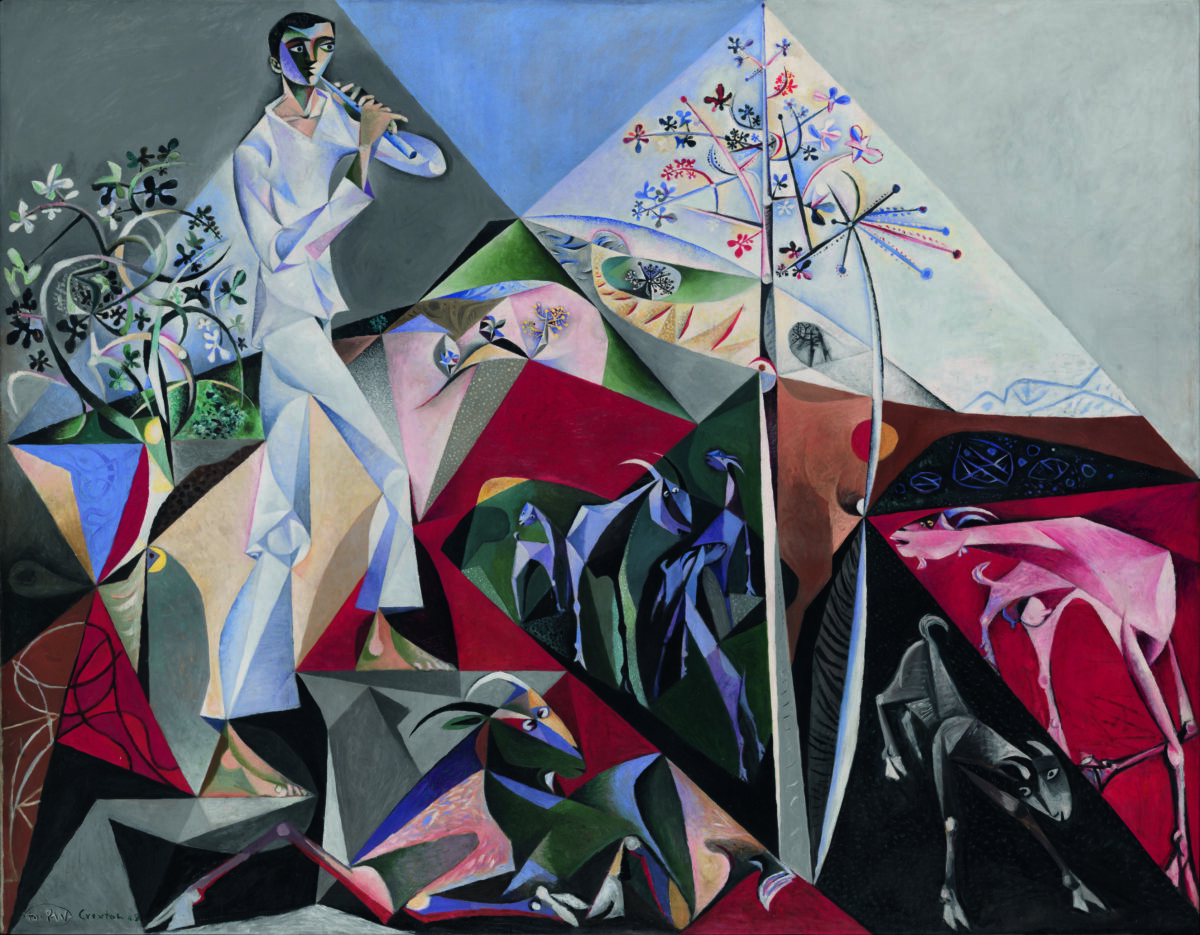 Most art lovers will have heard of Lucian Freud, but John Craxton may not ring a bell – even though they were friends and peers. Quite possibly because Craxton had an insatiable wanderlust that took him away from Britain to Greece, travelling with no qualifications and in today's parlance living his best life abroad. He partied hard, painted the locals and now there's a major exhibition of his work at Pallant House Gallery in Chichester.
From darkened works of a forest in England to the bright and bold paintings in the Mediterranean light, there's a lot of diversity in this show that highlights both his evolution in style and the fact that he felt far more at home near the Aegean sea. One of the standout pieces greets visitors as they enter with a semi-Cubist version of himself playing the part of the pied piper to a herd of goats (above) who act as stand-ins for people he knew, though the show reassures us that he meant it as a compliment.
A story that typifies Craxton's approach to life was he went missing triggering a police search, only to be found among locals he was painting – including an impressive Modernist portrait of an elderly man with a thick white beard.
As he continued to draw the locals, word got round and there were queues to have their portraits made. While he was a quick draughtsman his paintings started to take longer and longer – evident in a young Greek woman he painted, her expression suggesting she's fed up of posing.
It's a significant collection of his works including pottery, book jacket designs and a quick portrait he drew on a sailor's hat. He was an accomplished painter and while his work may not quite be on the level of Lucian Freud he was clear that he 'just wanted to draw, paint and escape into a world of adventure' and he achieved that. Of the two, I imagine Craxton was by far the happier man.
Running alongside the Craxton show, painter Jake Grewal (work above) has a selection of his impressive, dark and mysterious forest paintings alongside his own selection from the Pallant House Gallery collection including some small scale landscapes by the likes of Paul Nash and Prunella Clough. Grewal's works are a great contemporary display that aligns well with Craxton's earlier darker works.
John Craxton: A Modern Odyssey and Jake Grewal: Some days I feel more alive are both on at Pallant House Gallery, Chichester until 21 April 2024. Entry to the gallery is ticketed at £12.50 for adults.
Both Craxton images copyright Tate. Jake Grewal image copyright the artist and Todd White art photography.
Categories
Tags