Lucian Freud: New Perspectives a major Lucian Freud exhibition at the National Gallery, jointly organised with the Museo Nacional Thyssen-Bornemisza, marks the centenary of his birth in Berlin in 1922 and features 63 paintings spanning a prolific career of more than 70 years. 
Lucian Freud, who died in 2011 at the age of 88, dedicated 7 decades of his life to honing his craft and was one of the UK's most celebrated – and expensive – figurative artists. Freud's paintings set many auction records during his lifetime and posthumously, with the most recent record sale of $83,265,000 at Christie's in New York on 9th November this year, of his 'Large Interior, W11 (after Watteau)" (1981-83) confirming him as a true giant of 20thCentury Art. The painting is one of the jewels in the National Gallery show.  
Freud's assistant and close friend David Dawson proposed the exhibition to The National Gallery, and legend has it that the artist – who held a privilege pass for the gallery – often visited during the night. Freud is quoted as saying 
I go to the National Gallery rather like going to a doctor for help.
The son of architect Ernst Freud and grandson of the famed founder of psychoanalysis Sigmund Freud, Lucian left for Britain– with his family in 1933 when they fled Germany after Hitler came to power. His early works such as 'The Refugees' (1940-41) possess a disquieting intensity that has a lineage to the German Neue Sachlichkeith artists of the period, such as Otto Dix and Christian Schaad, whose art projected the fear of World War II approaching.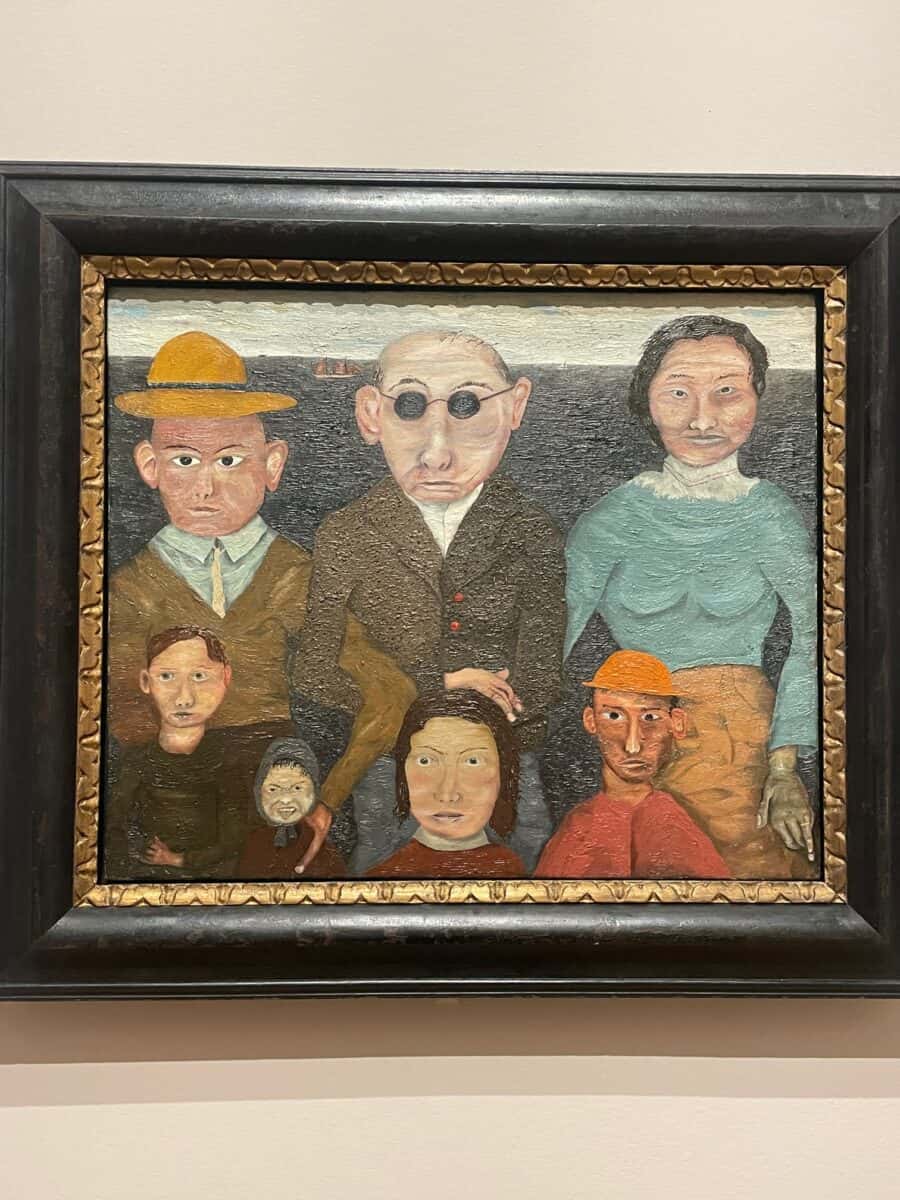 Freud studied at the Central School of Arts and Crafts in London, took courses at the East Anglian School of Painting and drawing, and then enrolled at London's Goldsmith's College. 
National Gallery curator Daniel F. Hermann says 
Lucian Freud's rise to fame came from his prodigious skill and sensibility as a figurative painter and his uncompromising commitment to his medium and interests.  But it also stemmed from his family name, from the company he kept and from the commercial success of his sales. As grandson of the famous psychoanalyst Sigmund Freud, his life was predisposed for public attention.  Freud's aptitude for surrounding himself with illustrious friends and acquaintances – from backgrounds as wide-ranging as the arts, the criminal underworld and the aristocracy – meant that his personal life was the focus of much scrutiny, analysis and entertainment.
'New Perspectives' charts the development of Freud as an artist, grouping the paintings thematically in a series of rooms, with personal studies of family and friends in domestic settings later replaced by huge canvasses of naked sitters isolated and exposed in the minimalist artist's studios.  
On display at the National Gallery is a survey show of paintings from small-scale studies of his early career such as the luminous 'Girl with a Kitten' (1947) through to the vast canvases of his later career, which scrutinise the nude form with a visceral application of paint and an uncompromising eye, epitomised by his 1995 portrait of Sue Tilley. Tilley was working as an unemployment benefits supervisor in the 1990s when Freud invited her to be a sitter for 4 of his paintings, including "Benefits Supervisor Sleeping", which sold at auction in 2008 for $33.6 million, then a record for a work by a living artist. Tilley is depicted as a contemporary Rubenesque Goddess, with Freud's brushstrokes celebrating every curve and voluptuous fold of flesh.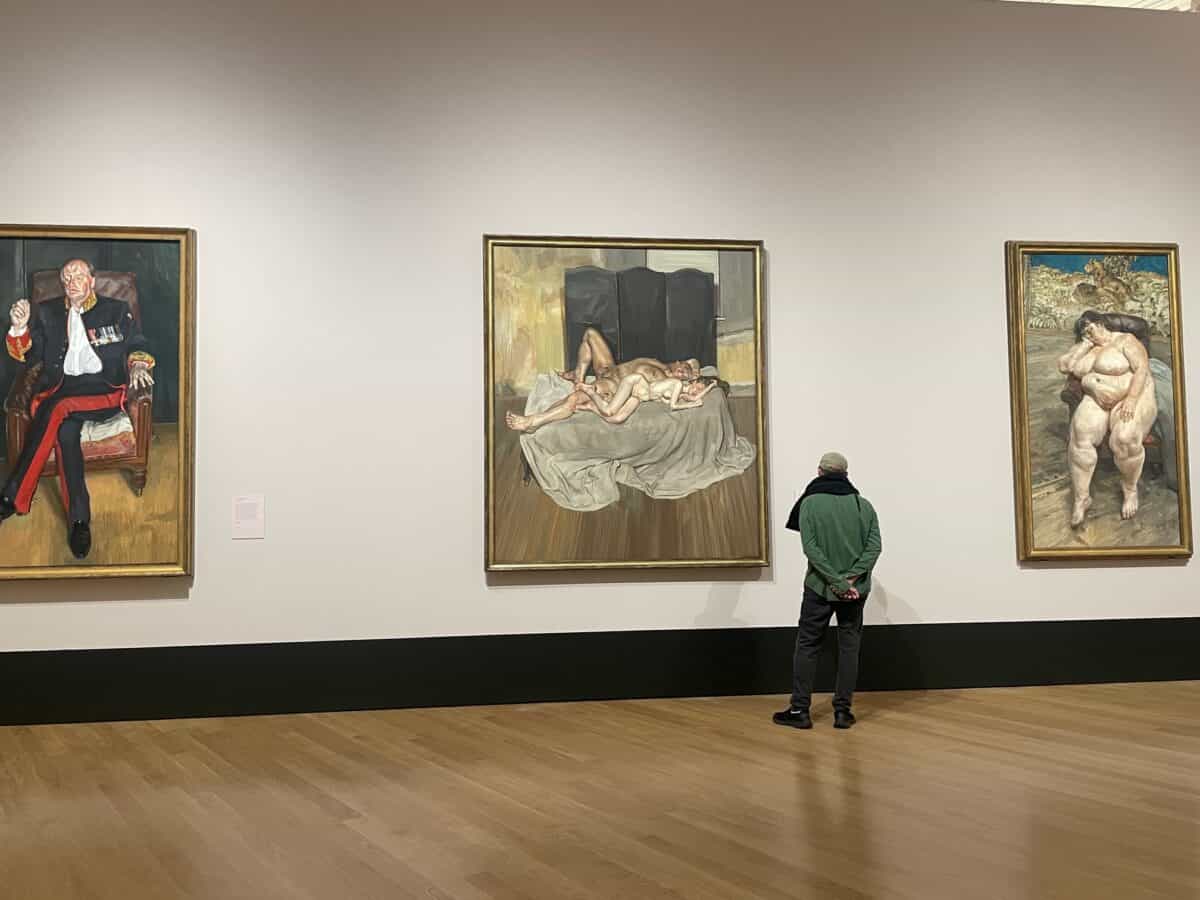 Some critics of Freud's no-filter approach, object to his depictions of his sitters, although he often turned the gaze on his own naked form, creating self-portraits such as 'Painter Working, Reflection' (1993) which were just as harsh as his invasive painterly inspections of others. Some of the paintings exhibited at the National Gallery left me with a distinct feeling of unease, in particular a nude portrait of his daughter Bella, and a surreal painting titled 'Large Interior, Notting Hill' (1998) which shows a fully clothed man on a sofa reading in the foreground, with a naked man in the background appearing to breastfeed a baby. I read that this bizarre image arose because Freud became impatient with the original female sitter who was breastfeeding at the time, replacing her with his own studio assistant.  However, there are moments of unexpected tenderness in the exhibition, particularly in paintings such as 'Double Portrait' (19856), which captures the unspoken love between a girl and her dog, or his double portraits of same-sex couples in tender embrace, as well as in a small dimly lit room themed around 'Death', where Freud's sketches of his mother in her final years culminate with a portrait of her on her death bed.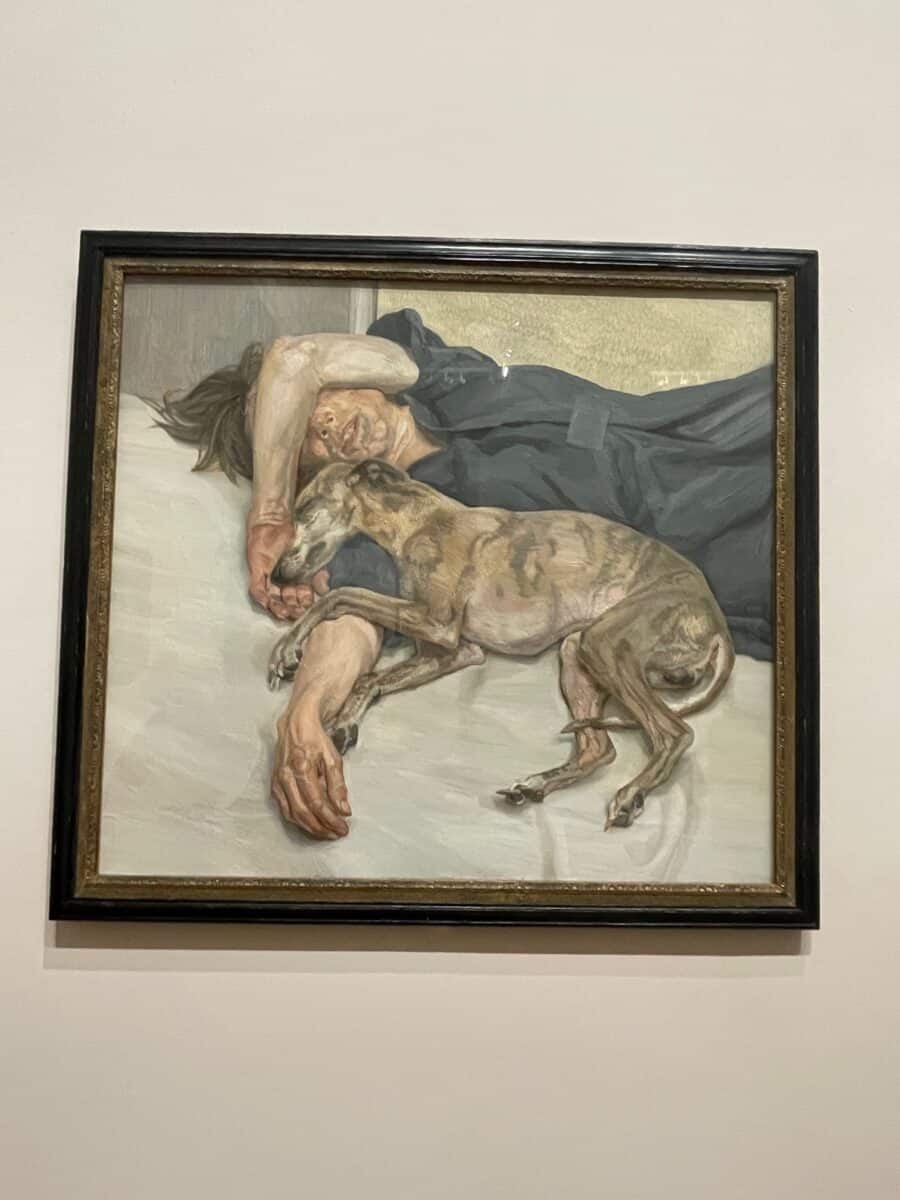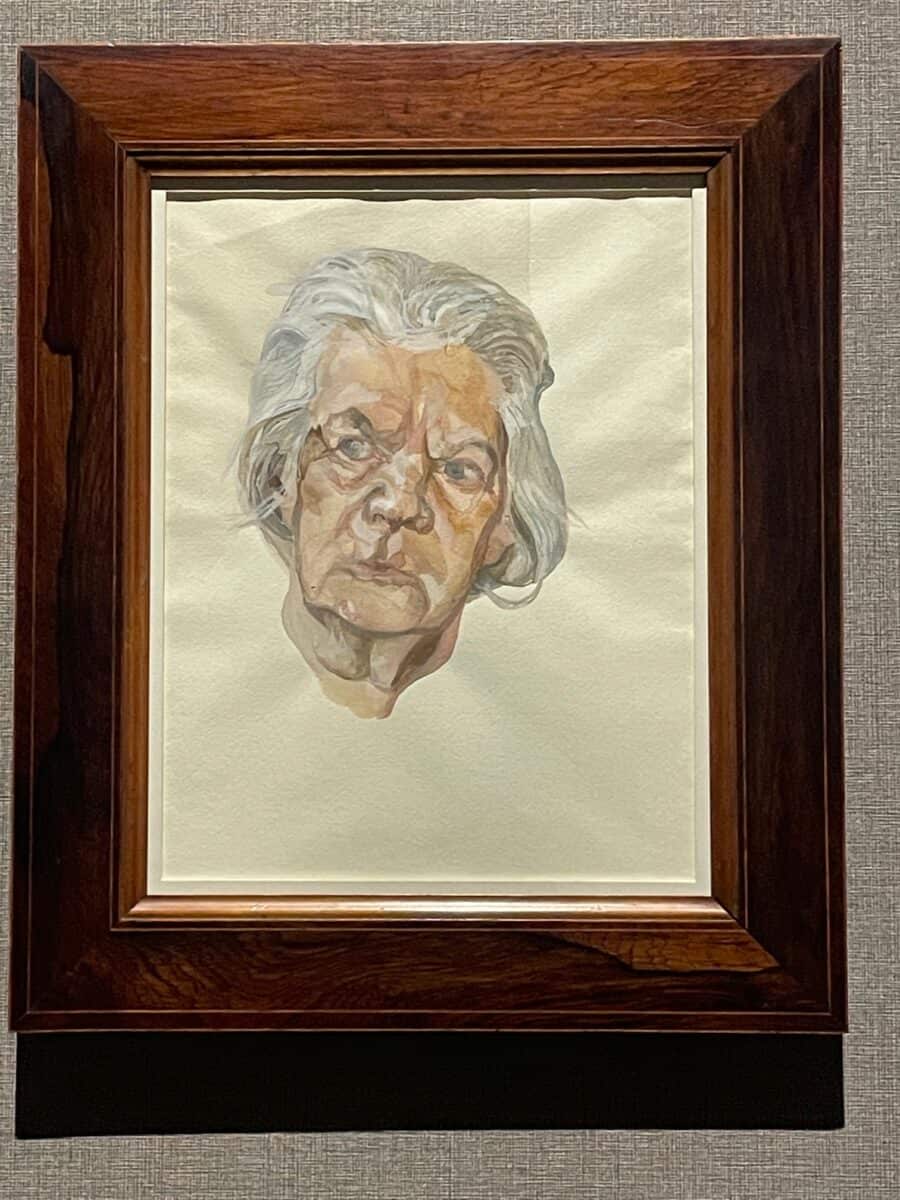 Freud's 2001 Portrait of Queen Elizabeth II proved controversial in its unflattering depiction of the late Monarch and is tiny in comparison with vast canvases in a room dedicated to the theme of 'Power', which also features a portrait of billionaire banker Lord Jacob Rothschild. The gallery's guards were very protective over the painting of the late Monarch, and told me off for trying to take a photograph!
Freud achieved a certain amount of notoriety during his lifetime, for his louche outings to Soho artist hangout The Colony Rooms with his friend Francis Bacon, as well as his penchant for younger women and the number of lovers and children he had. Although the National Gallery exhibition avoids getting embroiled in the gossipy mythology that surrounds the artist's personal life, instead choosing to focus on his lifetime commitment to developing an artistic practice that exhibits an absolute dedication to painting and the visceral depiction of the human form through paint, putting him on a level with the Old Masters of portraiture and nude painting such as Titian, Reubens and Courbet.  
The exhibition's curator Daniel F. Hermann sums up Freud's impact on art history perfectly in the catalogue:
"The vivid representation of flesh on canvas is perhaps the most important repeating element in Lucian Freud's long career.  From the pigment-laden perspectival distortion of his 1940 'Self-portrait' and the overt display of surface and process in 'Francis Bacon (Unfinished), to the rich volumes of 'Naked Portrait II', painting flesh is as the heart of Freud's work. For Freud, to live was to paint.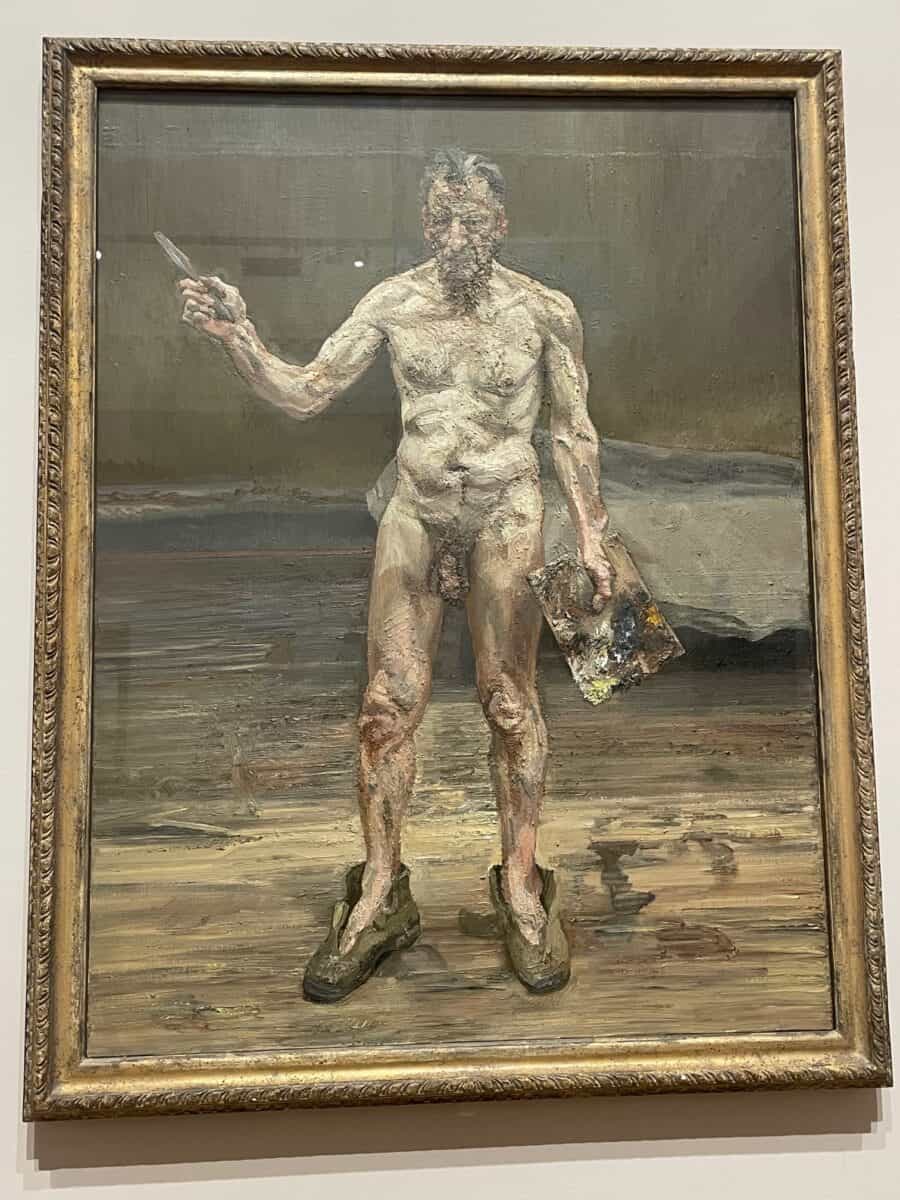 Lucian Freud: New Perspectives, National Gallery – 22nd January 2023: nationalgallery.org.uk/lucian-freud-new-perspectives
Categories
Tags