Pallant House Gallery has announced a unique response to creativity during the coronavirus pandemic. The Gallery has commissioned a model art gallery that will feature original miniature artworks from over 30 leading contemporary British artists. Artists include John Akomfrah, Michael Armitage, Rachel Whiteread,Tacita Dean, Lubaina Himid, Damien Hirst, Magdalene Odundo, and Gillian Wearing.
The 2021 Model Art Gallery will go on display at Pallant House Gallery this summer alongside two earlier model galleries – The Thirty Four Gallery and The Model Art Gallery 2000. Together the three galleries will form a time capsule showcasing over 80 years of British art through more than 80 original artworks in miniature form. The Thirty Four Gallery and The Model Art Gallery 2000 include original works by some of the best-known modern artists of the past century, from Bloomsbury Group artists such as Vanessa Bell and Duncan Grant; Surrealists such as Paul Nash; Pop artists including Sir Peter Blake and Richard Hamilton, and YBAs Rachel Whiteread and Damien Hirst.
The 2021 Model Art Gallery will present a microcosm of contemporary British art featuring new works created over the past year by 34 contemporary artists, using a variety of mediums including sculpture, ceramics, photography and painting, ranging from the size of a pound coin to no larger than 20cm.
These intricate works include a 9cm expressive nude by Maggi Hambling, a 2cm porcelain pot with a golden rim by Edmund de Waal, a 13cm Damien Hirst spin painting, a 1.5cm collage by Lubaina Himid and a 15cm ghostly blackboard drawing of a ship by Tacita Dean. Filling an entire room of the model will be a miniature installation by John Akomfrah with a photographic triptych evoking his multi-screen film projections.
Pallant House Gallery is known for its 'collection of collections' of Modern British and contemporary art housed in an 18th century Queen Anne townhouse with a modern white cube extension. The three model galleries encapsulate this distinctive architecture and provide a backdrop to explore modern art on a doll's house scale. Together these models will provide a fascinating insight into the evolution of styles and influences across the decades and show how different generations of artists have approached the unique challenges of working in miniature.
Miniature artworks and collections have long fascinated audiences, with many celebrated examples dating back to the 17th and 18th centuries. The earliest model gallery in Pallant House Gallery's collection, The Thirty Four Gallery, was inspired by the 1924 Queen Mary's Dolls' House at Windsor Castle and created in 1934, when art dealer Sydney Burney asked some of his most notable contemporaries, including Henry Moore, Ivon Hitchens and Vanessa Bell to create miniature artworks to fill a model gallery in support of charity. Lost for decades, most of the works were rediscovered in a suitcase by Burney's grandson, and the model was recreated by Pallant House Gallery in 1997 based on photographs of the original designed by the architect Marshall Sissons.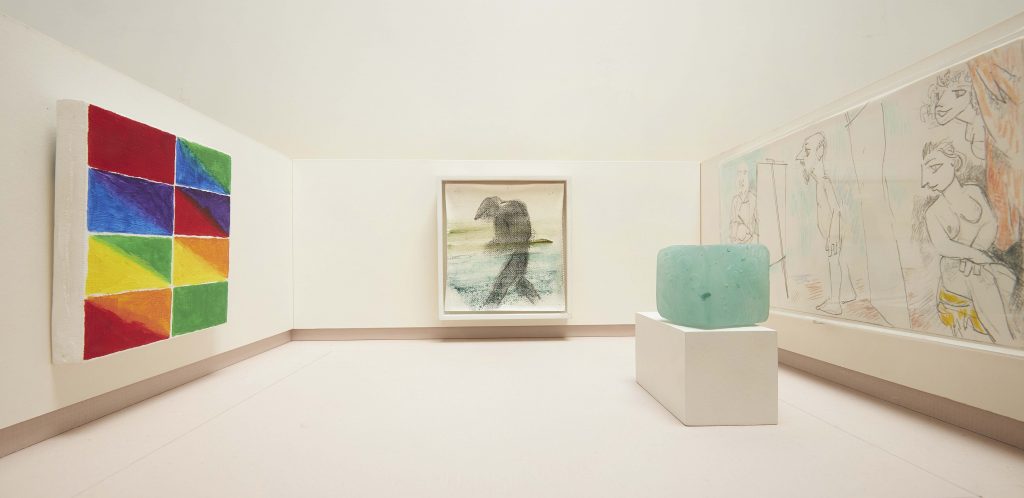 Taking inspiration from The Thirty Four Gallery, Pallant House Gallery commissioned a new Model Gallery to mark the millennium. The Model Art Gallery 2000 works are housed in a replica of the plans for the Gallery's new wing, designed by Long & Kentish in association with Colin St John Wilson. The gallery showcases the work of 18 celebrated artists of the late 20th century who were all represented in the collection of British Pop and figurative art that Wilson donated to Pallant House Gallery, including Frank Auerbach, Peter Blake, Anthony Caro, Prunella Clough, Antony Gormley, Richard Hamilton, Howard Hodgkin, R.B. Kitaj, Dhruva Mistry, and Sir Eduardo Paolozzi.
The 2021 Model Art Gallery has been designed by Wright & Wright architects who are working with Pallant House Gallery on proposals for a new Collections Centre, and recently redesigned the new Museum of the Home in Hackney.
"At the height of the first lockdown artists could not get to their studios, exhibitions were cancelled, and many people spoke of being creatively blocked. Inspired by the earlier model galleries I wrote to some of Britain's leading contemporary artists to ask whether they might participate in a project to create something positive out of the pandemic. Most of the artists usually work on a large scale and were excited by the challenge of condensing their ideas into a miniature artwork and by being part of a such a unique history of modern and contemporary British art. We want The 2021 Model Art Gallery to be a way to inspire children and young people and to interest them in contemporary art. After it is shown at Pallant House Gallery we will tour it to other museums and galleries around the UK to reach a wide range of audiences."

Pallant House Gallery Director Simon Martin said,
The 2021 Model Art Gallery artists are: John Akomfrah, Michael Armitage, Rana Begum, Cecily Brown, Glenn Brown, Pablo Bronstein, Michael Craig-Martin, Dexter Dalwood, Tacita Dean, Kaye Donachie, Nick Goss, Lothar Götz, Maggi Hambling, Lubaina Himid, Damien Hirst, Gary Hume, Chantal Joffe, Michael Landy, Magdalene Odundo, Julian Opie, Grayson Perry, Cathie Pilkington, Fiona Rae, Khadija Saye, Sean Scully, George Shaw, Bob and Roberta Smith, Caragh Thuring, Edmund de Waal, Gillian Wearing, Rachel Whiteread, Clare Woods, Rose Wylie, Toby Ziegler.
Masterpieces in Miniature: The 2021 Model Art Gallery will open on Saturday 26 June 2021 and run until Spring 2022. pallant.org.uk
Pallant House Gallery in Chichester is a leading UK museum that stimulates new ways of thinking about British art from 1900 to now. As well as an original and critically-acclaimed exhibition programme and a public programme with inclusion at its heart, the gallery houses one of the best collections of Modern British art in the country – all within the distinctive setting of an 18th century townhouse and a 21st century gallery.
Categories
Tags