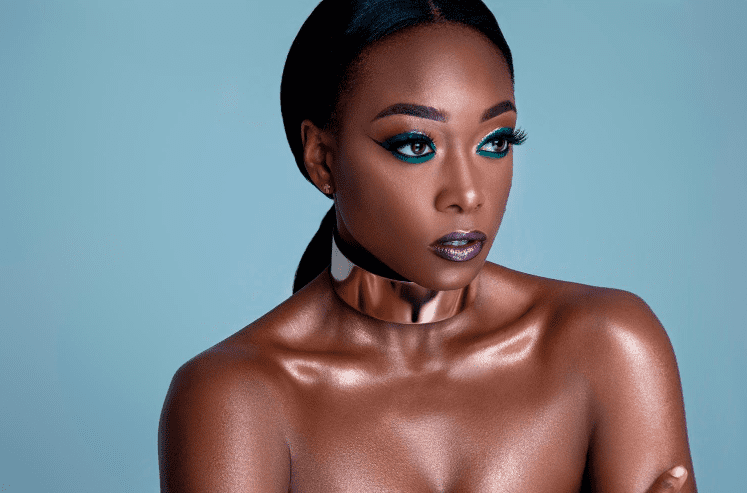 Glam bridal makeup focuses on creating a high-fashion look for brides on their wedding day. From modern to subtle to dramatic looks, there are plenty of makeup options to choose from. With the right products and techniques, you can create both a picture-perfect and glamorous look. Discover some stunning bridal makeup ideas below.
Old Hollywood Bridal GlamOld Hollywood glam bridal makeup portrays a glamorous, polished, and classic look. It features flawless skin with a matte finish and defined eyebrows. The focus is on accentuating the natural beauty of the bride while creating an elegant style. You can also pair this full glam bridal makeup
with sleek, sophisticated hairstyles.
Gold Glam Makeup
Gold glam wedding makeup entails the use of warm, metallic shades of gold and bronze to create a bold and luxurious look. The eyes are the focal point, with shimmery gold eyeshadow and thick black eyeliner. Also, ensure you keep the lips neutral or give them a subtle gold shimmer to complement the look. It is an easy DIY wedding makeup for brides.
Boho Wedding Glam Makeup
For a free-spirited and unconventional bridal style with a touch of glam, boho bridal makeup is perfect. This style infuses earthy tones, soft blush, and subtle highlighting to create a glowing complexion. Also, groom your brows but leave them natural. This soft glam bridal makeup is about enhancing natural beauty with a touch of whimsy and romance.
Glam Silky Skin Makeup
Nothing is more glamorous than flaunting a flawless natural complexion. Silky skin bridal makeup creates a glowing complexion using high-quality, lightweight products. The basic steps are cleansing, toning, and moisturizing. This beautiful bridal makeup involves blending foundation, concealer, and highlighter to create an even base. Also, use subtle pops of color on the eyes and lips to enhance the look.
Glossy Bridal Makeup
Glossy bridal makeup involves creating a dewy and luminous complexion using illuminating products. To achieve this look, enhance your eyes using shimmery eyeshadow and false lashes. Keep your lips glossy and hydrated with high-shine lipstick or lip gloss. This makeup gives the bride a fresh-faced look and is perfect for evening wedding makeup.
Smokey Eye Bridal MakeupThe smokey eye is a dramatic wedding makeup look that adds sophistication to the bride's appearance. The technique involves blending multiple eyeshadow colors to create a gradient effect. This effect adds depth and dimension to the eyes. Also, you can pair it with neutral or bold lips and contoured cheeks. 
Cat-Eye Bridal Glam Makeup
Cat-eye bridal makeup is a beautiful bridal makeup that highlights the eyes using a winged eyeliner effect. First, use a liquid eyeliner to create a sharp wing at the outer corner of the eye, extending it slightly upward. Then use a black or dark eyeshadow to intensify the line and blend it into the crease of the eye.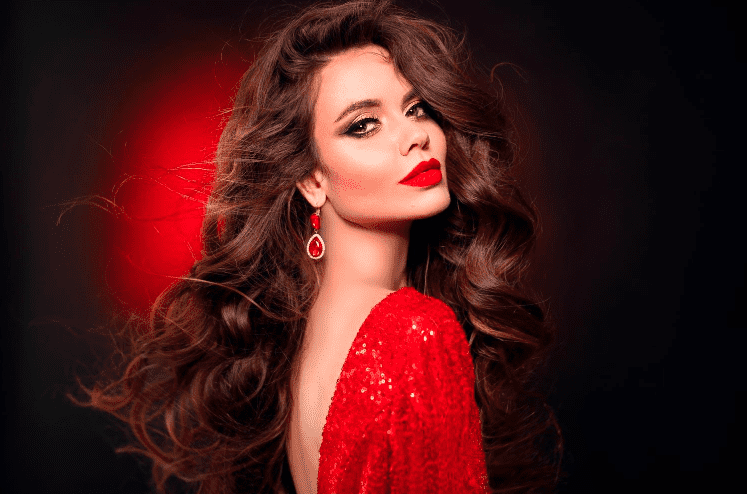 Lush Lashes Bridal Makeup
Lush lashes are a vital part of bridal makeup, as they enhance the eyes and add glamor to the bride's look. This extravagant makeup look involves using false lashes or lash extensions to add volume and length to the lashes. Also, ensure a well-curated eye makeup look that complements the lashes.
Glam Matte Makeup
This glam matte makeup features a flawless matte finish with a focus on bold, defined eyes and neutral lips. You can use dark chocolate eyeshadow and delicate, smoked-out eyeliner to give your eyes a seductive look. Finish this glamorous bridal appearance with thick lashes,well-melded contour, and matte neutral lip color.
Sculpted Cheek Bone Glam Makeup
This makeup involves creating a chiseled, crisp contour around your face. A cool-toned contour creates the impression of a natural shadow, giving your features a softer depth and dimension. To create this heavy glam wedding makeup, ensure you blend well and use shades that complement the bride's skin tone. Contour the nose, temples, and jawline for a smooth face.
Glam Pearl Wedding Makeup
Pearl glamorous bridal makeup is a trend that incorporates pearls into the bride's makeup. You can do this by using pearl-colored eyeshadows and adding pearl accents to the cheeks or lips. Also, you can create this look by adding pearls like rhinestones as jewelry on the face using eyelash glue.
Royal Bridal Glam Idea
This bride's glamorous wedding makeup style exudes queen vibes. It is a glam look with long lashes, deep bronze eyeshadow, and red lips. This makeup style features a flawless, dewy complexion with bold, defined eyes and a statement lip color. The focus is on enhancing natural beauty with subtle yet effective touches, such as soft contouring and highlighting.
Glam bridal makeup can transform a bride's look on her special day and make her feel confident. It is essential to choose a skilled and experienced makeup artist who can understand you and create a look that suits your style. To achieve perfect glam wedding makeup, choose quality products and techniques that will last throughout the celebration.
Author: Svitlana Yefimets
Svitlana is the chief editor and in control of all Wedding Forward content since 2017. She started writing in 2012. She is an expert in details concerning venues, gifts, ceremonies, music, and everything about real weddings. If you want to collaborate with us, send her an email. She spends her leisure tasting dishes, discovering new restaurants, and staying fit through yoga!
Categories
Tags