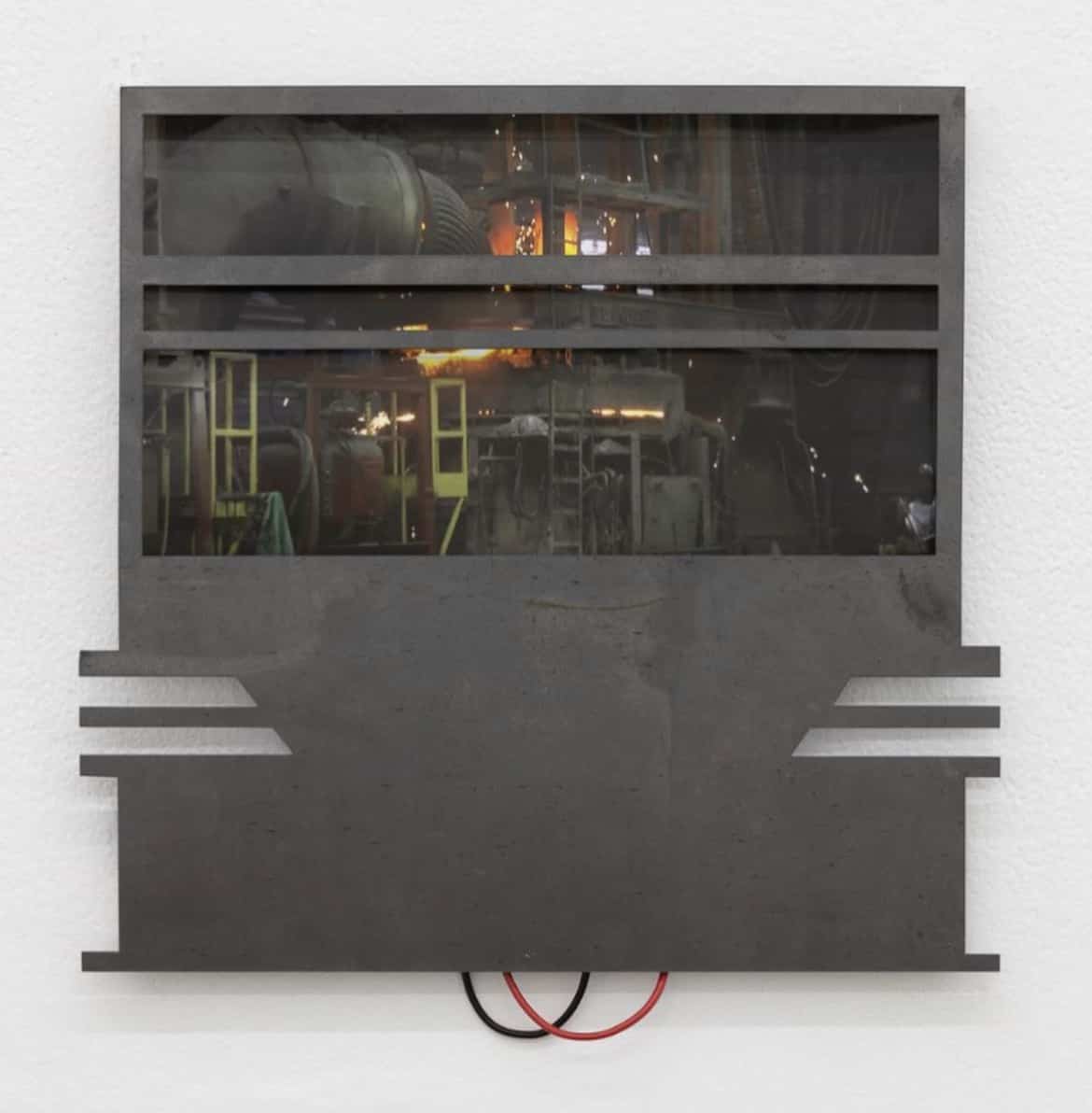 "You humming." "Huh?" Ksh-ksh-ksh ksh-ksh-ksh ksh-ksh-ksh, dum-da-du<r> eeeeeee. It's a broken broadcast. A vibrating tremor from a steampunk UFO in flight. It's a noise that you expect to feel in your bones, one that ricochets like waves on and off a cliff, like a bullet ripping through steel, here experienced in slow-motion. CJ's Quest for Metal Factors (2022), the audio that perfuses Cudelice Brazelton IV's solo exhibition Tensors (Cell Project Space, London – November 20th, 2022), is a strange mix of bubbling furnaces and screechy reverb. Composed by the Columbus-based musician ConQuest Tony Philips, this anomalous growl haunts the bare space of the gallery; like an atmosphere, it hangs in the air, hidden from view yet wholly present. Part of the wall-based assemblage Abrade (2022), these grinding sounds – that come from the artist's own recordings of the industrial foundries of Ohio – decenter my body as I move through the exhibition, casting me into a 'wild' environment – to think with Queer theorist Jack Halberstam – where the 'assumed nature of things' is up for grabs.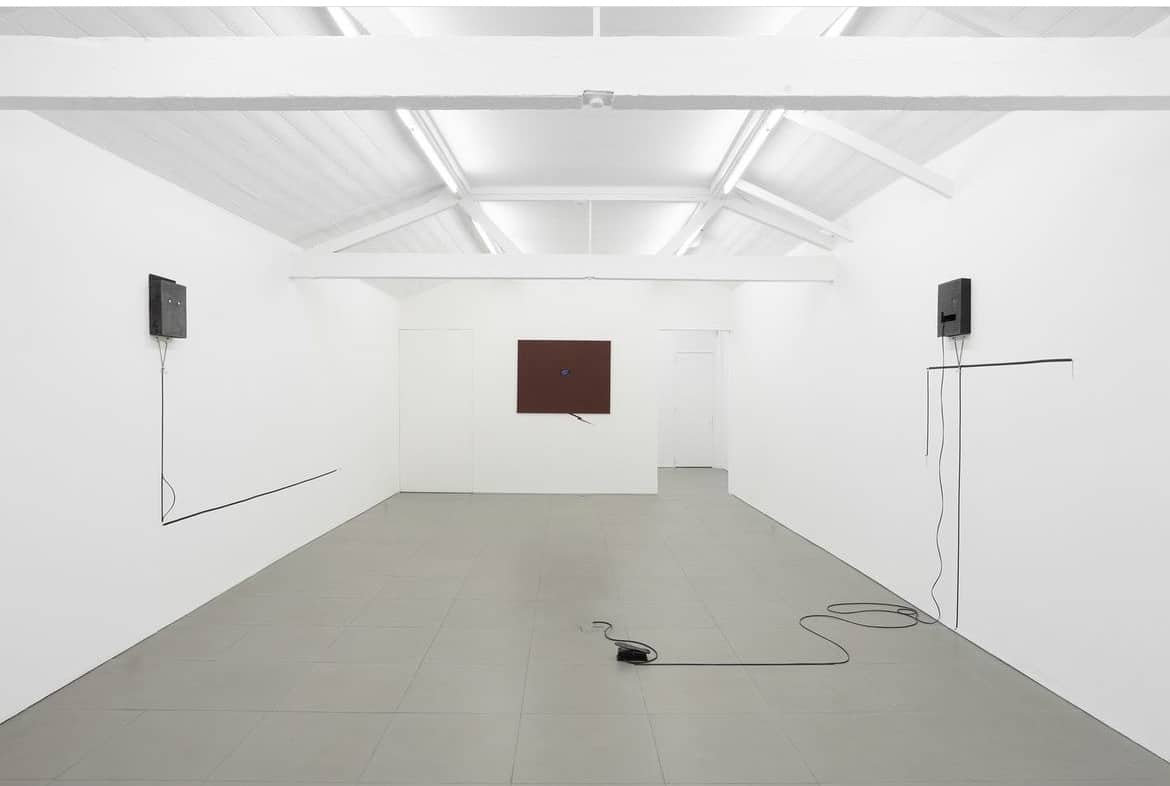 Embracing the potentials of abstraction, both in terms of the aesthetic qualities of the works presented and in the formal process of their production, for this exhibition, Brazelton IV stretches the idea of 'peripheral vision.' Working with the 'undercurrents' found in the materials he finds and uses in his assemblages, here Brazelton IV gives what lies beyond the immediately discernible a retro-humanoid form – think R2-D2. In turn, establishing a new sense of relationality; one where artistic abstraction is used not only to animate the social lives of things but to set the thingness of our social lives in free-flowing motion.
We glimmer these new vectors, these new sinews of material bodies shaped into non-descript narratives by Brazelton IV, in the three mechanical body-forms – Bricoleur (2022), Bricoleur II (2022), and Dark Play (2022) – that line the walls of Cell's exhibition space. Each composed from quotidian materials, PVC twine and grey-black foam – with a foot pedal and lightbulb, polyester and beads, magnets and aluminium giving each work its own respective character – these square-headed figures effuse associations: from liturgical icons and hieroglyphics to venerable labourers chattering and instruction manual illustrations. Further, as diagrammatic corpses, these works patter the gallery space with bodily notes that allude to a grammar of abstraction that lies at the heart of the artist's practice. That is, a verby practice of actively bringing the undercurrents that resonate within, and that can be projected upon, differing materials together in order to compose tense juxtapositions abounding with allegorical rhythm.
In Bricoleur, for example, Brazelton IV places an inkjet print of a delicate eye on the grided surface of this composite body's foam face; cut into this soft surface, an up-turned mouth spews fiery light – a thunderous cackle – when willing viewers place their foot upon a Singer sewing machine pedal, found on the floor of the gallery before the work. Brought into tense juxtaposition here, this seemingly discordant array of stuff formally echoes avant-garde practices of collage and sculpture – where the use of everyday matter created a bridge between art and life. Rather than a fatty form, that goads a reactionary provocation by using trash as spectacle, Bricoleur is a refined emblem that, through its stringy sparsity, quietly conveys the horrors of industrial modernity – that contemporaneous assumed nature, which presses differently particular bodies into a closed world system despite thundering screams. 
And so I return to Abrade. Iconographically, an inkjet photograph depicting the inner working of an industrial foundry – with rapturous splashes of molten metal rushing forth from the dark iron pipework directing its energetic flow – enclosed within a carbon-coated steel frame, the work's own perfuse life – that broken broadcast, vibrating tremor, noise that you expect to feel in your bones – is alluded to visually by two electrical wires that curl as crescents at the bottom of the piece. This is not a sad memento framed and activated. With the frame's retro-futurist aesthetic, the piece echoes a line of flight set in motion by the aspirations of the Art Deco movement; specifically, its presence and visionary use in Western urban cultures throughout the 70s. In this way, Abrade, indeed the exhibition as a whole, orientates itself around the capacity for objects to abound preconceptions, to move with a visionary manner between, across and beyond static socio-cultural realms, giving an aesthetic form to another universe of thingy relations. Brazelton IV achieves this by applying his grammar of abstraction to the materiality of stuff; surfacing what is present yet hidden in order to decenter rigid ideas of bodily relations and indeed to un-assume the nature of things.
Cudelice Brazelton IV, Tensors, Cell Project Space, until November 20th, 2022.
Categories
Tags