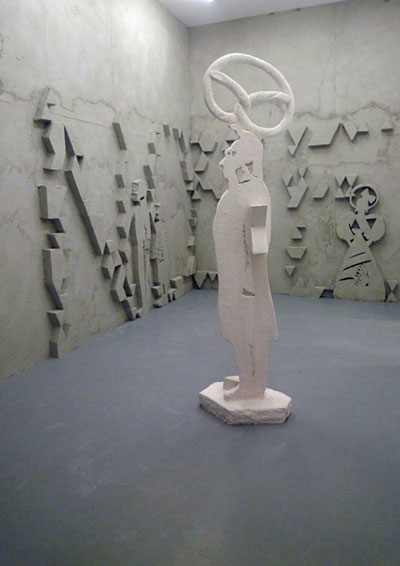 Mick Peter's work is derived from his interest in monumental sculpture and emblems of stupidity, producing objects with athromorphist personalities as scratchy paradoxes in lumpen matter. Using the traditional techniques of a sculptor Peter cuts, carves and hollows out material, but disrupts the integrity of this formalist process by coating the surfaces with cement or pigmented latex to create a more illusionary quasi-painted appearance. This appearance alludes to Peter's interest in drawing, and illustration, taking inspiration from the homogenous and anti-realistic colour processes of the 'comix' phenomenon of the 60s and 70s, but also ties in with the old fashioned ideals of early abstract modernist sculptors. His more recent sculpture draws from a broad catalogue of literary and theoretical references transposing the incongruity and strangeness of politically charged narratives.
For his solo exhibition at Cell Project Space Peter will present a new version of The Nose, an installation project made for 'La Salle de Bains', Lyon earlier this year. Using the 19th century writer Nikolai Gogol's story of the same name and Dmitri Shostakovich's opera adaptation as emblems for the project the work explores the jarring absurdity of the former and the performance history and sceneography of the latter. The original story recounts an incident in which a Russian official wakes one morning to find that his nose is missing from his face; he later encounters the nose riding around St Petersburg in a carriage, dressed as a government official. While The Nose was regarded as a humorous but trivial anecdote for almost a century, later 20th century critics considered it to be a social satire on Russian culture, a Marxist critique of socioeconomic class, or a psychosexual fantasy, and a meta-narrative about the process of storytelling. In this ambitious floor to ceiling installation Peter integrates his anthromorphist treatment of human form into the schematic environment of the gallery itself. By combining a new cement wall relief with rubber objects the environment alludes to the cartoon-like aftermath of a rehearsal where music stands are left drooping towards the floor and The Nose has left the building.
'The Nose: Epilogue' is Mick Peter's first solo show in London since 'Fortescue Avenue / Jonathan Viner' in 2007. Recent projects include The Changing Room Stirling, 'Dr Syntax versus the Paperweights' (2010), Galerie Crèvecoeur, Paris, 'The Lumber Room' (2009), Zoo Galerie, Nantes & Generator Projects, Dundee, 'Harmonielehre' (2009), CAPC, Bordeaux, 'Insiders – pratiques, usages, savoir-faire' (2009) and Museé d'Art Contemporain Lyon, 'N'importe Quoi' (2009).
Forthcoming projects include 'Le Vent des forêts, France'. (July 2011), 'The British Art Show 7' (October 2010) and the 'Prix Ricard' (September 2010)
Read Caroline Soyez-Petithomme's interview with Mick Peter in 'Zerodeux' Spring 2010 www.cellprojects.org/
Categories
Tags