Mixed media artist Miss Bugs is to launch a major new installation at London's Jealous Gallery, mashing up the worlds of contemporary art, big pharma and fast food.
18 months in the making, Do No Harm – The Dispensary features more than 6,000 supersized capsules and tablets, displayed around – and spewing out from – a 'sentient' vending machine. Among the artworks are 800 vibrantly coloured, poured resin capsules, each containing a discarded junk food wrapper. Every capsule in the installation is unique, with more than 100 variants from corporate giants like McDonalds and Coca-Cola, to childhood favourites Hubba Bubba and Monster Munch.
Also featured are 200 remixed 'Fast Chalk' pills, cheekily mashing up the recognisable shapes of Viagra and Oxycontin with familiar fast food slogans like 'Finger Lickin' Good' and 'America Runs on Dunkin''.
At the centre of the exhibition will sit the 'sentient' vending machine, Damien, a totemic sculpture on a mountain of oversized tablets, commanding visitors to the space to buy, buy, buy with a looping track that splices the Oompa Loompa song with monotone lists of pharmaceutical side effects.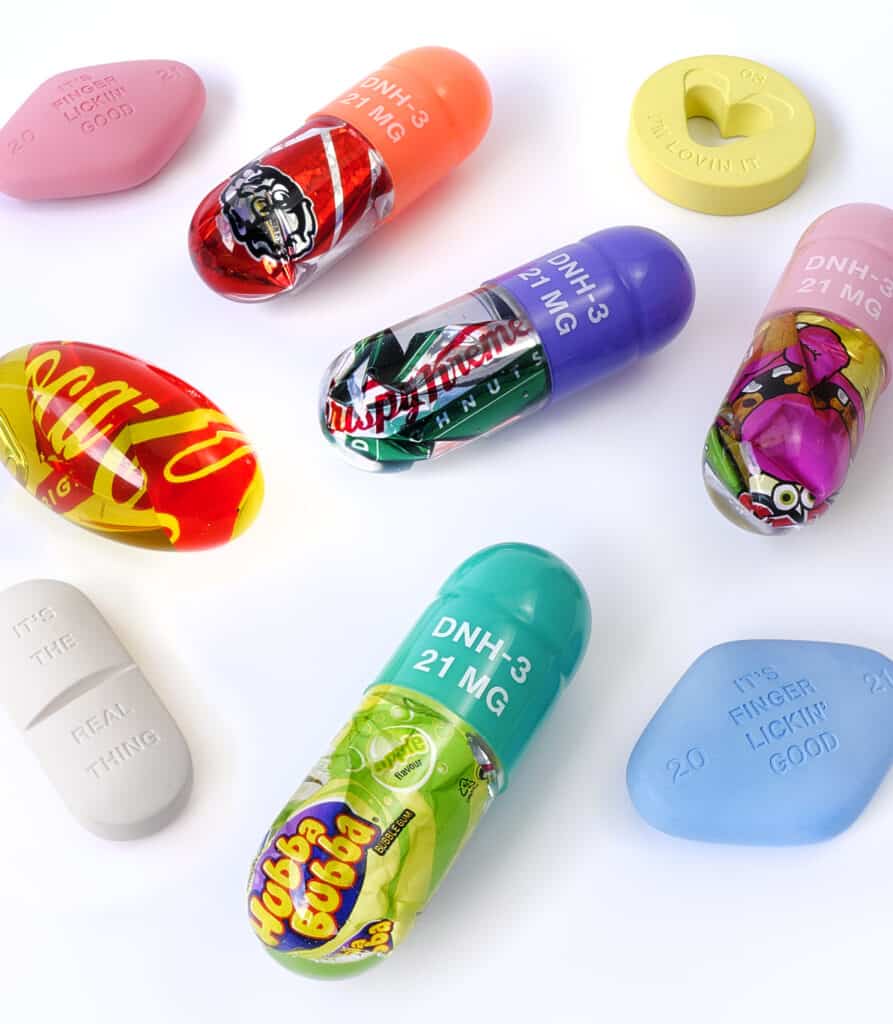 Inspired by a sleepless night watching TV commercials in a US motel room, Do No Harm – The Dispensary unpacks the themes of addiction, advertising and unchecked consumerism that have come to characterise the Do No Harm series. The installation also interrogates art's role in this, drawing on modern and contemporary artists like Warhol and Hirst to explore the longstanding relationship between art and consumer brands.
Miss Bugs says:
"Imagine a world where Willy Wonka doesn't want to give you a golden ticket; he just wants to get you hooked. Judging by American TV, that's the world we're already living in; slice of pizza in one hand, remote control in the other, eyeballs glued to a non-stop carousel of Coca-Cola, followed by Statins, then back to Burger King, then returning to Valium. Back and forth – junk to meds – on every channel. Consumer capitalism has won!"
Miss Bugs Do No Harm – The Dispensary Friday 12th August – Sunday 4th September
Jealous Gallery Shoreditch, 53 Curtain Road, London EC2A 3PT
Another exhibition that uses pills is coincidently this Damien Hirst exhibition from 2015
Schizophrenogenesis
Categories
Tags