Tabish Khan the @LondonArtCritic picks his favourite exhibitions  to see this summer that involve an installation – both inside and outside London. Each one comes with a concise review to help you decide whether it's for you. Those looking for more shows should check out his top late August exhibitions, where all but one are still open to visit.
After having displayed many artists on the outside windows of the Flannels store, the action has also now moved indoors as well with a digital immersive room where Maxim Zhestkov's waves ripple and break apart in a mesmerising installation that's best experienced by losing yourself within it. Until 7 September.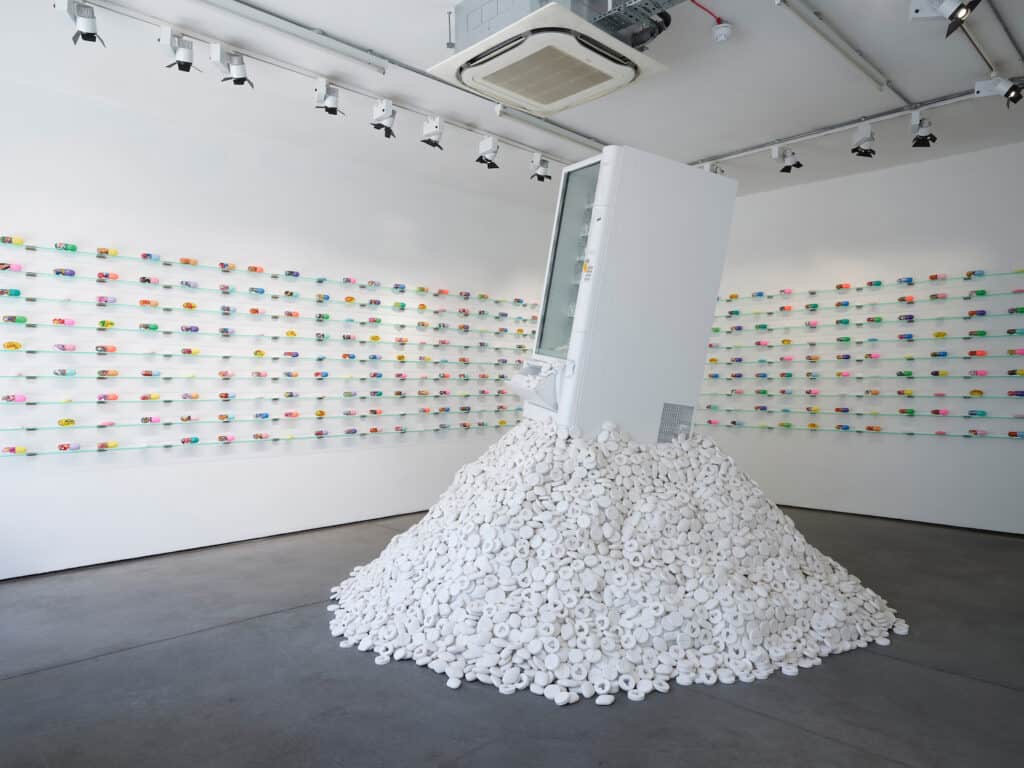 Continuing their excellent critique of consumer culture from previous shows, this exhibition is centred around a vending machine sitting on a mountain of pills while along the walls are capsules containing the branding from the likes of Starbucks and McDonald's, and pills containing logos from fast food chains. Biting and beautiful. Until 4 September.
A mountain of colourful textiles that tower above us is the centrepiece of a retrospective of Sheila Hicks at Hepworth Wakefield. It shows how she's worked with local communities to develop her practice and gives lots of context to her decades long career. Read my full review on FAD here. Until 25 September.
Artworks have been installed across the grounds of the botanic gardens, sister site of Kew, all with a natural theme. Most impressive is a vast net like creation by John Grade called Isla, made up of over 400 resin pieces. It's designed to capture the rainwater and slowly sink to the ground to release the water before gently springing back up – inspired by the Frailejon of South America which gather water from the air and release it into the ground. Until 18 September.
Scatted across various locations it's great to see the Biennial return after the inaugural one for the borough of culture. It includes installations in galleries and churches, including the striking Tin Tabernacle – an originally makeshift church made from metal that's over 100 years old and the pictured installation by Katarzyna Perlak. My highlight is Linett Kamala's Jamaican takeaway as a tribute to dancehall music. Until 11 September.
Miss Bugs photo: Peter Mallett. Nourish photo: Jim Holden, copyright RBG Kew. Sheila Hicks image: Tom Bird.
Categories
Tags