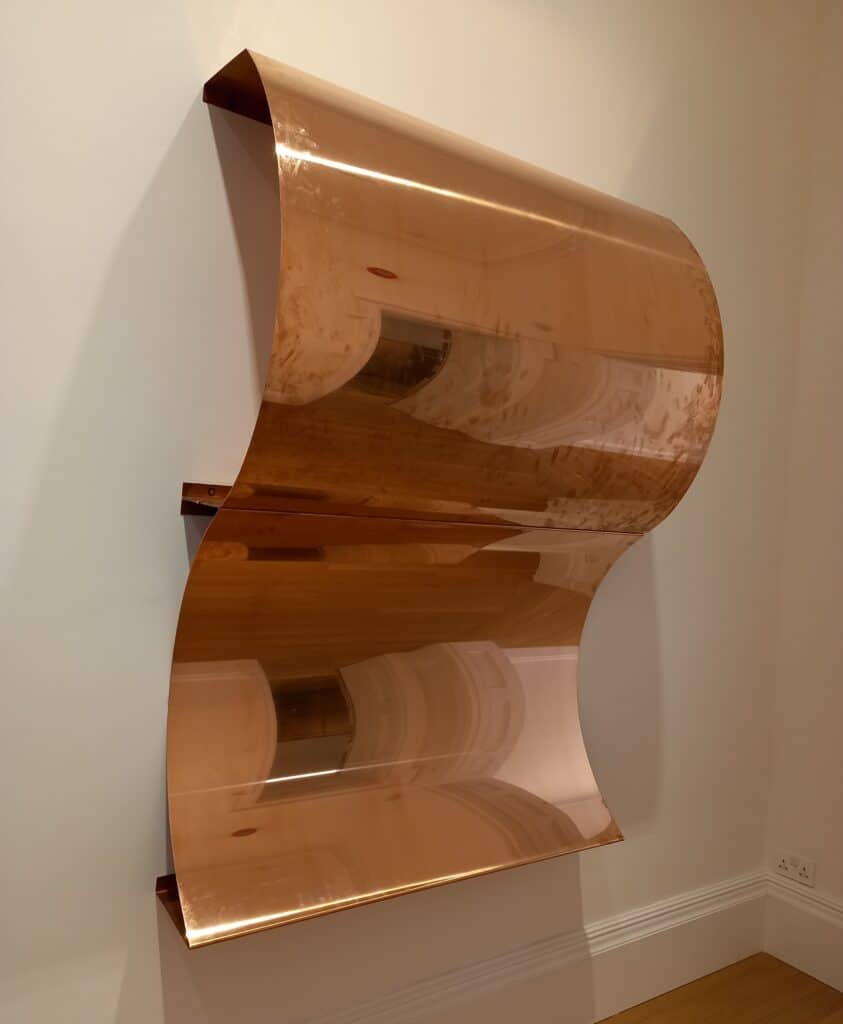 It's pretty easy to get between Thomas Dane's two galleries on Duke Street – where you can currently see two shows linked by the unusual topic of transporting art.
Walead Beshty's most characteristic move is to foreground the conditions of his art's transport and display as part of the content. Thus his Fed Ex series (2007 onwards) are made of glass cut to the size of Fed Ex shipping boxes, and must be shipped in the original box each time they are displayed. That causes cumulative cracking so that, in Beshty's words, 'the works can never be seen in isolation…as distinct from the mode of transport which supports and, in effect, creates the work'.  The art handling works are polished raw copper panels which, as instructed by Beshty, are handled with bare hands during installation and de-installation. That causes patina to occur on the reflective surfaces where they are touched, building up increasingly the more they are shown. That oxidisation is an intended part of the work, but it is not to be touched with bare hands aside from that – not even by a collector who buys one. Circulation – of money, good and information – is essential to society, and Beshty captures that in his art, extending the logic of institutional critique into the world by building activity beyond the gallery into its display. His new show at includes a 'copper surrogate', though for the most part it uses the offcuts from former copper surrogates as Beshty moves in new directions.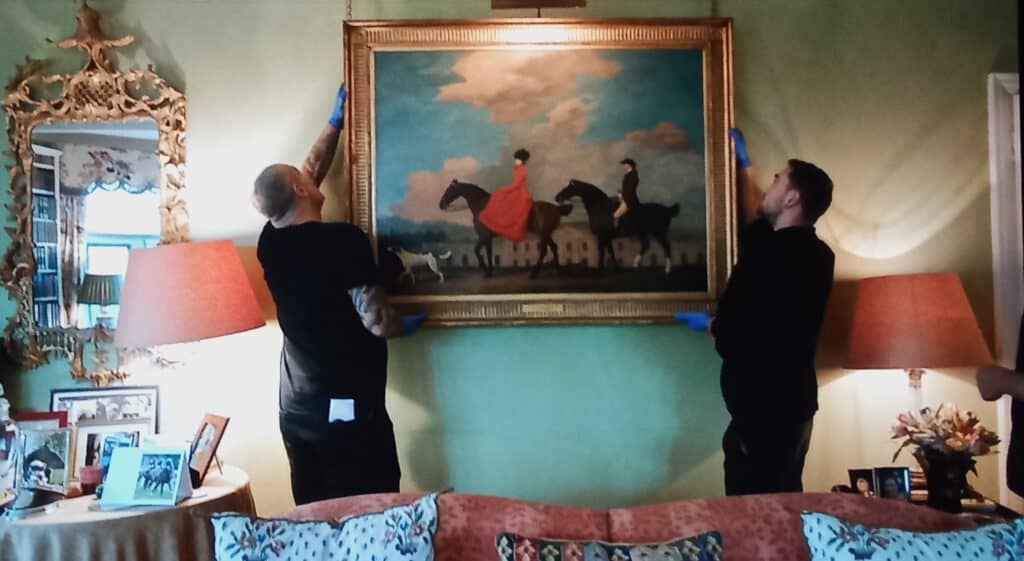 Amie Siegel's new film 'Bloodlines' follows the movement of paintings by George Stubbs from a dozen aristocratic homes and private country houses to an exhibition at the (public) Milton Keynes Gallery in 2019-20 , then back again. That allows the American artist to focus on the modern version of the very British class system which lies behind the original commissioning of Stubbs' paintings of animals and labourers. What we see is the paintings' home settings, including plenty of dogs and horses for real as well as in the paintings, and the work of art handlers. As the gallery puts it 'People, property, animals, and objects move between the domains of the real and the represented, creating a mirror of human, equine and artistic bloodlines We hardly encounter the owners, though – because, Siegel explained to me, they tended to be in one of their other houses. In the one nicely thematic exception, a daughter is seen modelling on a horse.  At over an hour it allows, Bloodlines provides a relaxed view of Stubbs' work and the voyeuristic aspect of seeing how the rich live, the pace reinforcing the sense that the social and value systems depicted aren't subject to much change. (also on view at the Scottish National Gallery of Modern Art in Edinburgh).
Art writer and curator Paul Carey-Kent sees a lot of shows: we asked him to jot down whatever came into his head
Categories
Tags