Cecilia Alemani, Curator of the central exhibition of the 59th Biennale di Venezia, poses the question 'How does one imagine a future beyond the end of the world?' The answer: by selecting themes of Surrealism, conflict, migration and the environment that offer a lens on the increasingly polarized world we inhabit, whilst offering hope for a less dystopian future.
My top picks at the first Venice Biennale since it was postponed during the Covid-19 pandemic, include artists whose work reflects the instability of the world exacerbated by the climate change emergency and war, or who offer an escape from reality through the creation of surreal, dream-like imagery.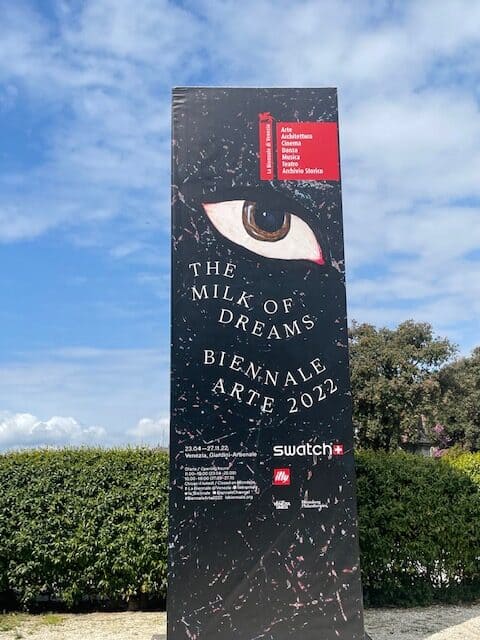 The cancellation of the Venice Biennale during the pandemic was the first time it had been postponed since 1944 due to World War II, and it's a tragedy that doesn't go unnoticed at the Biennale, that as the 2022 edition opened in Venice last week, Russia was into the second month of its invasion of Ukraine.
Titled 'The Milk of Dreams', the exhibition is named after Surrealist Leonora Carrington's children's book and features 213 artists from 58 countries. Alemani has included more women and non-binary artists in the central Arsenale exhibition than ever before, offering a new perspective that chimes with the younger generation's move towards gender-fluidity and emphasis on greater racial and cultural parity, creating a refreshing contemporary aesthetic, and contradicting the tired trope of the white male gaze which has dominated art history, museum collections and commercial galleries for far too long.
Here are my top 6 picks from the Giardini and Arsenale;
Sonia Boyce – 'Feeling her Way', British Pavilion, Giardini.
Sonia Boyce is the first British artist to win the Biennale's prestigious Golden Lion since Richard Hamilton in 1993. Her multi-media installation curated by Emma Ridgway features films of 5 female musicians (Poppy Ajudha, Jacqui Dankworth MBE, Sofia Jernberg, Tanita Tikaram and composer Errollyn Wallen CBE) who the artist captured improvising with their voices. The videos are displayed against brightly coloured, geometrical wallpaper. 'Feeling her Way' is an expansion of Boyce's 'Devotional Collection', for which she has been documenting and preserving the cultural contributions of Black British female musicians over a 20-year period.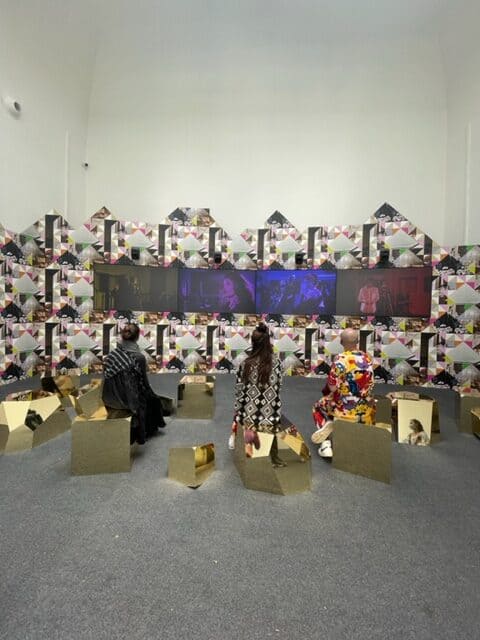 Pauliina Feodoroff, Maret Anne Sara, Anders Sunna, The Sami pavilion, Giardini.
Curated by Katya Garcia-Anton, Liisa-Ravna Finborg and Beaska Niillas, The Nordic Pavilion has been renamed 'The Sami Pavilion', and features artists of Nordic Countries; Finland, Norway and Sweden, commenting on the threat posed to civilization by climate change. The Sami Pavilion celebrates the sovereignty of the Indigenous Sami people, and the featured artists address issues of deforestation, water governance, and the preservation of traditional activities central to their existence, such as fishing and reindeer herding.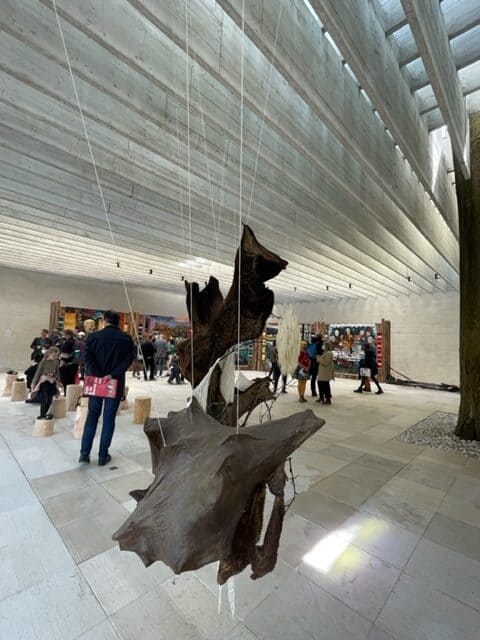 Gyre' – Yunchul Kim, Korean Pavilion, Giardini.
Electronic music composer and artist Yunchul Kim has created a site-specific wall drawing and 5 kinetic sculptures which pulsate and move like robotic serpents. Kim transforms the Korean Pavilion into a 'living body' with his multi-media exhibition 'Gyre', meaning spiral or vortex. Curated by Youngchul Lee, 'Gyre' is inspired by 'The Second Coming' a 1919 poem by Irish poet William Butler Yeats, which imagined a 'widening gyre' unleashing anarchy upon the world, very apt for a Biennale that opens as Russia unleashes destruction upon Ukraine and damaging conflicts continue unreported in various parts of the world.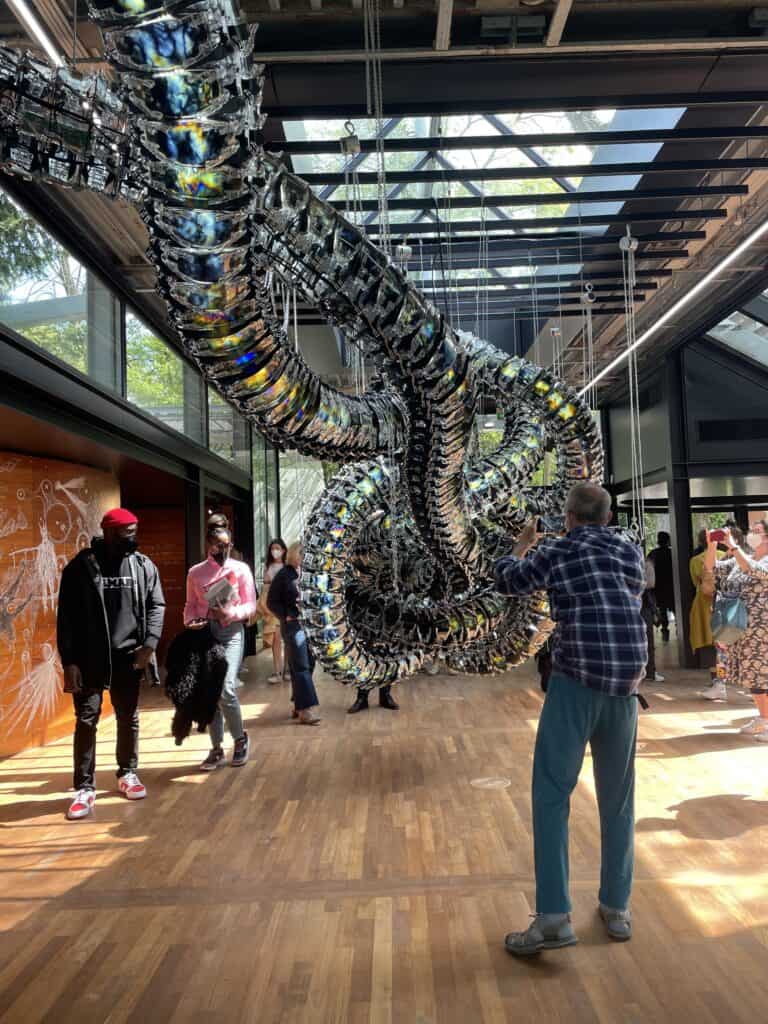 Destined Imaginaries' – Anwar Sonja, Hassan Meer, Budoor Al Riyami, Radhika Al Khimji and Raiya Al Rawahi, Oman Pavilion, Arsenale.
The Sultanate of Oman's inaugural Venice Biennale pavilion features 5 Omani artists, and is curated by Art Historian Aisha Stoby to showcase the country's creativity with artworks that reflect on the tumultuous world events of the past two years, whilst answering the question posed by Biennale curator Cecilia Alemani:'What would life look like without us'?
A standout work is Hassan Meer's installation 'Reflections from Memories 2009-2022', which explores Omani life during the 1960s and 1970s, a period of social change and modernisation in Oman.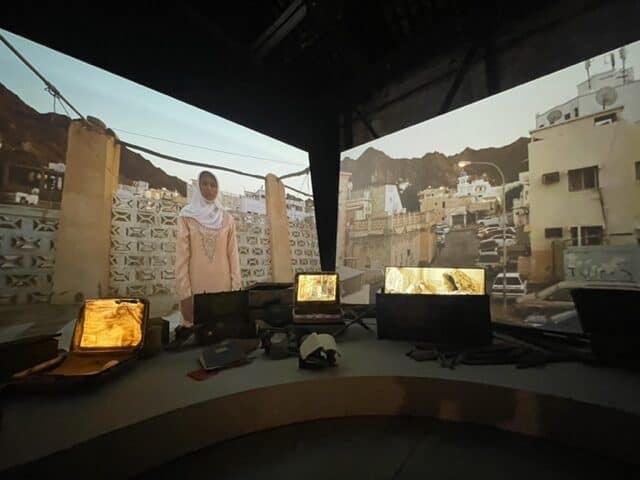 Gerardo Tan, Felicidad A. Prudente, and Sammy N. Buhle: 'Andi taku e sana, Amung taku di sana / All of us present, This is our gathering', Philippine Pavilion.
The Philippine Pavilion's offering 'All of us present, This is our gathering' – curated by Yael Buencamino Borromeo and Arvin Flores – involves an interdisciplinary approach featuring textiles, sound, video and installation. Sound material and field recordings capture indigenous weaving practices of The Philippines for posterity.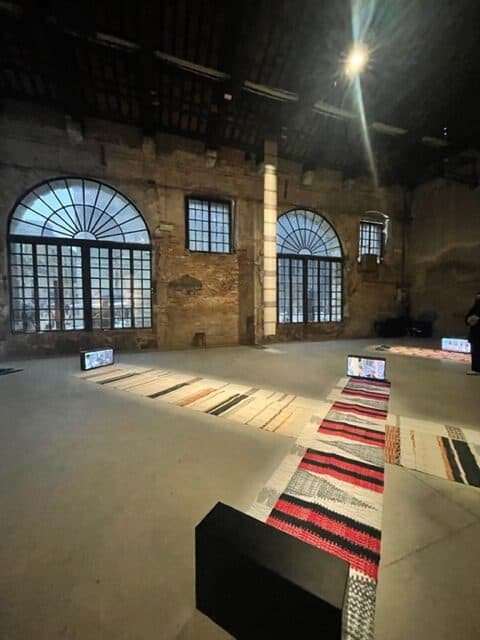 Bridget Tichenor, Noah Davis, Igshaan Adams and Simone Leigh – 'The Milk of Dreams', Arsenale
Simone Leigh's monumental 'Brick House' (2019) greets visitors to the central Arsenale exhibition curated by Cecilia Alemani and sets the precedent for a trip through dream-like imagery and magical realism.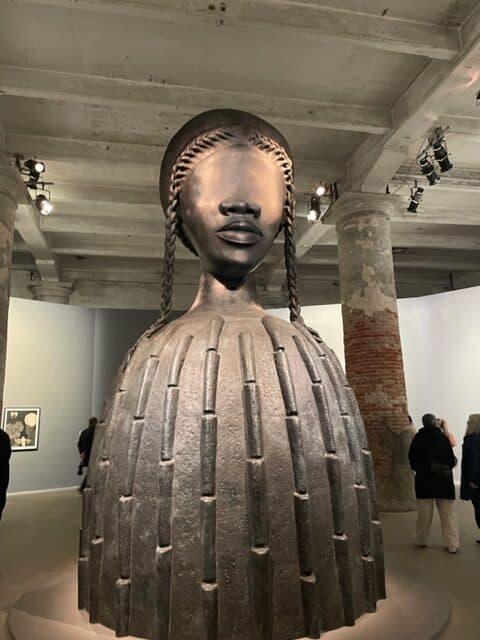 Bridget Tichenor (1917–1990) was a Paris-born Surrealist painter who later embraced Mexico as her home. Several of her delicate paintings are on display and perfectly encapsulate the surrealist theme of 'The Milk of Dreams'.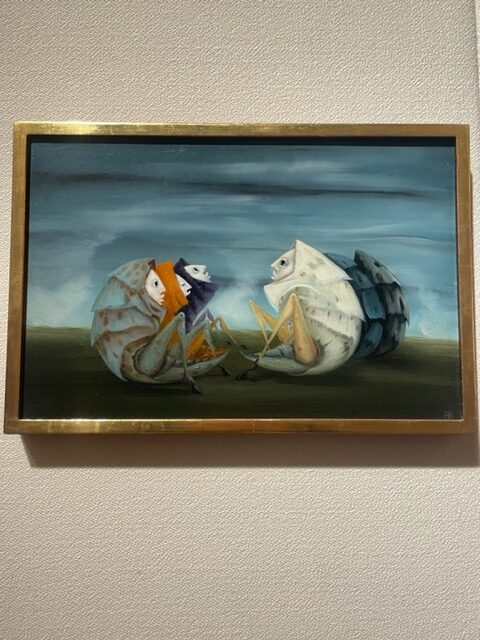 Five evocative paintings by the late American artist Noah Davis (1983–2015) are highlights of the exhibition, offering an insight into Black American life through a melancholy lens.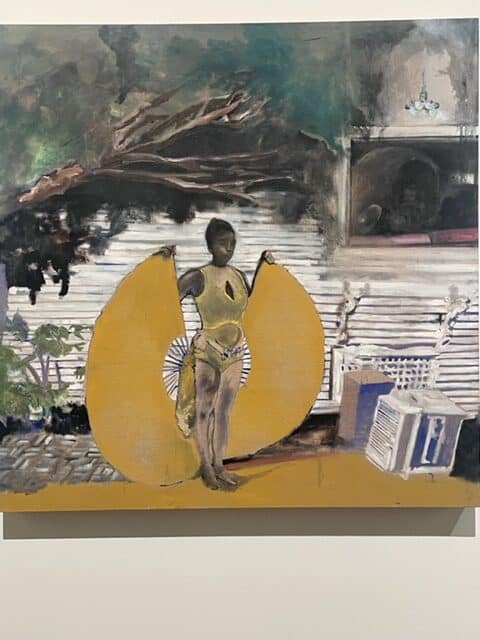 'Bonteheuwel', an exquisitely hand-beaded, hand-made tapestry by South African artist Igshaan Adams, is vast and unmissable. 'Bonteheuwel' represents the history of the artist's hometown, Bonteheuwel, in a former segregated working-class township of Cape Town.
Igshaan Adams's tapestries are inspired by the geometric patterns of linoleum floors found in the homes of Bonteheuwel. He uses weaving to create tapestries from found objects such as wood, glass, beads, shells and rope, locally sourced in Cape Town. The act of stitching together the objects is strongly linked to commodity trading and local environs in Post-Colonial Africa.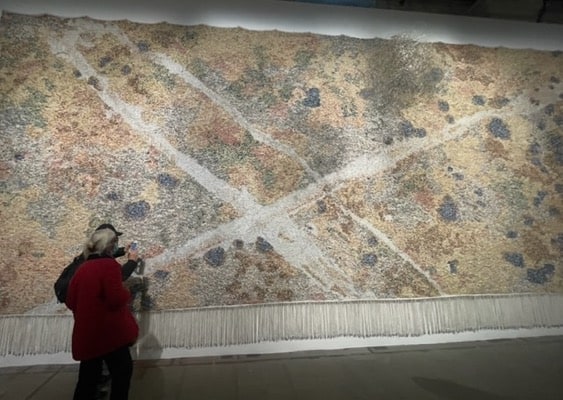 La Biennale di Venezia runs until 27 November, 2022: labiennale.org/milk-dreams
Lee Sharrock instagram: @Culturallee
Categories
Tags