Lee Sharrock's new column for FAD magazine explores some of the most interesting creative cities in the UK and Europe. Kicking off with Brighton.
Less than an hour on the train from London and you can be in Brighton, walking along the promenade and breathing in fresh sea air. Brighton is bursting with art, not only on gallery walls but also on the streets in the form of murals and graffiti that pop up on every corner.
Brighton is one of England's most popular seaside towns, and a magnet for artists and creatives because of the street art, galleries, the long stretch of beach and the famous Lanes, where you can find boutiques, vintage clothes stores and independent café's, offering a refreshing antidote to the homogenised high street shops found in every city.
Brighton originated when the Saxons landed in Sussex in the 5th Century AD and founded the Kingdom of Sussex, which included the village of Brighton, once called Beorthelm's tun (Beorthelm's farm or village). Medieval Brighton was a small town with only 4 streets, North Street, West Street, East Street, and South Street, with Middle Street emerging by 1500. Fishermen grew hemp for ropes and nets in Hempshares, the area between Middle Street and East Street, and The Lanes were once pathways between allotments. In the 18th Century, Brighton became a popular seaside resort for the wealthy after Doctor Richard Russell wrote a book in 1750 about the health benefits of bathing in seawater, and even The Prince of Wales visited in 1783. Nowadays people still flock to Brighton for the beach and sea, but also for its rich culture and art scene. Many artists have made it their home as it offers a cheaper alternative and lower rents than more expensive cities such as London.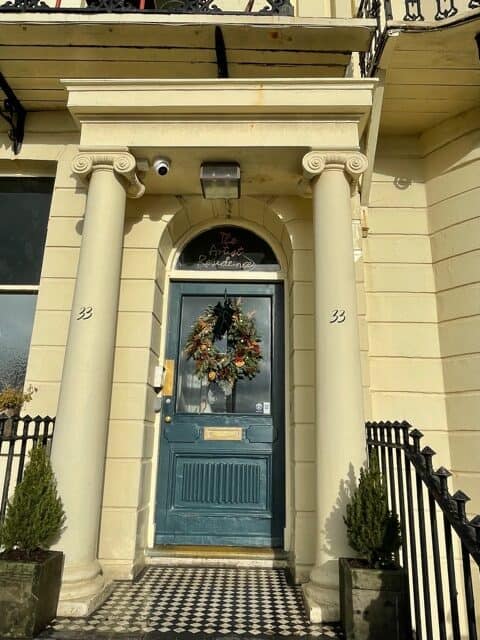 Brighton's Artist Residence hotel is the perfect place for art lovers to stay, for it used to provide free board to artists who were allowed to use the hotel rooms as bedrooms and studio space.
In the tradition of the 'Colombe d'Or' in the South of France, where artists including Picasso gave their drawings and paintings to the owner in return for meals, artists used to stay at the Artist Residence hotel in Brighton rent free in return for washing up dishes in the hotel's kitchen or doing a shift behind the bar. Although Brighton isn't quite the South of France, it's the closest thing to the English Riviera!
The hotel opened in 2018, and artists have left their mark everywhere, with each room featuring unique artwork in the form of murals or paintings. The rooms are now named after the artists who once inhabited them, including Pure Evil, Jessica Albarn and Blek le Rat. We stayed in the Bonnie and Clyde room, which has a beautiful seaside inspired collaged mural by the artist.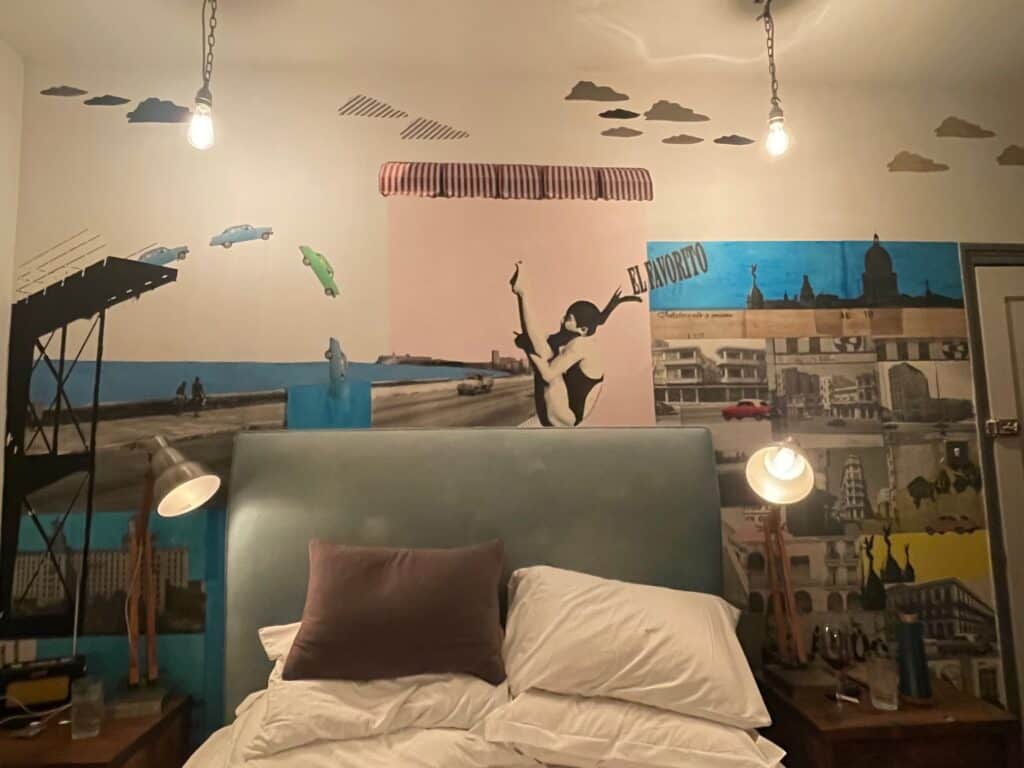 Occupying a 4-storey Regency townhouse on Brighton seafront, the hotel's walls are covered in a carefully curated selection of contemporary art, including a neon washing line in the bar area by Brighton-based artist Andy Doig, Pop art prints inspired by Warhol's soup cans on the staircase, and a Pure Evil portrait of Elizabeth Taylor in the garden.
Artist Residence has a cosy, friendly atmosphere, and the staffs are welcoming and helpful, well versed in the history of the hotel and the artists whose work is exhibited. One of the staff told me that she recently graduated with an MA in Art History, and gave some great recommendations on nearby galleries to visit. There is also a great cocktail menu and delicious breakfast, including a delicious vegetarian option, which is served in a light and airy room with views of the sea.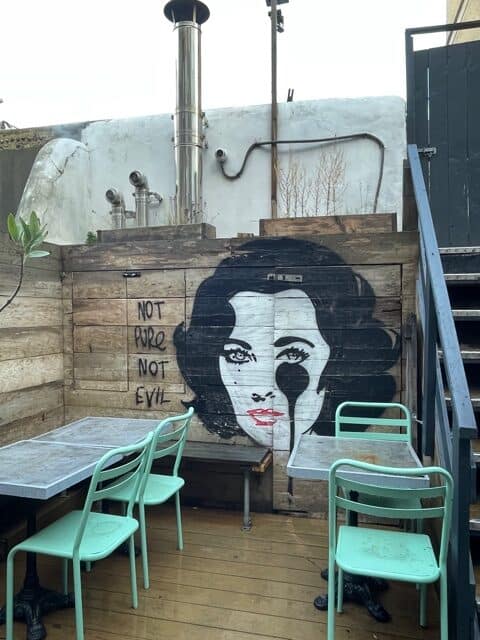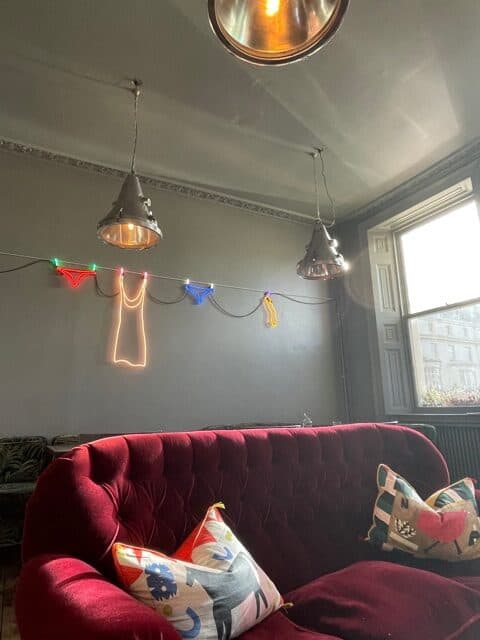 Artist Residence are slowly expanding from their Brighton roots, with hotels in Oxfordshire, London and Cornwall and a new hotel in a former boot factory in Bristol which, like Brighton is a city with a rich heritage of street art, its most famous artist being Banksy.
A 15 minute walk from Artist Residence and you can be on The Lanes, Brighton's famous streets full of boutiques, vintage shops, galleries and independent coffee shops, a refreshing antidote to the homogenised high street shops found in most cities. Here is a selection of some of the most interesting galleries in Brighton;
Hidden Gallery on Kensington Gardens houses a treasure trove of modern and contemporary art, displaying Grayson Perry and Tracey Emin alongside Matisse and Miro. Hidden also have galleries in Bristol and Bath, and have recently opened up in North London.
Enter Gallery on Bond Street exhibit a rich mix of modern British and contemporary artists including Peter Blake, The Connor Brothers and Euan Roberts.
Paxton + Glew Gallery at 12 Hannington Lanes in Brighton was set up in 2020 by curatorial duo Emily Paxton and Pam Glew. Emily Paxton is a photographer, educator and creative and Pam Glew is an international textile artist. Paxton + Glew have a rolling programme of curated shows featuring paintings, prints, sculpture and jewellery.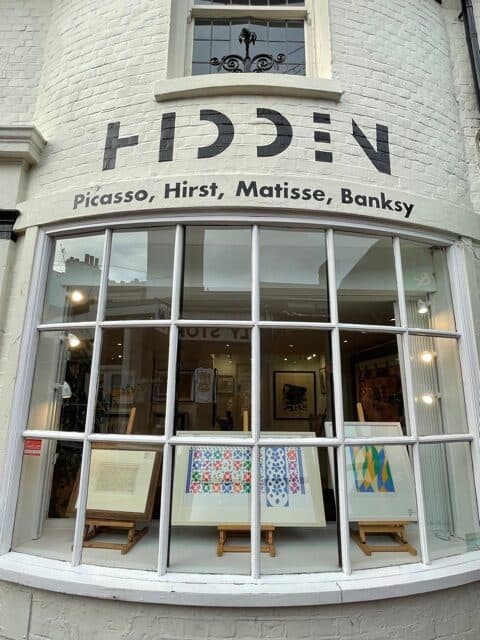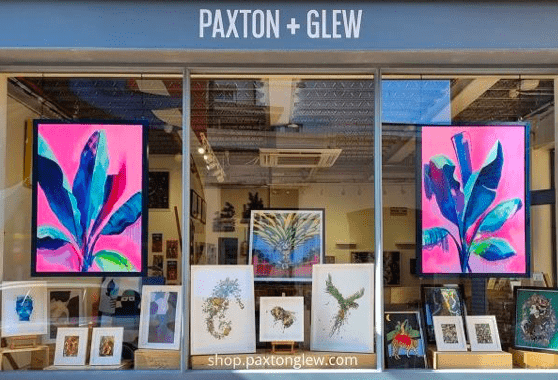 Not far from the Lanes and we stumbled upon a beautiful pop exhibition 'Wandering Landscapes' at Gallery 40, featuring paintings by Victoria Homewood and Emily Kirby.
Fabrica is a visual arts organisation inhabiting a former Regency church on Duke Street and is celebrating its 25thbirthday this year. Fabrica commission contemporary visual art installations specific to the building and have an education programme working with schools and community groups. Fabrica encourages an open dialogue between artists and visitors within the gallery space.
And for fans of art and architecture, a visit to the Brighton Museum and Art Gallery in the iconic Brighton Pavilion is a must. This free public museum and art gallery exhibits everything from 20th century decorative art to emerging local artists. The Royal Pavilion was built over 2 centuries ago as the seaside palace of King George IV, and during World War I was used as a field hospital.
As well as a wealth of art galleries, boutiques and street art, there are also some brilliant restaurants. My top tip is Riddle & Finns, a small and intimate restaurant on meeting house lane serving freshly caught seafood, oysters and champagne. Perfect for dinner after an afternoon of gallery hopping. And for a lunch of Mediterranean sharing plates go to Mango Grove, a 3 minute walk from Brighton Pavilion.
Brighton is having something of a Renaissance at the moment, regaining its popularity as more people opt to holiday in the UK, and even Soho House are opening a new hotel on the seafront this year. But for a boutique hotel with a family atmosphere and a unique art collection, I highly recommend Artist Residence.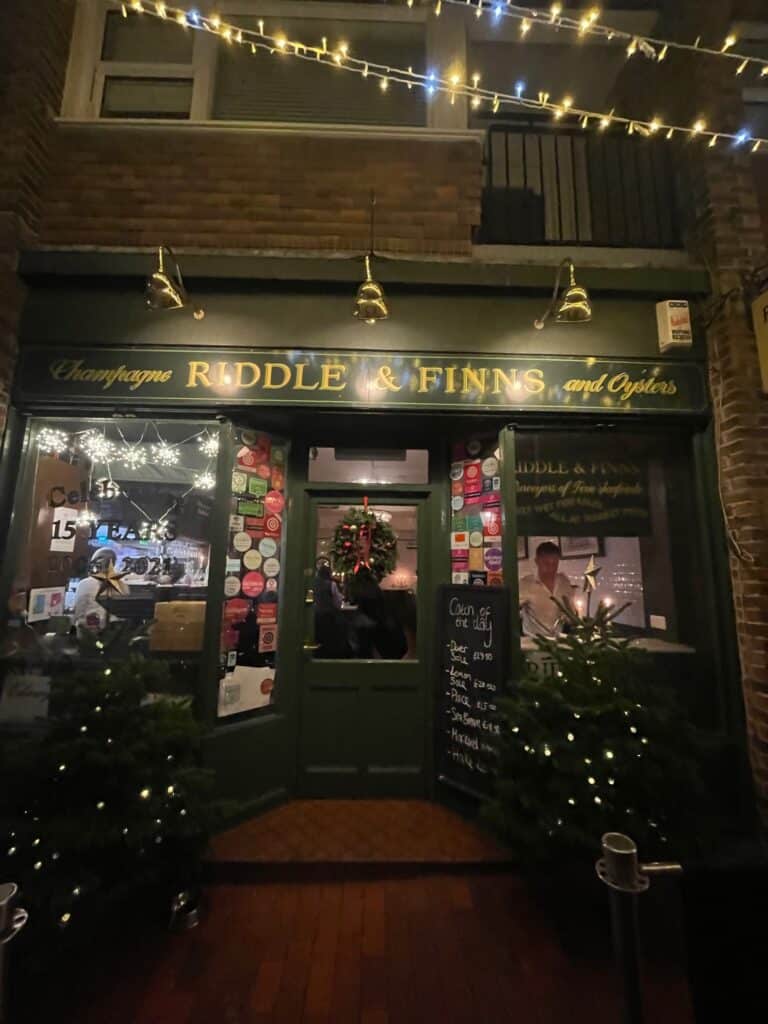 artistresidence.co.uk/our-hotels/brighton/
hiddengallery.co.uk/hidden-gallery-brighton/
brightonmuseums.org.uk/royalpavilion/
Categories
Tags