At last lots of great art to see IRL, we can't wait for Frieze London next week but even better than the fair itself are all the great shows that go live when it's on – here below are our pick of 10 of the most interesting exhibitions to see.
1 The Factory Project
The Factory Project is an independent museum-scale exhibition that has been scheduled to take place during London's Frieze week. It has been initiated to support emerging to mid-career artists and curators and is presented as a multi-disciplinary survey project. This exhibition plays host to 10 UK based independent curators and curatorial platforms in over 67,000 square feet of space – each producing their own exhibitions within the larger factory site and showcasing upwards of 80 artists.
The Factory Project takes place at a 67,000 sqft monumental Thameside Industrial Estate a warehouse and yard complex in North Woolwich, Newham – a short walk from London's City Airport and nestled between the Tate & Lyle's Sugar Refinery and the Thames Barrier – on Factory Road. It is produced by Thorp Stavri MORE info
2 LUX
180 Studios, SUUM Project and Fact have announced LUX, a major new exhibition of contemporary media art, taking place at 180 The Strand, London. Featuring the artists: a'strict, Refik Anadol, Je Baak, Cecilia Bengolea, Cao Yuxi, Es Devlin, iart studio, Julian Knxx, Carsten Nicolai, Random International, Hito Steyerl, Universal Everything. MORE info
3 Social Works II
Gagosian presents Social Works II, the sequel to the American chapter that was on view at the gallery in New York.
Curated by Antwaun Sargent, Social Works II foregrounds artists from the African diaspora and their insights into the relationship between space—personal, public, institutional, and psychic—and social and artistic practice.
MORE info
4 Hervé Télémaque: A HOPSCOTCH OF THE MIND
A major exhibition of the work of Hervé Télémaque, the artist's first in the UK opens this week at the Serpentine.
Since the late 1950s, Télémaque has created an expansive body of work with a unique and playful visual vocabulary featuring abstract gestures, cartoon-like imagery, and mixed media compositions. He brings together striking combinations of historical and literary references with those of consumer and popular culture.
MORE info
5 Mark Rothko 1968: Clearing Away
This exhibition, the first in the United Kingdom to focus on the poignant body of work created in Rothko's final years, embodies the artist's long-time endeavour to eliminate 'all obstacles between the painter and the idea, and between the idea and the observer' by allowing viewers unparalleled closeness. Executed in the late 1960's in the wake of a particularly tumultuous and difficult bout of ill health, Rothko was forced to reduce the scale of his painting practice from his signature monumental canvases to more intimately sized paper.
MORE info
6 Ron Mueck 25 Years of Sculpture, 1996–2021
The artist's first exhibition at Thaddaeus Ropac – will mark the most comprehensive gallery survey of the internationally acclaimed sculptor to date. The exhibition will present the artist's most celebrated pieces from a career spanning two and a half decades, alongside new and previously unseen sculptures.
MORE info
7 Elisabeth Wild and Vivian Suter.
Proyectos Ultravioleta show at Frieze No8 Cork Street is a joint exhibition by mother-daughter artists Elisabeth Wild and Vivian Suter. The presentation sees Suter's characteristically vibrant unstretched canvases hung freely in a way that evokes the lush greenery surrounding her house and studio in Lake Atitlán (Guatemala), alongside a selection of Wild's lapidary collages, composed of magazine cutouts. The show is the artists' second joint display in London, after being awarded the Focus Stand Prize for Proyectos Ultravioleta's booth at Frieze London 2016.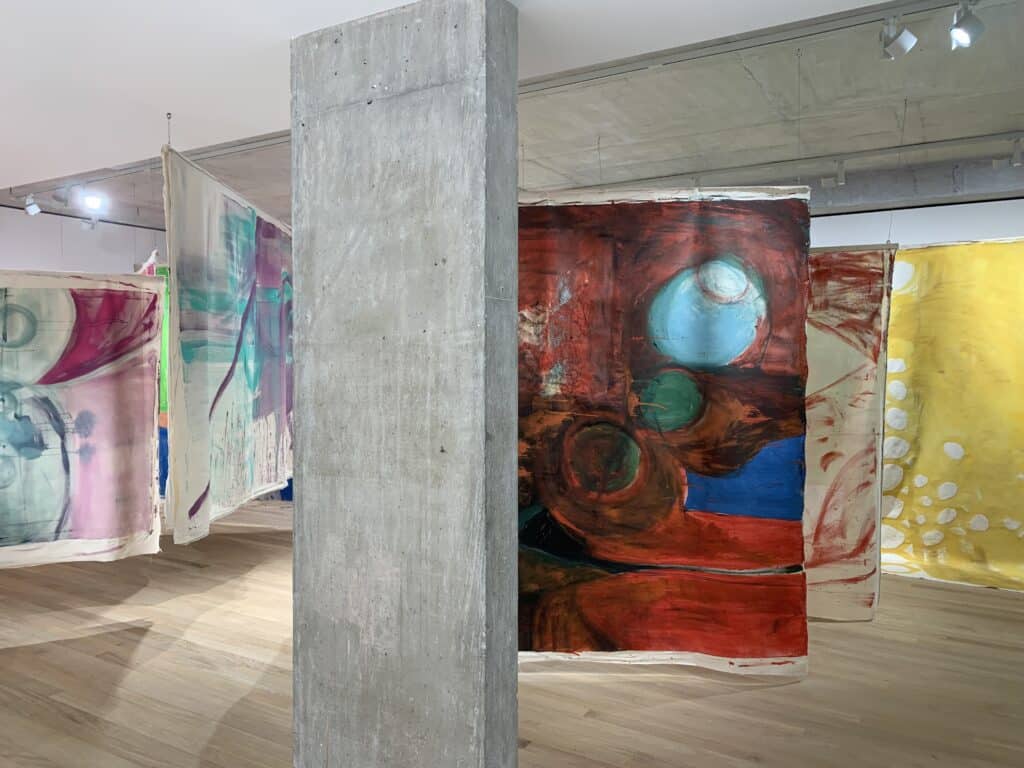 8 George Condo Ideals of the Unfound Truth
Unfolding across the entirety of both the gallery's London spaces, this exhibition is dedicated exclusively to the works of George Condo, a defining figure of contemporary American painting. The exhibition brings together new drawings and paintings depicting states of mind captured in an abstract web that reveal the humanity inherent within fragmented psyches.
MORE info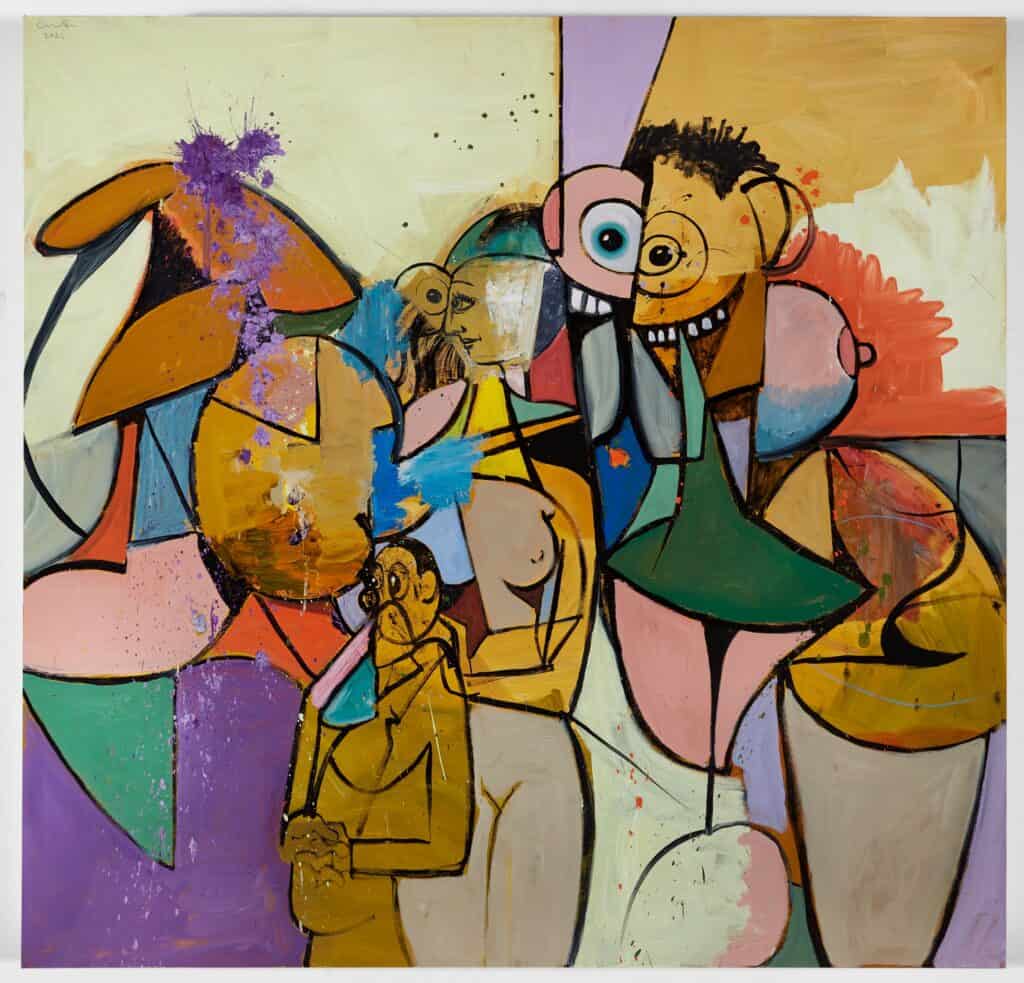 9 Prudence Flint | The Call
This will be the first solo London exhibition for Prudence Flint at mother's tankstation, Bethnal Green. Following Prudence's penchant for linguistic brevity, the exhibition is enigmatically titled; The Call. Who or what calls, or calls upon, whom?
MORE info
10 Bosco Sodi TOTALITY
KÖNIG LONDON present TOTALITY, an exhibition of new paintings and sculptures by Bosco Sodi. This new body of work demonstrates the artist's ongoing exploration of the material world and his fascination with nature.
MORE info
Categories
Tags