A major exhibition of the work of Hervé Télémaque, the artist's first in the UK opens this week at the Serpentine.
Since the late 1950s, Télémaque has created an expansive body of work with a unique and playful visual vocabulary featuring abstract gestures, cartoon-like imagery, and mixed media compositions. He brings together striking combinations of historical and literary references with those of consumer and popular culture.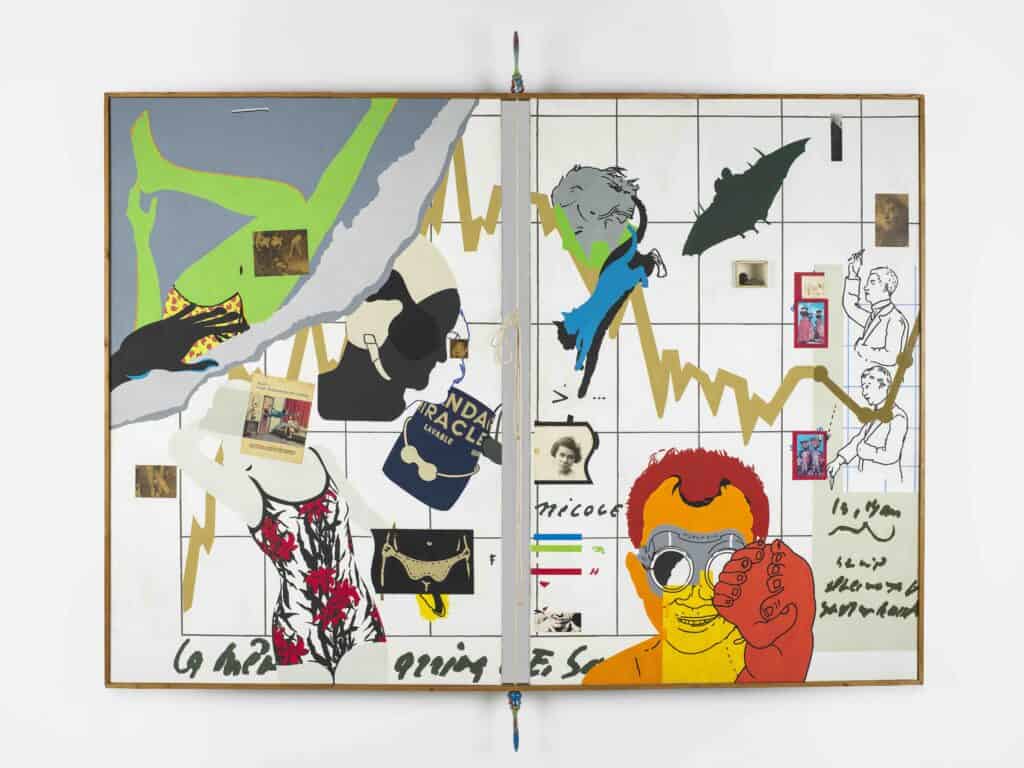 Incorporating images and experiences from his daily life, his extensive career consistently draws connections between the realms of interior consciousness and social experience, and the complex relationships between image and language. This exhibition brings together works made from the late 1950s until the present day, which highlight the histories and contemporary resonances of racism, imperialism and colonialism by intimating the ways that these structures continue to permeate our lives.
"Hervé Télémaque's seminal body of work takes us on a unique journey through the visual languages of racism, colonialism, desire, violence, consumerism and art history. This spectrum of themes remains as pivotal today as in each decade chronicled by his singular practice. We are so excited to give audiences in London a chance to see the work of this remarkable artist in person."

Hans Ulrich Obrist, Artistic Director and Bettina Korek, Chief Executive, Serpentine
Born in 1937 in Port-au-Prince, Haiti, Télémaque left for New York in 1957 when former President François Duvalier was elected to power, studying at the Art Students League under painter Julian Edwin Levi. Entering into an art scene dominated by Abstract Expressionism, Télémaque became interested in the approaches of artists such as Arshile Gorky, Willem de Kooning, Jasper Johns and Robert Rauschenberg, but at the same time felt limited by this early influence: 'this thoroughly New York school seemed inadequate for me to express where I came from and who I was'. 
In 1961, Télémaque moved permanently to Paris, associating with the Surrealists and later co-founding the Narrative Figuration movement in France with art critic Gérald Gassiot-Talabot and artist Bernard Rancillac through the manifesto exhibition, Mythologies quotidiennes at the Musée d'Art Moderne de la Ville de Paris in 1964. A reaction against the dominant trend towards abstract art and the developing movement of Pop Art in North America, Télémaque's Narrative Figuration often results in works with a Pop sensibility that incorporate consumer objects and signs. The artist then inflects these images with an astute criticality, producing work in dialogue with current events, such as the Cold War, the Cuban missile crisis, US intervention in the Dominican Republic, and contemporary French politics. 
In 1964, Télémaque discovered the opaque projector, which in combination with acrylic paint allowed him to focus on a clear line painting technique that was inspired by the Belgian cartoonist, Hergé. The graphic and cartoon-like style that developed from this moment led the artist to produce works loaded with political messages that are still powerfully resonant today.
Although often explicit in their factual grounding, Télémaque's works possess an idiosyncratic quality that invites viewers to decode their many symbols, references and connections like a visual puzzle. This analytical process is testament to the layered and complex web of meanings that are embedded within each of the artist's compositions, whilst also being the result of the personal and poetic pathways that he carves through them.
'I drew on my life as a Haitian of mixed race to construct a double language based on both the political and social, the question of identity…racism, and sexuality'.

Hervé Télémaque
A retrospective at the Centre Pompidou in 2015 affirmed Télémaque's status within the French art world and beyond, while the inclusion of his painting No Title (The Ugly American) as part of the rehang at the Museum of Modern Art in New York in 2018 brought him to the attention of American audiences. 
Hervé Télémaque: A HOPSCOTCH OF THE MIND Serpentine South Gallery  7th October 2021 – 30th January 2022 
Categories
Tags