There's something enticing about knowing what artists look like, even though it isn't usually relevant to the work. Performance artists often appear in their own work, and there is of course a long tradition of the artist's self-portrait. Here are some other depictions of artists…
Holly Stevenson (top): this striking image of the ceramicist accompanies an online selection of her work at Richard Saltoun currently. It was taken by her husband, portrait and fashion photographer Charlie Gray, during the making of a film called 'Acting Painting' in 2009.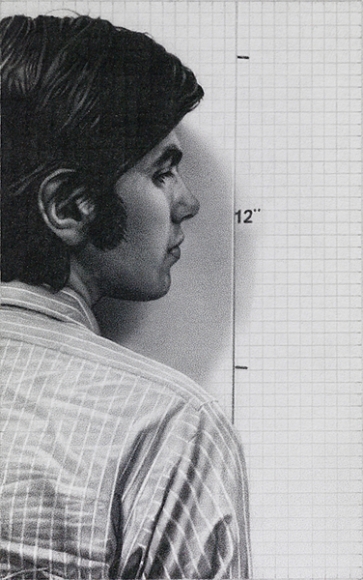 Mel Bochner by Dan Fisher, 2012.  Dan Fisher's graphite drawings celebrate artists who have inspired him. Up close it is apparent that the original graphite copies of his 'Xerox Realism' reproduce the idea of reproduction: they are based on photocopies – taken from an ever-expanding archive – which he overlays with a grid with the aim of moving beyond the treble mechanical distancing of camera to printing press to photocopier, to generate an aura through rich hand-generated textures.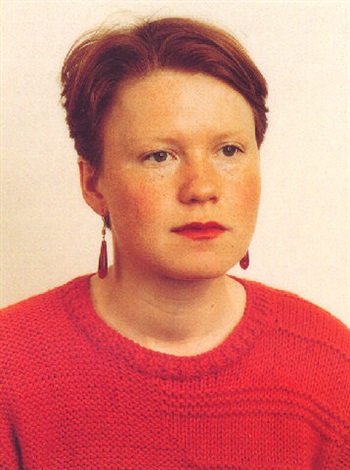 Pia Fries by Thomas Ruff, 1984. One of the studiedly neutral and expressionless portraits for which Thomas Ruff first became known in the early 80's was of the Swiss artist Pia Fries, then studying at the  Kunstakademie Düsseldorf, now a well-known abstract painter based in Munich (but not shown often enough in London).
Keith Haring by Hugh Mendes, 2018. One of a long-running series of life-sized paintings of obituaries as if cut out of newspapers, recently shown by Charlie Smith. They incorporate genres with ease: history paintings; Trompe-l'œil still lives in the manner of the quodlibet (for Mendes actually depicts the newspaper cutting, not just the text); and portraits of both others and – through the accumulation of what has mattered to him – the painter himself, in the Wordsworthian way of tracking the 'Growth of a Poet's Mind'.
Elpida Hadzi-Vasileva is the subject of my latest survey article freely available online at  Seisma Magazine. This shot is from a break in the installation  #djanoglygallery in Nottingham, 2016, and hints at her surprising use of visceral materials, such as caul fat, pig's hearts and sheep's testicles. But what struck me here was: it's not so often that you see shoes and shirt so well coordinated with a ladder!
Art writer and curator Paul Carey-Kent sees a lot of shows: we asked him to jot down whatever came into his head
Categories
Tags