In a fair the size of FIAC – 212 galleries, normally in Paris in October but also online in March this year – there's no shortage of themes one can bring together. Here are four offerings across which I detected some sort of connection:
Santiago de Paoli: First steps, 2019 at Galerie Jocelyn Wolff, Paris
London-based Argentine Santiago de Paoli makes oil on wood paintings of what may be ordinary things but are combined in ways which takes them in pretty weird directions. Whether this one mocks the role of the penis in the evolution of man to an upright animal, or pictures masturbation as a first step in sexuality is unclear…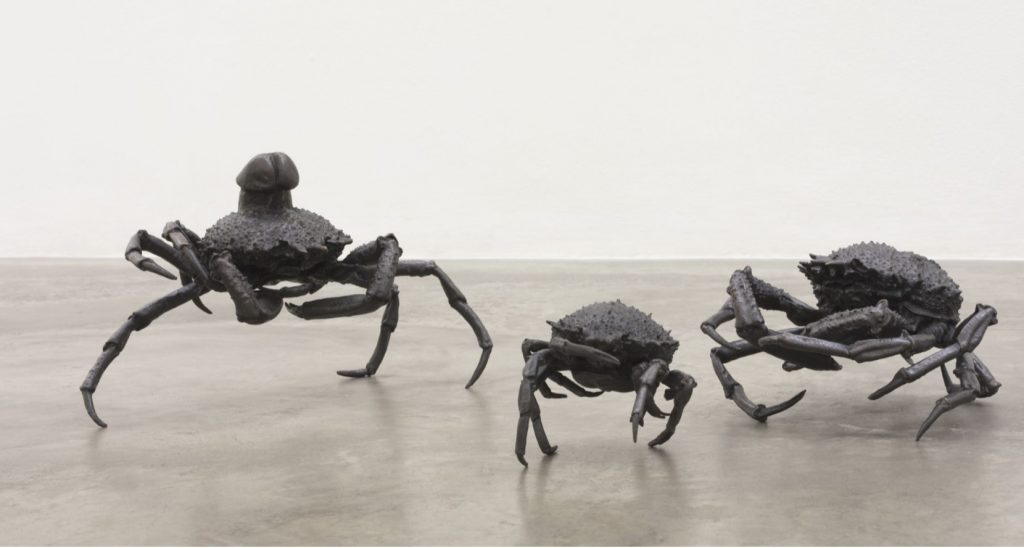 Dorothy Cross: Family, 2005 at Frith Street Gallery, London
Who's the Daddy? It's not too hard to work out in this trio, which the Irish artist found dead together and cast in bronze. Perhaps his wittily improbable appendage points up to the crustacean version of heaven they've gone to, presumably in the region of the Crab Nebula.
Monica Bonvincini: Tears, 2011 at Galerie Krinzinger, Vienna
This strap-on dildo blown from Murano glass is typical of Bonvincini's presentation of artworks as fetishes. Does the thought bring tears to the eyes? Perhaps, but any phallic pretensions to power are undermined by its material: too fragile to withstand much action.
Sarah Lucas: One's nob (iii), 2006 at Sadie Coles HQ, London
Lucas's series of beer can genitals, initiated in 1993, are well-known parodies of masculine motivations, and she has often covered objects with cigarettes. I hadn't noticed before, though, that – as the gallery puts it – 'the orientation of the cigarette butts… delivers an incisive visual pun'.
Art writer and curator Paul Carey-Kent sees a lot of shows: we asked him to jot down whatever came into his head
Categories
Tags